You're pregnant, yay!! How frickin' exciting, I can feel your excitement from here, eeek:)
If you're anything like I was when I got pregnant the first 3 times, your pregnancy to do list would look like this;
Ohhh name, I'm gonna start making a list of names, hours spent reading through books, google searches, top 10 baby names lists and scanning the end credits on Eastenders.
Ohhh look at all the prams, iCandy Vs Bugaboo, hours lost looking at chassis, colour options and matching accessories including the over priced but oh so pretty limited edition hoods.
Ohhh nappy changing bags, hours spent deciding between 'yummy mummy' floral, practical, wipe clean, long handle VS slouchy, suede, muted, completely impractical but oh so cool, think Kirstie Allsop's changing bag VS Kate Moss'.
Ohhh tiny ickle sleepsuits, hours spent holding up tiny items of clothing right in front of your face, cooing and ahhhhing whilst deciding if No Added Sugar can justify the price they charge for this slip of fabric with a few discrete poppers and a funky slogan, but still being completely sold on the unique cuteness *we are weak, and they are adorable. And so your babies wardrobe is already trendier than yours.
Ohh muslins, everyone tells me I need muslins, hours spent choosing between stars, rabbits, bold colours, pastel colours, and then you buy them all!!!! *Fyi, you'll need them all coz every time you leave the house, you'll come home with 1 maybe 2 muzzies down. 1 left in Mothercare, 1 left in Costa.
So let's do the maths.......
Bugaboo Donkey (just in case you want more kids, it's an investment right?) - £925.00
Yummy Mummy changing bag - £50.00 (For a fuc*king bag? are you kidding me?)
No Added Sugar sleep suit - £28 x 7 = £196 (yea, you couldn't help yourself, how can you choose between them?)
Muslin Squares - £10 per pack x 5 packs = £50 (minimum)
Whoh! And that's just the tip of the baby buying iceberg. We can't help ourselves, it's like we enter into some kind of buggy, bag, sleep suit, muslin competition. It's like if we have these things we are somehow guaranteed to be seen as a good mum?!
What a crock of shit!!! When we're drawn into this world of materialism and judgement we compete without even knowing we're competing. It's a sub conscious game that empties your bank account and actually means very little in regard to your parenting skillz (yes I used a 'z', I'm cool and shit).
So, where would this money be better spent when shopping for your little miracle? How about this for a list........
ohhhhh a Doula, a couple of hours chatting to local doulas, find the one who fits and book them - Anywhere from £250 upward, full emotional support during pregnancy and birth for both you and your partner. Evidence shows:
"Overall, women who received continuous support were more likely to have spontaneous vaginal births and less likely to have any pain medication, epidurals, negative feelings about childbirth, vacuum or forceps-assisted births, and C-sections. In addition, their labors were shorter by about 40 minutes and their babies were less likely to have low Apgar scores at birth."
Ohhhh Hypnobirthing/Birth Preparation, an hour hitting up Google to find your local teacher - Anywhere from £30 upward, relaxation tools for your birth, and the same tools you'll use regularly after birth and forever (trust, I still use mine everyday *as you can see from my previous blog, I done my course 4 years ago, value for money my friend) a full understanding of the birthing process plus your partner will get a full understanding of exactly what you'll need from them when you're birthing (again, trust, they need to know this stuff, it's essential for your relationship post birth) don't you wanna be saying "_____ was amazing at the birth, they knew exactly what to do and when to do it" rather than "_____was such a twat at the birth, they just sat playing fappy bird (is that still a thing) saying 'breathe' on repeat" Think about that for a minute!
Ohhhh Post Birth Doua, if your birth doula offers post natal support there'll be no time wasted in finding them - Anywhere from £10ph upward, a friendly face popping over, making you food, listening to how you're really feeling (not what you think people want to hear when asked how you are feeling). They can take the baby so you can sleep/shower/shit, or run errands/walk dogs/ tidy around so you can just sit with your baby, reassuring, comforting, always supporting, you're own friendly, helpful supportive confidante.
Your birth preparation and support should rank higher than a limited edition hood, overpriced bag and cutesy sleep suit.
Ask yourself, is it more important to you that your peers are secretly jel of pram/bag/sleep suit, than how you feel about your birth? These must have items will last a very short time, I had my iCandy on ebay within 9 months in favour of something smaller and more practical, taking I might add a huge loss on the price.
My dear, I can tell you now (4 kids down) your birth will stay with your FOREVER, you'll be emotionally attached to that experience FOREVER, you need to spend more time and money on preparing for your birth not on how you'll come across at your mummy meet up.
When I see a women crying when she talks about her birth whilst she rocks her baby in a fancy smancy travel system, it makes me cry too. (This really happened)
Surely the true investment isn't in a pram named after a stable animal (why is it called a Donkey?) but in your birth preparation?
Spend your money wisely gorgeous girls this shit matters.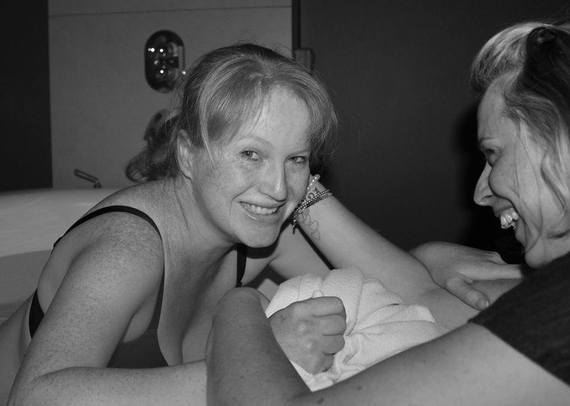 *This amazing photo is my previous client (and me obvs) 5 minutes before she birthed her son, she done a full birth prep course (with me, obvs) and I supported her as her doula
REAL LIFE. REAL NEWS. REAL VOICES.
Help us tell more of the stories that matter from voices that too often remain unheard.