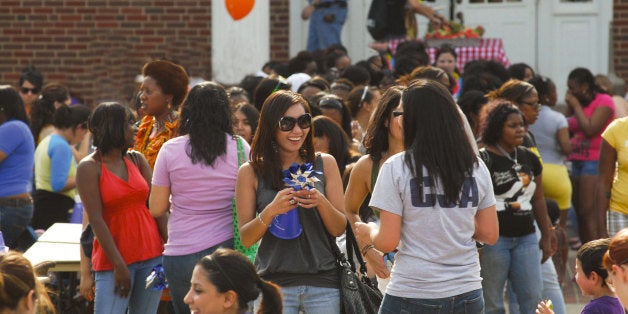 College students are heading back to campus across the U.S., but one of the first lessons they may face is in sexism or racism.
The national news has covered several stories featuring unexplainable actions and degrading behavior of college students making poor decisions, even before the fall semester officially began.
For instance, a chapter of the Sigma Nu fraternity at Old Dominion University in Norfolk, Virginia displayed "welcome" signs at the campus move-in activities, inviting fathers moving in their daughters to drop them off at the fraternity house for a "good time." Another sign invited them to drop off their mothers too.
A controversial recruitment video posted by Alpha Phi Sorority at the University of Alabama lacked diversity and intentionally objectified women. While there was no law broken or intention of illicit activity, the public's perception of the video has brought unwanted attention to the sorority and the institution.
In short, the actions of a small group of students has inevitably brought a plethora of problems to these universities, taking attention away from the primary focus of higher education, which should be academic and student success.
However, these issues are not exclusive to fraternities and sororities, who are consistently questioned for their contribution to higher education.
According to the U.S. Department of Education, there are 150 investigations taking place at 130 colleges and universities focusing on Title IX violations.
With over 17 million students enrolling in postsecondary institutions, and the number continuing to rise each year, this is not an issue we can continue to ignore or sweep under the rug.
Unfortunately for many students, some of these decisions have led them down a path where they are facing prison time, public shaming, loss of education, and loss of future career opportunities.
The question is, how do we help students entering higher education understand that the temptation to engage in inappropriate and sometimes illegal behavior is not worth the cost of ruining their educational experience and jeopardizing their future?
This is a question I ask myself every year as I work with new students inside and outside the classroom.
In my role as a Title IX investigator for the institution, I have facilitated and presented workshops to student leaders on the law and their role as advocates for a safe campus. It is through these programs and effective policies and procedures that faculty, staff, administrators, and students alike can join together to combat the pervasive nature of sexual assault and other inappropriate behavior flooding college campuses today.
In my professional experience I have dealt with issues of assault, rape, hazing and hate crimes that have left me consoling students who were simply confused about why something so violent would happen to them. It is a pain I would not wish for anyone's child, which is why creating safe and welcoming environment for college students should be a primary goal for any institution of higher education.
What can colleges and universities do to combat issues of violence and discrimination across university campuses?
Training and Development: Many institutions hold a variety of trainings geared toward educating the campus community on issues of sensitivity and awareness on campus. Trainings can be specific to a specific cultural group (i.e. race, gender, LGBTQ, religion, etc.) or all inclusive. Most are housed in the Human Resources department, Multicultural/Intercultural/Diversity/Equity office, or Counseling Center. Whatever the topic or wherever it is held, training on issues of sensitivity and awareness is always a good practice.
Zero-Tolerance Policies: A strong zero-tolerance policy can always strengthen a campus' stance against violence and discrimination.
Public Campus Policies: Most institutions have policies and procedures on handling inappropriate student behavior. However, many students do not know the how and where to report incidents or the process for filing complaints. Marketing your campus' reporting procedures and resources on campus will help students be more informed.
Campus Programming: Increasing campus programming on topics such as bystander intervention, alcohol awareness, and safe zones will assist in getting the message out to students on being safe as well as engage them in the campaign for creating safe campus environments. These events can target all students and are typically held at welcome week events and throughout the year.
At TWU we incorporate Student Health Services and the Campus Clarity to help inform students of ways to reduce risky student behavior and prevent sexual assault on campus. A bystander intervention workshop is also included in the curriculum for the first year seminar program.
As an administrator on a university campus, it is my duty to educate students on not only the promise of higher education but also the responsibility of it, which includes making informed and smart decisions that can positively impact not only their future but the future of our country and world.
Support HuffPost
The Stakes Have Never Been Higher
Related
Popular in the Community