Dozens of people who were at the country music bar outside Los Angeles when a gunman opened fire late Wednesday also survived the October 2017 Las Vegas massacre, where a gunman killed 58 people.
Nick Champion was among those inside the bar when the gunman struck, killing at least a dozen people.
"It's the second time in about a year and a month that this has happened," Champion said in an interview with California's OnSceneTV, which aired on "CBS This Morning." "I was in the Las Vegas Route 91 mass shooting, as well as probably 50 or 60 others who were in the building at the same time as me tonight."
"It's a big thing for us," he added. "We all are a big family, and unfortunately, this family got hit twice."
That music fans like Champion could be caught up in more than one gun-fueled massacre is a sobering reflection of how frequently mass shootings happen in America.
Champion did not immediately respond to a message from HuffPost.
At least one survivor of the Route 91 massacre died in the shooting at Borderline. Telemachus Orfanos, 27, worked as a security guard at the bar, but had been there on Wednesday "just to enjoy a night out with friends," his friend Marybeth Schroeder, who also works at Borderline, told HuffPost.
"My son was in Las Vegas with a lot of his friends and he came home. He didn't come home last night," she told KABC-TV. "I don't want prayers. I don't want thoughts. I want gun control, and I hope to God nobody else sends me any more prayers. I want gun control. No more guns!"
As many as 30 people at Borderline on Wednesday night also attended last year's Las Vegas festival, music fan Cory Spellman, 27, told HuffPost. She described the bar as a community that included dozens of people who also attended the Vegas festival. "We're one big family," said Spellman, who was not at the bar Wednesday night.
Katie Ray, 25, also survived the Vegas shooting with her fiance, whom she met at Borderline. She told HuffPost that the bar, where she has been a regular since 2014, was "a place of healing" for the tight-knit group of Vegas survivors.
"For many of us, it was seeing each others' faces in the bar again that brought us a huge sense of relief," she said.
"Even though I'll never be as comfortable again in that kind of setting, whether it's concerts, clubs, bars, anything where there's a big group of people in any kind of confined space, I'm never going to be as comfortable again," Champion said in the Billboard article. "But it's not going to stop me, and I don't want to let fear change the way I live."
He said then that he and his friends planned to hold a memorial service at Borderline for the Las Vegas victims.
"We're going to be hanging the Route 91 flag up at our college night tonight at Borderline," he said. "We're going to be doing a little moment of silence."
The friends also marked the six-month anniversary of the Las Vegas massacre with an event at Borderline, according to a photo from Champion's Facebook page.
Champion told Billboard in April that the Las Vegas shooting inspired him to become a firefighter.
Others inside the Borderline on Wednesday also had endured the Las Vegas massacre, friends told the Los Angeles Times. Wednesday was the bar's regular College Music Night, featuring line-dancing.
"A lot of people in the Route 91 situation go here," Chandler Gunn, who said a friend was inside when the shooting started, told the Times. "There's people that live a whole lifetime without seeing this, and then there's people that have seen it twice."
This story has been updated with additional details.
Sara Boboltz contributed reporting.
Before You Go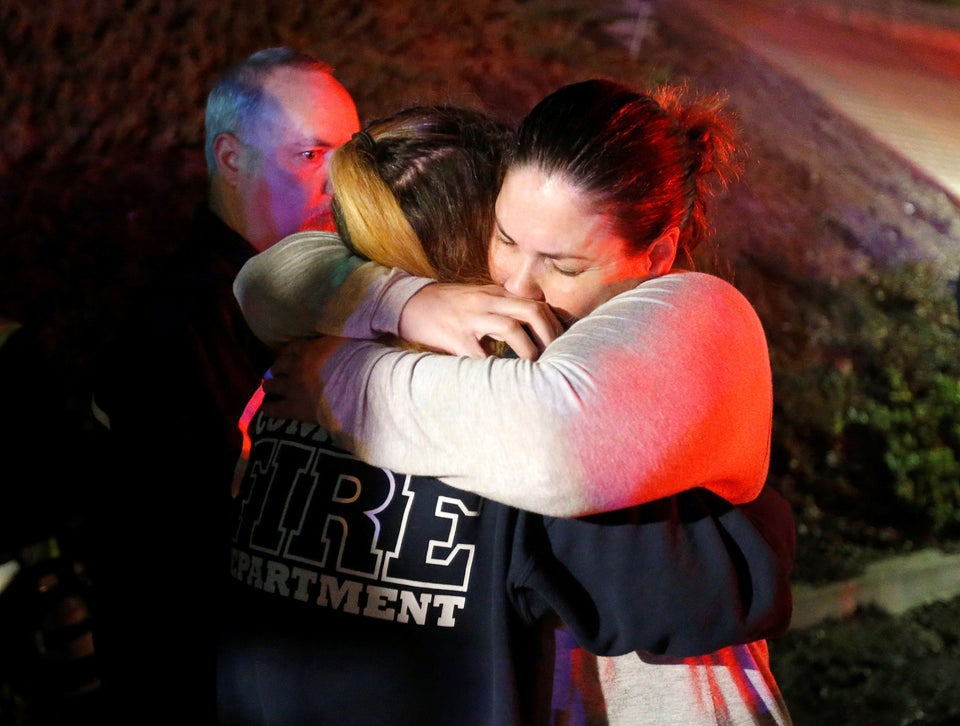 13 Dead In Thousand Oaks Bar Shooting
Popular in the Community