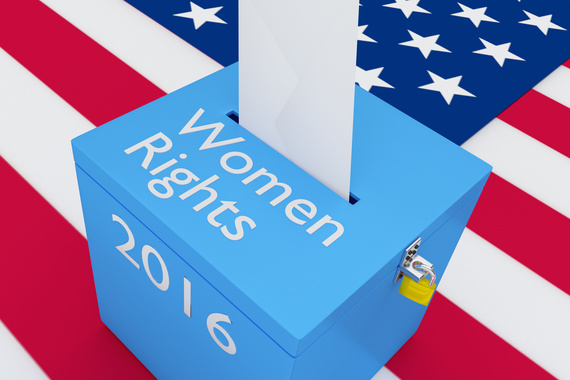 Susan B. Anthony is probably rolling over in her grave with disdain, and Eleanor Roosevelt would seriously ponder our reluctance. Why, because the voices of American women have been silenced. We have taken on the busyness of our male predecessors and forgotten to take a moment to breathe. We are irrevocably lost in a world that focuses on the minuses instead of the pluses. Meanwhile, Harriet Tubman is standing at the gates of heaven with her hands on her hips shouting, "You'll be free or die!" Hoping that the deaf ears of the 21st Century woman will hear the whistle of a train that blew for liberty for everyone.
Yet, we are blinded by our perception of our personal struggle for equality. Caught up in the moment of regret and forgetting to say "Thank You." Thank you for all that has transpired in our world to make it possible for a woman to actually run for president. Lost in the perceived sad outcome instead of the present victory.
Alice Walker said in the Color Purple, "I think it pisses God off if you walk by the color purple in a field somewhere and don't notice it." Well, I am of the conviction that it pisses off the human rights warriors of the past who gave up so much for us to get here when we don't even notice that the tide has changed and the door has opened for women to change the political tide of a failing nation.

America needs the maternal embrace of the feminine soul. Will we rise to the occasion in celebration of a victory long delayed or will we allow the status quo to dictate that we assume a posture of remorse and regret? You must choose today to look beyond what is apparently in front of you and look to the possibility of a better future. Isn't that what Harriet, Eleanor, and Susan did?

No, things aren't perfect, but I for one am pulling out my pom poms and celebrating this glorious victory. This is not a political endorsement for Hillary Clinton, but a political endorsement for the women that came before her to make it possible for a female to walk the hallowed halls of the White House and be called, "Madam President."
Sharon C. Jenkins is a serial "authorpreneur" and a consummate entrepreneur. Her main mission in life is to help authors and small businesses increase their "brandwidth" and to successfully pursue their passion for writing excellence. She is the Inspirational Principal for The Master Communicator's Writing Services. Her writing services and books are tools that assist others in realizing their literary dreams and achieve excellence in their business. She has two great loves in her life: writing and helping others.
REAL LIFE. REAL NEWS. REAL VOICES.
Help us tell more of the stories that matter from voices that too often remain unheard.