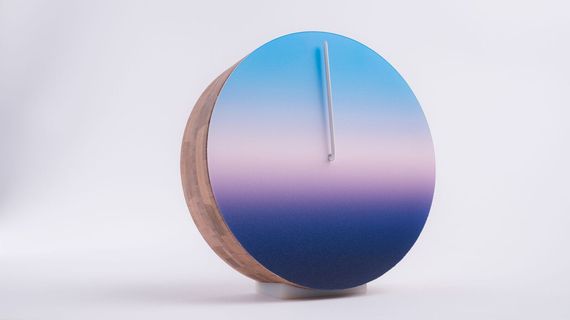 At first glance, it looks like Scott Thrift, a Brooklyn-based artist and filmmaker, has created a gorgeous clock that makes it difficult to tell time.
You wouldn't be wrong in your perception, but you'd be missing out on a priceless opportunity to own Today, an actual time machine -- one that, according to Thrift, "adds about 90 minutes to your day" by pulling you back into the now and slowly altering your perception of how time passes.
I had the privilege of meeting with Scott Thrift to learn about his smashingly successful Kickstarter campaign, his views on time and what he wants people to understand about the potential power of his Today clock to add balance, perspective and health to your life.
Let's just say that Thrift is onto something big. Really big. He knows a secret to living a healthier life and we will soon have the chance to learn and practice his technique.
Three days before the end of Thrift's Kickstarter campaign, more than 1000 percent of the target goal has already been pledged.
It appears that the world is ready to embrace the chance to stop time with Thrift's glorious merger of art, technology and health.
Thrift has been designing clocks since 2011 beginning with his wildly successful, Kickstarter funded creation called ThePresent, a rainbow-hued, time-stretching clock that takes a year to make one full rotation.
After mastering the ability to alter our perception of a year in time, he now has his sights set on changing the way we view the unit of a day.
Why does the world seem so excited about getting their hands on Today?
Because Thrift has found a way to give us the opportunity to experience time as coming to a halt, which teleports your perception of time to present moment and expands it. The Today clock has the effect of transforming every new "now" into a healthy meditation on time.
"It doesn't show you what time it is. It shows you where you are in time," Thrift explained during my exhilarating, sit-down interview with the horologist (an expert in the study of time).
According to Thrift, when you learn to slow each moment down and deprive it of its ability to be tracked through tiny, ticking, worrisome numbers, you create a vast space beyond which you perceive an enormous amount of time ahead.
Try to you wrap your mind around what this invention offers for just a moment and you'll realize that Today is a revolutionary gift to the world, the antidote to the universal curse of modern times in which it feels like there's never enough time.
Today is a visual cue that nudges you to remember that you do, in fact, have time.
Thrift brought with him the components of one of his sleek, hand-crafted timepieces, which, ironically, looks to me like a gift from the future.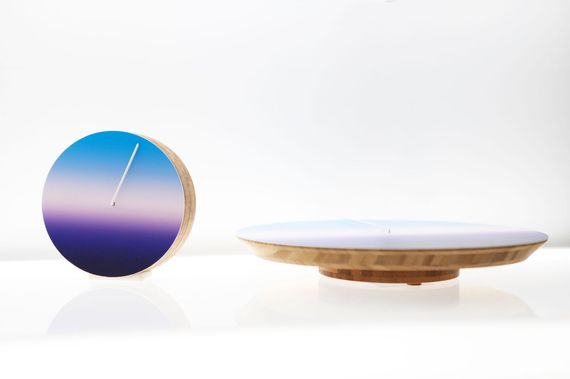 One hand makes a full rotation around the clock over a 24-hour period, so it's basically moving at half the speed of an ordinary clock.
Without the seconds or minutes present, with nothing to count, and with time moving slower, Thrift's intention is for Today to gently alter your sense of time and to remind you to stop counting and consider what really matters in life in this moment.
I imagine that life with Today offers us some badly-needed psychological relief from the anxiety-inducing, time-is-ticking, ok-what's-next mentality that we've been bred to feel when we glance at a clock.
With Today, time is NOT ticking. Rather, it's in abundance because you're joyfully aware that this moment is huge and there's so much time ahead.
Put another way, when time stands still, what's next becomes much less important than what's now.
Thrift explains, "We've been telling time the exact same way for hundreds of years...and we've lost touch with the basics morning, noon, evening and night. We're cheating ourselves out of a more fulfilling experience of the day."
He adds, "We're trying to work as fast as our [computer] processors work. We're trying to be efficient like our computers are. Humans work on a different scale, a different flow." This is what Today returns us to -- our natural proclivity to measure the passage of time in a healthier and more balanced way.
Today comes in three different constructions: a 5" Bamboo Desk Clock for $88, an 11" Bamboo Wall Clock for $118, and a Steel and Glass Wall Clock for $158. Today clocks will be available for delivery in December 2016.
If you want to get a sense for yourself of Thrift's brilliance, take a look at his TEDx talk on time and ThePresent.
As you can see, I'm quite excited for this clock because Thrift seems to be ushering the world into a new era in time perception. To me, Today and ThePresent represent the techealthiest products around.
After all, what on Earth is more valuable than the gift of time?
Dr. Greg Kushnick, the Founder of Techealthiest, strives to offer readers the most actionable tips on the web for living powerfully. He is on a mission to teach the world the technology of health and happiness.
You'll find amazing tips for living a healthy lifestyle with your personal technology in hand.
All images courtesy of Scott Thrift.
Related