In a recent post covering several exhibitions, I noted a zeitgeist that I sensed occurring--of the need to be present.
One of the most gifted and talented artists who embraced being absolutely present in the moment -- in her life and through her art -- was Susan O'Malley. She tragically passed away, unexpectedly, on February 25th. She was in her last week of pregnancy with twins Lucy and Reyna and suddenly collapsed, never regaining consciousness. Her twins also died. The family said the precise cause of her death is still undetermined. The abrupt and wholly unexpected passing of such an accomplished and beloved artist has rocked and saddened the entire Bay Area community and beyond.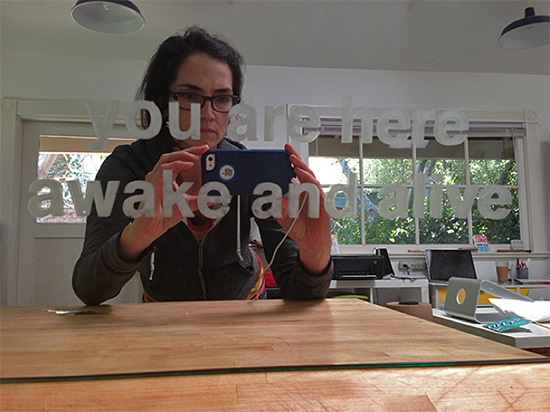 The artist in her Berkeley studio. (Courtesy of www.susanomalley.org)
Yesterday, as I read entries on O'Malley's Facebook page mourning her passing, I was startled to reach her last entry, on February 25. She had inquired if anyone in San Francisco was heading down to Palo Alto, and possibly could help her shuttle an artwork. Four different friends responded, offering assistance. In the next entry, two days later, Cindy Lee writes, "You are loved and missed and leave many feeling lost."
O'Malley was 38. It's incomprehensible that one so young, so vital, and so loved is suddenly gone.
She described her work as "making art that connects us to each other." Simple, but enormously moving, it tapped into the mundane, and sometimes humorous, interactions of everyday life. Her projects included offering Pep Talks, asking for advice from strangers, installing roomfuls of inspirational posters, distributing flyers in neighborhood mailboxes, and conducting doodle competitions at high schools. Interested in shifting these otherwise commonplace exchanges into heightened experiences, her projects aspired to incite hope, optimism, and a sense of interconnectedness in our lives.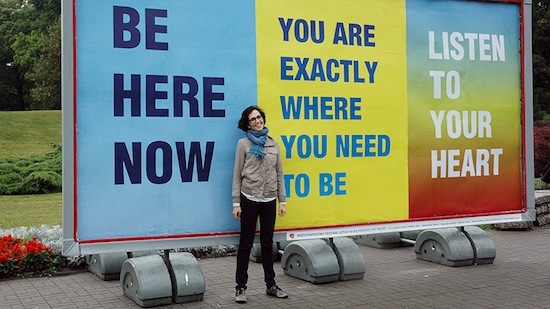 Christian Frock wrote, "All of O'Malley's work, both as artist and curator, reflected a rare generosity and empathy for those around her -- to the extent that her boundless enthusiasm sometimes baffled cynics unable to grasp the actual work of optimism. But she knew it was work and she took it very seriously. Under her professional interests on LinkedIn, O'Malley listed: 'Making the world a better place. Staying positive in a world that does the opposite.'"
I've been a huge fan, champion, and collector, for years. Three years ago, when I spotted one of O'Malley's artworks at the Intersection for the Arts, I immediately contacted curator Kevin Chen to make sure I could have it. A small but powerful piece, it states, simply, "You Are Here." It keeps me grounded. It particularly resonated for me in that after my father passed away several years ago, I realized over time that his death had left me with an unexpected gift -- his absence had become a constant reminder of how important it is to notice, and to acknowledge and appreciate who and what's around you.
To be present in the moment. There is no certainty of the next one.
Susan O'Malley's work was renowned, both nationally and internationally. It entered the public's consciousness through installations in New York Subway stations, and seeped into our subconscious through a Target weekly ad. The Thing, Quarterly, and Levi's commissioned O'Malley's NYC installation "to create a subtle moment where subway riders might be pulled out of the liminal space (if only for a moment) and consider the details around them." It touched everyone who was lucky enough to happen upon it.
Writer Eva Glettner remarked, "Susan O'Malley cared deeply about inspiring those who encountered her art, which is why we, perfect strangers, feel such a loss with the news of her passing." And Kathryn Jaller of Chronicle Books observed, "It's an incomprehensible loss, the kind that can only be mollified by the sort of fierce positivity that Susan lived. An optimism so smart, persistent, and alert, that it transforms anything it touches."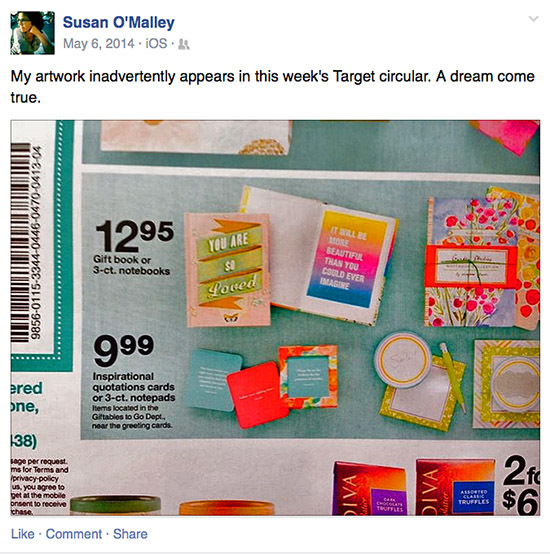 Susan O'Malley, from her Facebook Page, May 6, 2014
O'Malley and her daughters, Lucy and Reyna, are survived by her husband, Tim Caro-Bruce. There will be a public family memorial on Monday, March 9 at 11:00 am at Villa Montalvo (15400 Montalvo Road, Saratoga), where she previously was an artist-in-residence. After the memorial, the group will embark on "A Healing Walk," one of her installations, in the woods. A public celebration of her life and her contributions as an artist and curator also is planned for March 22, from 2- 5pm, at the Yerba Buena Center for the Arts (701 Mission Street, San Francisco). An online memorial has been erected in her name, featuring space for memories and photos to be added, along with more information: MoreBeautifulThanYouCouldEverImagine.com
We miss you, Susan. Who you were, and what you did for all of us was more beautiful than we ever could have imagined. Thank you so very much for your presence, and with it, your brilliant and unforgettable legacy. And for your generous gift of reminding all of us -- and continuing to remind us still -- that there is no moment like the present.
Popular in the Community