Another day, another unprecedented moment in Donald Trump's presidency.
A giant inflatable chicken with Trump-like hair appeared near the White House on Wednesday.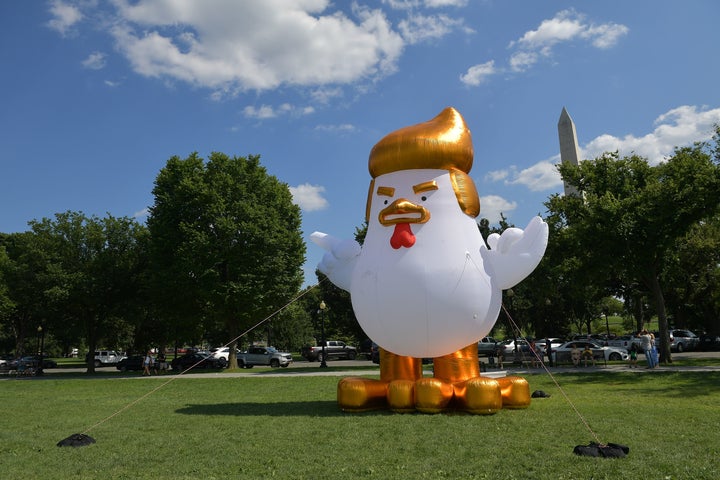 Aerial photos of the display show the fowl, known as "Trump Chicken" or "Chicken Don," standing on the plot of land south of the White House called the Ellipse.
The area is situated between the president's residence and the Washington Monument. It's also in perfect view of the news cameras that are placed in front of the White House.
The balloon was set up by documentary filmmaker Taran Singh Brar to protest the president "being a weak and ineffective leader."
He added that the president was "playing chicken with North Korea."
The filmmaker also confirmed that he obtained the necessary permits to display the 30-foot balloon.
"The tallest thing they usually allow on the Ellipse is the national Christmas tree," he told USA Today. "They gave me a waiver for the 30-foot Chicken Don."
ABC News reported it took Brar five months to secure the permit and gain permission to stage the protest, which happened to fall during Trump's 17-day vacation at his golf club in Bedminster, New Jersey.
When images of the chicken first surfaced Wednesday afternoon, news anchors were understandably perplexed. Fox News host Shepard Smith could not hide his surprise.
"What, what is that?" he asked his colleague Josh Lederman.
"Shep, it appears to be a very large chicken display," Lederman said.
"A what?" Smith asked. "Seriously?"
The chicken was set up in the morning and it wasn't long before spectators flocked to the display, both on foot and via Segway.
The inflatable Trump Chicken made its first appearance in the U.S. in April at Tax March demonstrations held in cities across the country to protest Trump's failure to release his tax returns.
According to The New York Times, a Seattle-based artist originally designed the chicken months earlier for a company that wanted a statue to commemorate the Year of the Rooster in China. Then an activist in San Francisco had the idea to re-create the statue as an inflatable balloon to use for the Tax March.
Chances are photos of the inflatable chicken did not make their way into the folder of complimentary news about the president that Trump reportedly receives twice a day.
Before You Go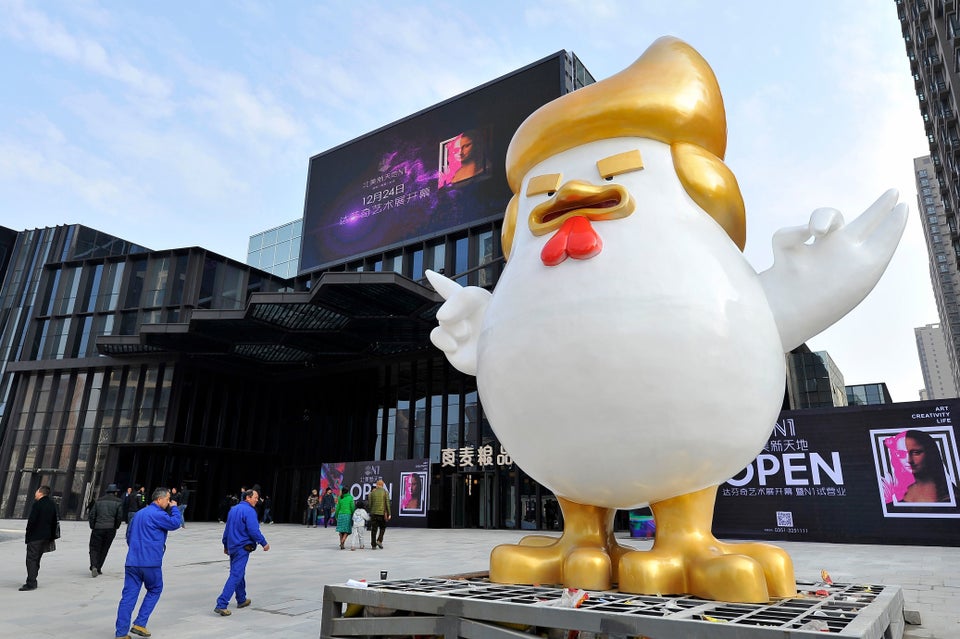 A Brief History Of "Trump Chicken"
Popular in the Community