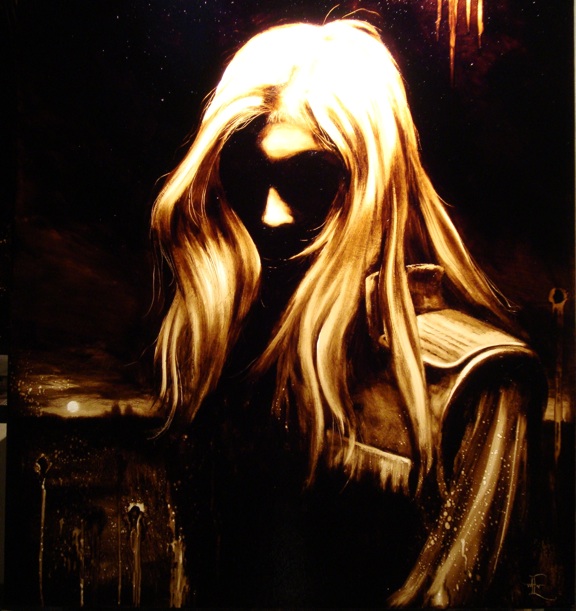 Edward Walton Wilcox: Though You Slay Me | This exhibition serves to reaffirm that Wilcox represents the continuation, if not evolution of the multi-talented Renaissance man, achieving an absolute mastery of craftsmanship across a vast swathe of mediums and disciplines. Though his Gothic and almost archaic technique betrays a romantic affinity for the legacy of his craft, without a doubt Wilcox brings us something new, captivating and disquieting.
If one squeezed the collected works of Edgar Allen Poe hard enough to transmute words into paint and meld this essence with the stark piety of the Dutch masters, then you'd have something fairly close to Wilcox's vision for Though You Slay Me. Thematically and actually, darkness is all pervasive. It saturates his palette of amber tints, ember reds, sulfur yellows, decaying sepia tones; it manifests itself in the form of dilapidated windmills, the looming mortality of skeletons, and beautiful things rendered unsettlingly.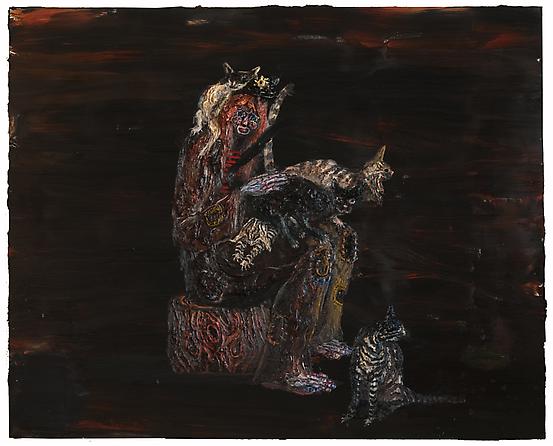 Allison Schulnik: Salty Air | Showcasing her distinctively textured canvases, ceramics, and works on paper, Salty Air stages a narrative born of the wistful sailor's tale -- its characters loyal to the tragic, farcical beauty consistent within Schulnik's evolving cast. Yielding to the capricious plight of her unlikely protagonists, Schulnik embraces their trials and imperfections through dignified portraiture, a ceremonious haven in an otherwise inhospitable world.
Drawing upon divergent renditions of the same fable, The Little Mermaid (as presented in its original incarnation by Hans Christian Anderson, and its jovial Disney counterpart) notably serves as influence upon Schulnik's recent works. She candidly portrays elements of the contrasting versions as an allusion to the irreconcilability of seafaring life, her mermaids and sailors personifying the vulnerability inherent to want.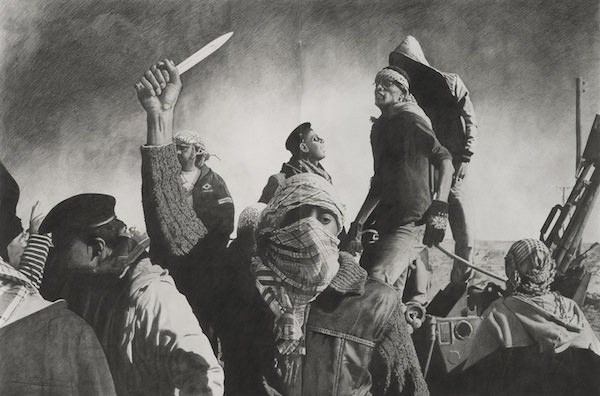 Karl Haendel | A complex installation of walls, doorways and backrooms reconfigures the flow of the gallery's architecture and serves as a backdrop for a psychologically layered exhibition. Revolving around emotions of insecurity, doubt and regret, the works in the exhibition respond to larger socio-economic shifts that are changing both the relationships between the sexes and the generational roles of parents and children. Haendel's film Questions to My Father, a key work in the exhibition, features a range of young men asking questions that they would have liked to ask their fathers but never did. Carefully constructed, the film features these men head on, each asking one question at a time, in clustered groupings of questions that relate to each other. As the film progresses, a more coherent impression both of the sons and their fathers emerges. The film feels both honest and awkward at times as topics that are transcending the personal turn into a seismograph of a larger social and political framework.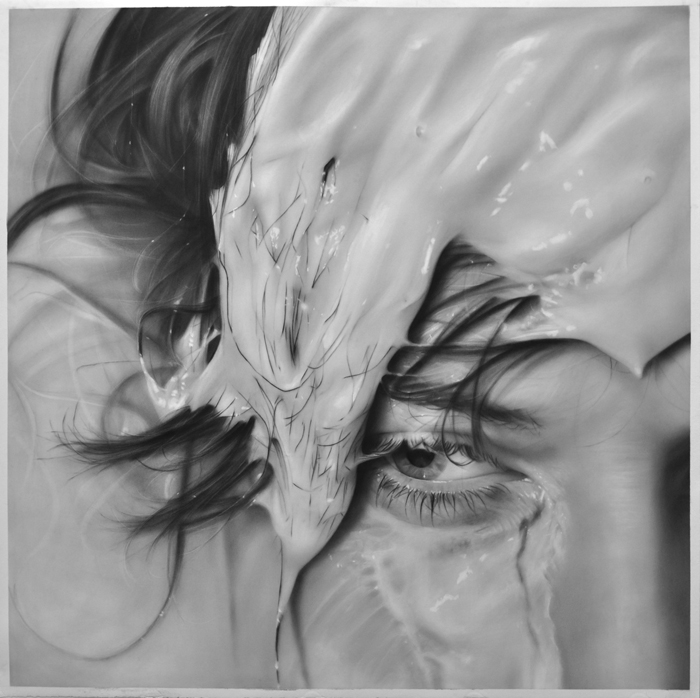 Melissa Cooke: Surfaced | Her powdered graphite on paper works explore themes of beauty, fantasy, violence, vulnerability and identity, with the artist casting herself as subject in a myriad of thematic scenarios.
"Surfaced acknowledges the relationship between photography, painting and drawing in portraiture," notes Cooke. "I take photographs as I paint and pour liquids onto myself, using my face as a canvas. The photo shoots reference the practice of drawing and painting; then the final graphite drawing references photography. The boundaries between the mediums are broken down and the processes are interwoven."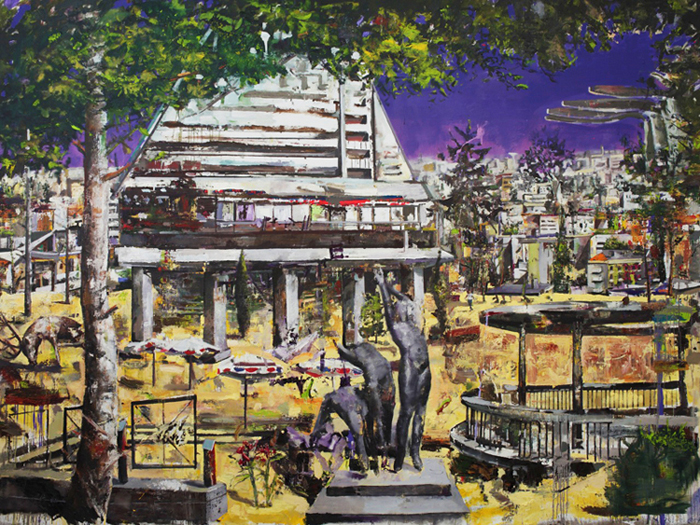 Marius Bercea: Concrete Gardens | Bercea belongs to the generation of Romanians who grew up under Ceausescu's regime, and saw their country's rapid transformation after the dissolution of the Communist Bloc. In some of his earlier paintings, the artist tackled real and imagined childhood recollections: the formulaic school photographs, games, and picnics of faceless kids, wrapped in the yellowish, noxious air that hung over Eastern Europe after Chernobyl's nuclear disaster.
With this new series, described by the artist as a "collective urban portrait," Bercea deals with what happened immediately after 1989, with the arrival of Western capitalism; neon slowly taking over the cityscape, its fluorescent hues slapped on the decaying concrete, the shifting sense of what is normal, what should be aspired to, and how it could, or should, be obtained.
For the most comprehensive calendar of art events throughout Los Angeles go to Artweek.LA.
Support HuffPost
The Stakes Have Never Been Higher
Related
Popular in the Community