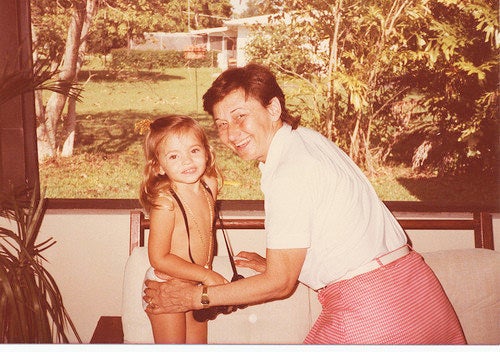 Long before we would become co-designers and business partners, as college roommates, we bonded over the similarity of our upbringings (both of us closely tied to family, first-born daughters, older sisters of baby brothers, apples of our grandmas' eyes) and the differences of our hometown backdrops (sandy Miami beaches, stone crabs, hues of peach, aqua and white versus Tulsa oilfields, powwows, and expanses of wheat-colored prairies). And we connected over a shared appreciation for honoring and exploring family traditions and finding ways to make them our own.

One of our favorite traditions? Outfitting the bride with "something old, something new, something borrowed, something blue." This custom is often the first thing that comes to mind as a bride prepares for her wedding, wondering how she'll fulfill each element in her own unique way. What will she borrow? A vintage hairpin? Her great-grandmother's diamond bracelet? What will be blue? Her flowers? Her monogram, delicately sewn into her gown? Something even more discreet and personal?

Although the origin of this tradition remains unknown, it likely emerged in the form of a poem during the Victorian era. It makes sense that brides, who had likely observed these customs for hundreds of years, would formalize them in a memorable rhyme during this age of sentimentality. The poem describes items which are believed individually to bring the bride good luck and collectively to ensure her happiness in marriage. "Something old" symbolizes continuity with the bride's family and the past. "Something new" offers optimism for her future. "Something borrowed" reminds the bride that she can depend on her friends and family. "Something blue" stands for purity, love and fidelity. With so much on the line, brides, wanting luck in love and life, have thoughtfully mapped out what they'll wear or carry with them down the aisle.

While each aspect of the poem is significant and special, what interests us most is the idea of merging "something old" (the hand-appliquéd handkerchief Grandma carried, the family bible, Mama's wedding gown, a deceased father's photo lovingly tucked inside his daughter's wedding dress) with "something new" (the bouquet of fresh peonies, the personally written vows, the rhinestone-buckled Manolos, the perfectly pressed gown). What better way for a bride to connect to her past and family and to physically and metaphorically bring her history with her as she stands on the precipice of something new?

The sentimentality of this tradition moves us. As a result, we've taken this wedding custom and transformed it into a life philosophy. We take pride in honoring old family traditions, but we try to make them our own. We bake Grandma's strudel, but we add coconut (shh! don't tell her); we sing (never simply say) "Happy Birthday" to the birthday girl or boy, but we spice it up with a little Beyonce; we send handwritten notes for just about everything (make Mama proud!), but we refuse to use any capital letters (surely, our stickler grandpas grimace); and we save sentimental memorabilia, but instead of squirreling it away in boxes, we frame our parents' wedding invitation with their wedding picture, a matchbook with their monogram, and ribbon from the bouquet Mama never tossed. And of course, most important, we try to incorporate "something old" into our daily ensembles to remind us of who we are and where we came from.
Below, some pieces from our jewelry collection, dalla nonna, that merge the "something old" and "something new" traditions to bring brides good luck.