By Barbara Falconer Newhall
As the mother of the bride with lots of years to her credit (my past reaches deep into the twentieth century), I'm feeling an obligation to come up with some cool ideas for the bride-to-be's 'something old.'
My wedding shoes are too long for Christina. And my lacy wedding dress is way too short. So I've been wracking my brain for ideas to suggest -- and maybe something old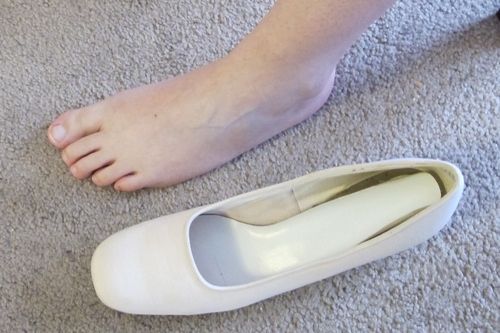 to provide. Here are eleven ideas for the upcoming May wedding that come to mind:
Tuck a 40-year-old dried-up rosebud from my wedding bouquet into hers.
Weave the pearl necklace I wore on my wedding day into a pearl and crystal headpiece.
Pin my mother's wedding ring inside her bodice. Or use the stones in her wedding ring.
Sew a button from her dad's wedding suit onto her wedding bouquet.
Put one of the 100-year-old doilies crocheted by my grandmother on her head and call it a veil.
Wrap her wedding bouquet with a piece of the 50-year-old pillow cases my mother made for me. Or use my great-grandmother's 120-year-old tatting.
Wrap the stems of her bouquet with a strip from the lining of my wedding dress. (No. Forget that one. I'm not willing to cut up my wedding dress. I've got at least one granddaughter who might grow up to be short enough to wear it some day.)
My father loaned me a penny to put in my shoe for my something borrowed. For her something old, Christina could do the same with one of the two-dollar bills he used to give her at Christmastime.
Christina will be married at a big, old house once owned by her
grandparents. Can a setting count as something old?
And how about the father of the bride's wedding suit? It still fits. Sorta. Can that count?
The celebrant could read something really, really old. Like a 2000-year-old passage from the Bible. Or maybe something a bit newer, like a 19th-century thought from the poet William Blake:
Love is patient, love is kind. It does not envy, it does not boast, it is not proud. It does not dishonor others, it is not self-seeking, it is not easily angered, it keeps no record of wrongs. Love does not delight in evil but rejoices with the truth. It always protects, always trusts, always hopes, always perseveres. -- 1 Corinthians 13:4-8 (NIV)
Love seeketh not itself to please, nor for itself hath any care, but for another gives its ease, and builds a Heaven in Hell's despair. ― William Blake, "Songs of Innocence and Songs of Experience"
Ideas anyone? Help us out. Add your comments.