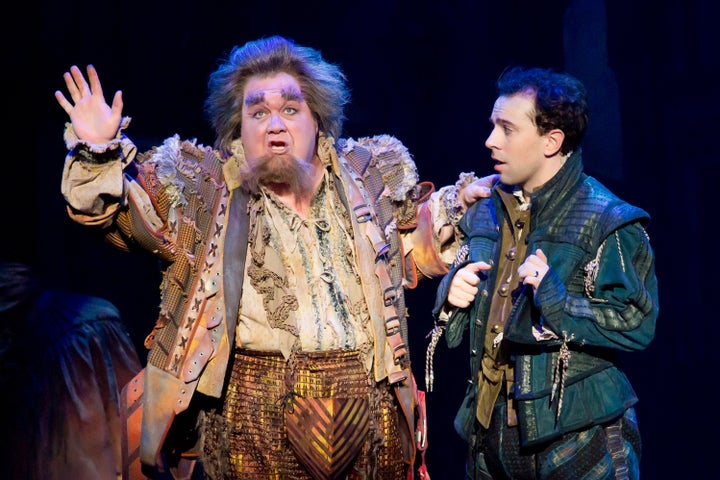 This delightfully raucous musical sendup of Shakespearean England, with music and lyrics by Wayne and Karey Kirkpatrick, and book by Karey Kirkpatrick and John O'Farrell, opened on Broadway in 2015 and ran for nearly two years. It lands at the Ahmanson in fine and uproarious fettle, one of the best and funniest shows there in years.
The premise is simple – theatrical brothers Nick (Rob McClure) and Nigel Bottom (Josh Grisetti) are living in the awesome shadow of pop-star playwright Shakespeare (Adam Pascal). Against all odds, and despite a deficit of talent and imagination, they dream of writing a hit show. Nick's long-suffering wife Bea (Maggie Lakis) is behind them one hundred percent, but that hasn't gotten them very far until Nick consults a vagabond soothsayer (Blake Hammond), who foresees the future triumph of a musical play.
With snappy melodies, sharp choreography and a standout book, the show dazzles with wit and energy. Book writers Kirkpatrick and O'Farrell toss out a head-spinning array of one-liners, many aimed at familiar Broadway musical comedy hits. The music and lyrics are snappy, zingy and just plain fun. Direction and choreography by Casey Nicholaw are lively and engaging, as are the costumes by Gregg Barnes.
McClure is magnificent as Nick Bottom, from his witty asides to his energetic singing, all the while finding the heart of his character, trapped in the Renaissance version of a struggling writer. Grisetti is excellent as the talented younger brother, who falls in love with Portia (a lovely performance by Autumn Hurlbert), the daughter of a repressed Puritan preacher (in a hilarious turn by Scott Cote). Hammond is outstanding as the soothsayer, especially in a show-stopping number with McClure.
Something Rotten is something wonderful – a show not to be missed!
Related
Popular in the Community