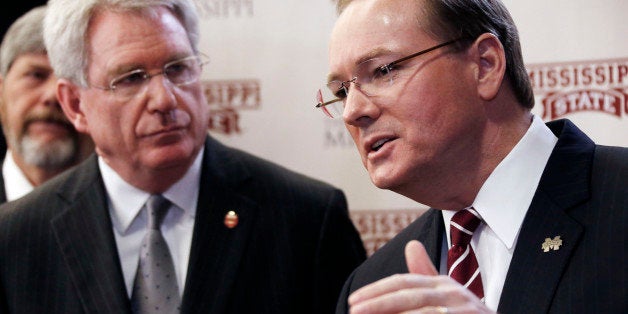 Being chancellor of a major university is not exactly a job with a lot of turnover. They usually settle in for about a decade, and absent any major public scandal, go quietly in the night. When they ultimately do retire, the campus almost always issues a statement saying something about "returning to her/his first love of teaching" or "spending more time with his/her family."
To fully understand the matter, you must take the advice of advice of Watergate's Deep Throat and "follow the money."
Mississippi is a small state where everyone knows everyone. So let's get the caveats out of the way. Dan Jones is a friend. His predecessor and champion, Robert Khayat, was my law professor. John Grisham was my classmate in Khayat's class. Jim Barksdale - brilliant and visionary business leader - supported opponent in my first gubernatorial elections, but supported my re-elect against Haley Barbour. In that 2003 election Archie Manning publically endorsed Haley Barbour. So I have friends of all different stripes involved in this fight.
Jones came to the Chancellor's office at Ole Miss at the urging of outgoing chancellor Robert Khayat, a former football star for the '59 National Champion Rebels. Khayat had been wildly beloved as chancellor, and then-Governor Barbour dared not go directly against a living legend. So the Institutions of Higher Learning Board members appointed by Barbour voted to allow Jones to follow his mentor.
Since that time, Barbour has taken two highly lucrative positions. Without missing a beat, he returned to his pre-gubernatorial position as head of Washington, DC lobbying firm, the BGR Group. He also took an equity position at the law firm, Butler Snow, in Ridgeland, MS - a suburb of the state's capitol of Jackson.
When Barbour left office, Butler Snow was the third largest law firm in town. Since then, Butler Snow has taken hundreds of millions of dollars in state contracts. Now they are one of the largest firms in the nation.
The former head of the Department of Environmental Quality - the person charged with all environmental regulatory actions - left her position at MDEQ to join Butler Snow. Not coincidentially, her replacement was also a Butler Snow attorney when he was picked for the job.
Butler Snow got the contract to redraw the state legislative map during redistricting. And to the shock of no one, Butler Snow's favored candidates came out on top.
Butler Snow could be considered the 'for-profit' arm of our state government.
Hiring well placed partners is considered best practices for any ambitious capital city law firm - especially in a state where much of government business is given through no-bid contracts.
What do they have to do with Jones? Nothing. That's the problem, if you're Dan Jones.
Major state universities are more than just big football weekends, quirky traditions, Greek system public relations nightmares, and incubators for a states 'best and brightest.' They are huge revenue generators.
Hundreds of millions - if not billions - flow through their hallowed halls in legal fees for health care contracts, research grants, bond issuances, buildings contracting, the list is too long to count. Even in a poor state that chronically underfunds education, we're talking a mountain of untapped billable hours for a firm like Butler Snow.
Dan Jones was standing at the gates of a gold mine, but he wasn't a Butler Snow man. He wasn't a Barbour or Bryant man. He was just a man who cared deeply about his state, felt passionately about education, and wanted to see his alma mater develop into a world-class institution. Or as he put it, he just "wanted to do the right thing."
And for the Bryants and the Barbours and Butler Snow, caring more about the future of your state than the firm's profits was absolutely unacceptable. So late on a Friday Afternoon, with everyone focused on NCAA's March Madness, the Members of the Board of Higher Learning - all appointed by Barbour and Bryant - let Jones go.
So why did these three favorite sons - Grisham and Barksdale and Manning - stand up and fiercely complain about the type of firing that otherwise happens somewhat regularly? It's probably partly out of admiration they felt for a good and decent man.
It may have to do with something else they all have in common - a love and respect for education, and the institution that provided one that enabled them to be successful. And perhaps, they know that turning over their beloved Ole Miss to the political cronies that run our shadow for-profit government is bad for education.
When a university worries more about politics than it does students and educators, that's bad news for the students and educators. When a chancellor has to worry about taking care of the Governor's cronies, those legal fees get taken out of salaries, skimmed off research grants and added to tuition.
While I can't speak for Grisham, Barksdale or Manning, I can say for myself, this is a different kind of Greek tragedy than one you usually see on college campuses these days. It's a classic tale of money and greed and corruption, and the firing of Dr. Daniel W. Jones was only the first act.
Ryan Brown, a regular contributor to the CottonMouthBlog, contributed to the writing of this column.
Popular in the Community