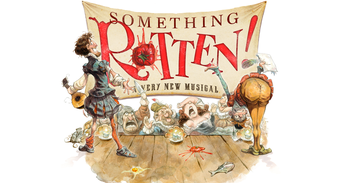 For anyone involved with theater, Shakespeare seems universal. However, he also can feel over done, wordy, or boring. Regardless, theater goers and actors alike will never stop obsessing over him and thus, Shakespeare will always have a presence on Broadway. Currently there are two productions that are directly inspired by Shakespeare, "Something Rotten!" a satirical musical set in 1595 England that tells the story of a rival playwright, and "King Charles III" a "modern history play" (but in the old style) about England's next monarch.
Although "Something Rotten!" is now a year old and was not the toast of the Tony Awards last year, the musical is still running, still has the majority of its stellar original cast, and is still beloved by the audiences who fill the St. James Theater nightly. On the other hand, "King Charles III" is the current "it" play to see, (the "Hamilton" of plays, if you will), and the Music Box Theater also boats full houses, albeit less boisterous ones. So what makes these modern twists on Shakespeare so compelling? More importantly, which one "works" better, and why is one more beloved than the other?
"King Charles III" is a Shakespeare play, just in modern times: it is in blank verse iambic pentameter, has soliloquies, and a five act structure (sadly only one intermission though). It is wordy, intellectual, and slow. There is no spectacle, set changes, gorgeous costumes, or genuinely funny moments. At times, this play feels like a school field trip--it is so intellectual and elitist it often comes off as boring and never-ending.
"Something Rotten!" is full fledged satire, filled with hilarious word play, fun historical (though easily recognizable) references, and ridiculous characters. The dramaturgy of this musical is perfect: all the characters are future Shakespeare characters' names, several songs include Shakespeare lines or sonnets, and time period is established in a way that makes Elizabethan England as flashy as 1920s Chicago. The giant set pieces by Scott Pask and sequence-filled period-appropriate costumes by Gregg Garnes add razzle dazzle to the superb directing and choreography of Casey Nicholaw. A special accolade must go to Brad Oscar (who plays Nostradamus) and his amazingly self-aware and satirical song "A Musical" which explains this "new" genre of theater--and includes ingenious and comical references to almost every Broadway musical.
Going to see "Something Rotten!" is an amazing experience and you are guaranteed a laugh-filled evening. Former "Smash" stars (yes, I am still talking about "Smash") Brian d'Arcy James as Nick Bottom and (Tony award winning) Christian Borle as Shakespeare share a rivalry that spans a tap-dance/rap duel, songs like "God, I Hate Shakespeare" and "Will Power," and several idea-stealing moments of friendly plagiarism. Both give amazing performance in roles that seem to fit them perfectly. The women of the show, Kate Reinders as Portia and Heidi Blickenstaff as Bea also provide perpetual comic relief: Portia as naughty preacher's daughter who accidentally makes sexual puns in "I Love the Way" and Bea as the feminist cross-dressing laborer in "Right Hand Man."
For the Shakespeare aficionado, almost every single line is laugh out loud funny, since puns, references, and word play abound, all to do with Shakespeare's play/poems and general Elizabethan references. For the less literary audience member, the musical is still hilarious, and the majority of the jabs and allusions are extremely recognizable.
The same cannot be said for "King Charles III." Unless you are well-versed (literally you must be well-aware about verse poetry) in Shakespeare, his plays, his style, his plot structure, and his character tropes, then you will miss out on the genius of this play. For Shakespeare enthusiasts, this can be a very enjoyable play; it is a fascinating way to see what a Shakespeare play about our era is like. But for everyone else, this is just an odd play, where the characters have very odd speech patterns, not much happens, and the ending never seems to come quick enough.
"King Charles III" will certainly win its share of Tony awards--and it probably deserves them, for it is quite a literary achievement to so accurately adapt a Shakespearean style to today. However, if you are looking for something vaguely Shakespearean and desire a fun, enjoyable night at the theater, "Something Rotten!" is a much better choice; this way instead of spending your night wondering how much longer Prince William's monologue will go on, you'll spend it laughing at puns and clapping at tap dancers in period costumes.
Calling all HuffPost superfans!
Sign up for membership to become a founding member and help shape HuffPost's next chapter