Since 1979, when Mimi Sheraton's cookbook entitled From My Mother's Kitchen: Recipes and Reminiscences was first published, its readers have embarked on an intimate journey through a lifetime of Jewish cooking. They've traveled back in time to an era when a dish would be ready "when it looks right" and learned the definition of a "golub" of milk ("You hold the bottle upside down and the milk goes golub, golub, golub...."). As Sheraton tried to document the recipes she loved, her mother became so frustrated with the process ("Are we going to measure or are we going to cook?") that she offered Mimi $50 to abandon her work on the cookbook.
Those were the days before the invention of the Cuisinart; when many women had no compunctions about cooking without exact measurements. I still remember explaining to a roommate from Possum Trot, Missouri (who thought that all home-made cakes came from Betty Crocker boxes) how my grandmother would make a pile of flour on the kitchen table, use her fist to make a dent in the top, crack open some eggs and pour them into the top of the volcano before producing some kind of cookie dough.
While today's chefs experiment with culinary foam and fusion dishes, most people still yearn for certain foods that taste the way their mothers made them. Several years ago, a cooking show on PBS Hawaii entitled Family Ingredients began to explore the favorite dishes of some of the leading chefs working in Hawaiian restaurants. Because the Hawaiian Islands have become a melting pot of cultures from various immigrants, family traditions play a key role in giving a dish that "special taste" that makes it feel authentic.
As the show's host, Ed Kenney explains:
"Whether we're in Hanalei, Wahiawa, Honolulu, Hilo, or Kaunakakai, we find families who continue to keep the tradition alive -- recipes they continue to make that came from an ancestor. While in their kitchen or back yard, we learn about individual characters and family history. We meet the grandmother, the son, and the niece -- the person that has taken the lead of learning how to make the family recipe best -- and we delve into their family albums, listen to their stories, and learn more about who they are by following their recipe to its origin."
CAAMFest 2016 featured segments of Family Ingredients that focus on two favorite Hawaiian foods. One (poi) is a staple of Polynesian cultures; the other (pipikaula) is derived from foreign cultures. In one segment, Kenney travels to Waimea, where a local musician, Kuana Torres, demonstrates the art of making pipikaula (salted dried beef).
Torres is a direct descendant of the paniolos (Hawaiian cowboys) who learned the technique from the Mexican vaqueros who were brought to Hawaii to teach the natives how to raise cattle. After letting the pipikaula bake in a home-made solar dryer, he explains how the meat can also be marinated overnight and then loaded into a cowboy's saddlebag to cook in the sun's heat so that it will be ready to eat by mid afternoon.
Pipikaula is usually made with flank steak which can easily be cut into strips of meat. Once cured and dried, it can be stored and eaten like string cheese. Later in the segment, Kenney and Torres travel to the mainland. After dining in San Francisco, they visit the remains of an adobe ranch near Sonoma where cattle were once raised under the leadership of Mariano Guadalupe Vallejo (after whom the city of Vallejo was named). Traveling south to Sonora, Mexico, they visit a female chef who shows them how to make machaca (a form of dried meat which strongly resembles the pipikaula consumed by today's Hawaiians).
Sonoran jerky beef prior to being shredded into machaca
In the other segment, Kenney discusses the history of poi (which he first tasted from his mother's fingers), shows how it is farmed, and visits a community college where younger cooks are finding new ways to use one of Hawaii's oldest foods (e.g. making hummus with poi or a poi-based flourless chocolate cake that requires no extra sugar). Kenney also describes how today's cooks learned the secrets of working with fermented poi, which might have been valuable as a foodstuff that could be used during long Pacific voyages in outrigger canoes.
The Berkeley Repertory Theatre recently presented the world premiere of an exquisitely poignant new play by Julia Cho. Tenderly directed by Tony Taccone, Aubergine focuses on a Korean-American family whose patriarch (Sab Shimono) is dying. The protagonist, Ray Park (Tim Kang), is a talented cook who has never received the slightest bit of encouragement from his dying father and has recently broken up with his girlfriend, Cornelia (Jennifer Lim).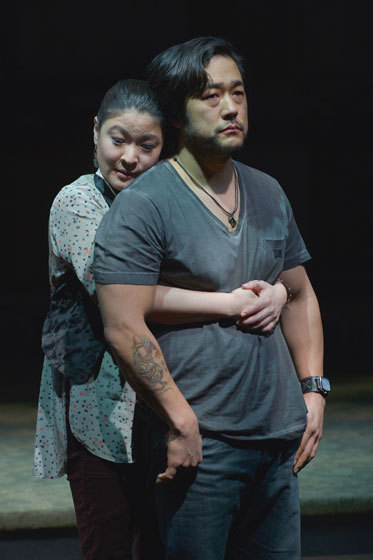 Cornelia (Jennifer Lim) comforts Ray (Tim Kang)
in a scene from Aubergine (Photo by: Kevin Berne)
With his father being discharged from the hospital to home hospice care, Ray must rely on help from Lucien (Tyrone Mitchell Henderson), an experienced hospice nurse. He also needs Cornelia (who speaks fluent Korean) to help him contact his estranged uncle in Seoul and tell him that his brother is dying.
This is the rare family drama that lets emotions breathe when nothing is being said, which tracks a young man's conflicting emotions while trying to deal with an uncle who cannot speak English, an embittered lover that he must rely on as an interpreter, and his feelings of hopelessness and helplessness as his father lies, unresponsive, in a hospital bed.
A lack of communication among family members is always fertile ground for playwrights but, in Aubergine, the long silences, periods of estrangement, and a history of perceived insults have created the bitter wounds that shaped Ray's character as a child and continue to haunt him as an adult. In her article entitled Tiny Traumas Are Traumatic Too, Anneli Rufus explains that:
"Our [psychological] traumas went pretty much unwitnessed by the outside world. They weren't arrestable offenses. They were often tiny, but continuous, and they were all we knew. Our brains developed under those conditions, by those rules. Together and alone, we minimize our trauma to protect our parents: Sacrosanct, that Fifth Commandment. Also to protect ourselves, perversely: If it wasn't trauma, then I wasn't traumatized, so I'm not sick. I'm fine.

We minimize our trauma because we think others will. We've seen the eye-roll which means: Compared to that homeless amputee, you have no cause to cry. We want to beat our minimizers (who include us) to the punch. But in so doing, we, the tinily, continually traumatized, retraumatize ourselves, day after day. It's not playing the victim card to say: My suffering is real. I hate it. And I hope it heals. And you're neither a spoiled brat nor a big baby if you say it still hurts."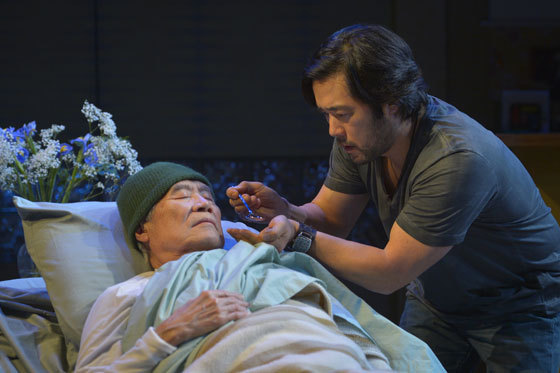 Ray (Tim Kang) tends to his dying father (Sab Shimono)
in a scene from Aubergine (Photo by: Kevin Berne)
As is so often the case, a family's connection to certain comfort foods acts as a catalyst in Aubergine.
The play begins as Diane (Safiya Fredericks) explains that, after her boyfriend inherited substantial wealth, the couple became globe-hopping foodies. Ironically, nothing she has eaten has ever compared to the pastrami sandwiches her father used to make for her.
Knowing that his new client's son is a cook, Lucien brings an eggplant (aubergine) to Ray early in the play. He explains that it was his favorite dish in his homeland, something he has never been able to replicate because he cannot find the same variations of eggplant in America.
Upon learning that Ray's father is dying, his uncle (beautifully portrayed by Joseph Steven Yang) urges Ray to cook a family recipe for turtle soup that might have curative as well as spiritual powers.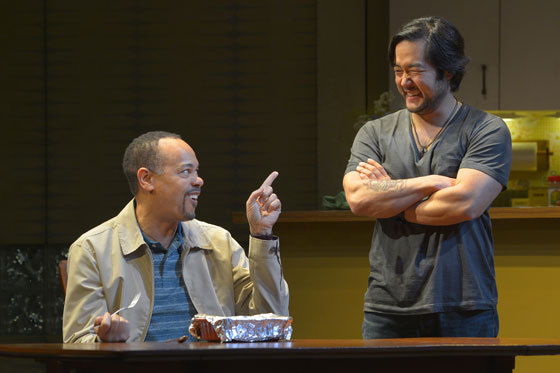 Lucien (Tyrone Mitchell Henderson) tastes the eggplant dish that
Ray (Tim Kang) has cooked for him in a scene from Aubergine
(Photo by: Kevin Berne)
After Ray's father has died, Lucien comes to visit and is shocked to discover that Ray has baked an eggplant dish for him as a gesture of thanks. What makes the dish so special? After seeking help from his fellow chefs, Ray has managed to find the exact types of eggplant that Lucien described when they first met.
At the end of the play, when Cornelia's former co-worker, Diane, drops by the small restaurant that Ray and Cornelia have recently opened, she is shocked to be served the exact type of pastrami sandwich her father used to make for her.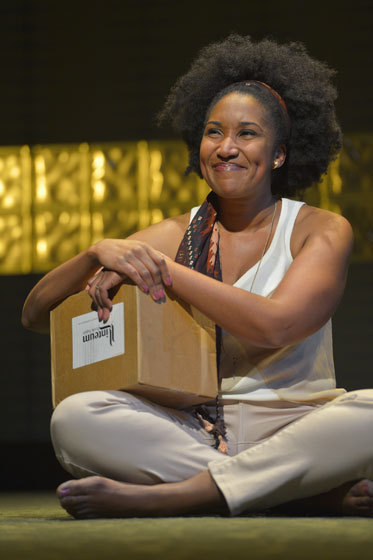 Diane (Safiya Fredericks) fantasizes about a pastrami
sandwich in a scene from Aubergine
(Photo by: Kevin Berne)
Undoubtedly a play to fall in love with, Aubergine was developed at The Ground Floor: Berkeley Rep's Center for the Creation and Development of New Work. Special kudos go to scenic designer Wilson Chin, lighting designer Jiyoun Chang, projection designer Aaron Rhyne, and sound designers Rob Milburn and Michael Bodeen for creating an environment that always supports (without ever overwhelming) Cho's poignant play.
While one might expect the strongest performances to come from Tim Kang (Ray) and Jennifer Lim (Cornelia), the most empathic moments are actually in the hands of Tyrone Mitchell Henderson's caretaker, Lucien, and Joseph Steven Yang (Ray's uncle from Seoul). Throughout the evening, this six-actor ensemble has been lovingly guided by director Tony Taccone.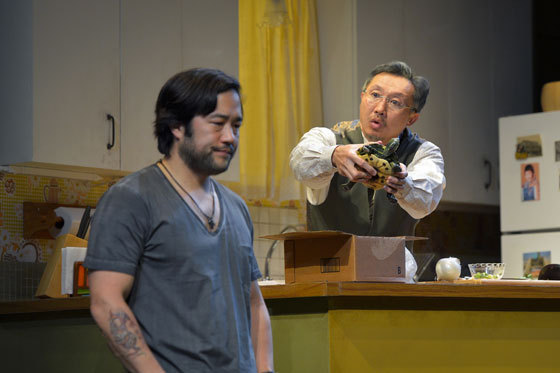 Ray (Tim Kang) seems doubtful when his uncle (Joseph Steven Yang)
presents him with a turtle to be used in a special soup in a scene
from Aubergine (Photo by: Kevin Berne)
Cho's play offers audiences the kind of warm satisfaction one gets from an especially fulfilling meal. Here's the trailer:
Calling all HuffPost superfans!
Sign up for membership to become a founding member and help shape HuffPost's next chapter