As Greece is on the precipice of bankruptcy once again, defaulting on its contentious bailout, with the EU ready to pull the plug at any moment, something definitely "stinks" on the Island of Zakynthos, where I recently visited as a tourist in April.
Greece depends a lot on people like me, driving its main industry, tourism, as an antidote to its never-ending financial crisis. This alone assumes protecting its pristine coastal lines and environment. Yet, what are Greek leaders really doing about it? On the Ionian island of Zakynthos, the political leadership seems to have conspired against the local residents to deny them their ancestral property rights and their ability to develop their island further as the eco-tourism gem that it promises to be.
Zakynthos, also known as Zante, has been designated the most important nesting site of the endangered loggerhead sea turtles, (Caretta caretta) in the Mediterranean, and the island is home to a national marine park sanctuary to protect them. Considered one of Greece's most beautiful islands, much of its 406 square miles are wild, carpeted in ancient cypress, olive groves and small, family-owned vineyards. It's stunning, rock-cliff coastal scenery has attracted many tourists (there was an 11% increase reported last year) but many will be unpleasantly surprised to find the island is not paradise as advertised, due to a waste management crisis that had the island's jaw-dropping winding roads lined with towering piles of refuse. Apparently the island's main dumping site is overflowing, and for years political decision makers have searched for solutions. The solution they have agreed on this past month is an eco-system disaster waiting to explode.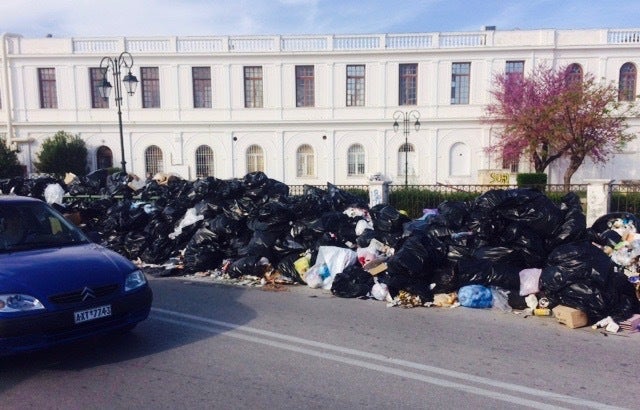 In April, residents were informed that the garbage would be moved to a mountainous site referred to as "Liva" by the locals, on the western part of the island. It is smack in the middle of four villages, less than a kilometer away from a primary school.
About two years ago, the mayor of Zakynthos, Pavlos Kolokotsas, in order to get elected during his campaign, declared "that the dumping of garbage at Liva would be a criminal act," as it is considered "a super fragile place in terms of its eco-system sustainability. " The site holds rare species of birds and also sits at the center of the island's main water source, with the very high probable risk of contaminating the island's water shed. It also sits on a major seismic line that can crack any time, with soft and porous white rock increasing even more the probability of contaminating the lower layers of the earth reaching the water shed sources.
I filmed a protest and blockade at the site, where many of the irate residents of Liva remember the Mayor's promises bitterly.
Zakynthos is small and therefore only elects one M.P, who also acted as the case attorney against the creation of Liva as a waste land. In a macabre twist to the story, he is now Greece's Minister of Justice, and joins the Mayor in favor of dumping in what should be environmentally protected.
A so-called thorough environmental study was authored by one individual environmentalist – known throughout the Ionian islands, as the "referred" environmentalist to undertake such studies, (as opposed to a specialty university department). This report concluded the costs would be astronomical if the site were selected, in order to render it appropriate and make sure the risks would be reduced. The report did not guarantee zero environmental risk if this site were selected, as it only outlined the enormous cost requirements needed as prerequisites.
The two politicians have joined forces to create a culture of silence around the garbage fiasco, which is fast turning into a major Greek tragedy, with disturbing local and global implications that run far deeper than the glistening, turquoise waters surrounding Zakynthos.
There was an alternative site donated near the village of Skopos, a viable space of sixty thousand square meters (60,000m2) of level ground, by private owners of a local organization that manages the old people's home, and the center for children with special needs. According to residents, this seems to not even have been considered by the decision makers.
One local landowner, Konstandinos Bozikis, who is one of the many young Greeks returning to their family's plots to build his life's dream, "Wild Fig," an eco-resort to introduce permaculture and eco-tourism told me, "The solution is not cheap, it's really expensive. It's in fact astronomically expensive. The politicians make everyone believe that they push for this expensive solution so they can get a ton of contracts to meet the prerequisites of eco-preservation, instead of following the easier and more economical solution of Skopos. More contracts means more suspicion, more costly studies, no real solution. Maybe there is something more at play here."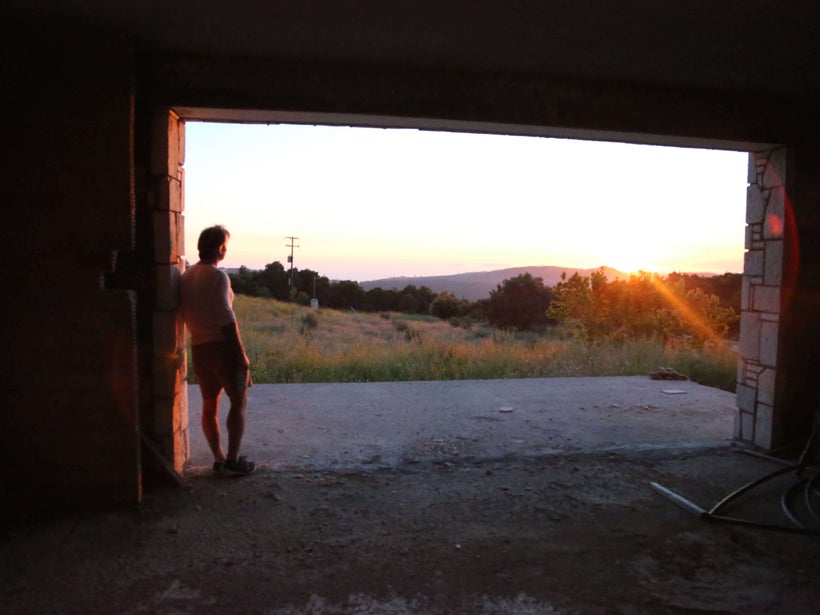 Could it be that The Emir of Qatar, Hamad bin Khalifa Al Thani has offered to purchase150,000 square meters of prime coastal property, along with nine other Ioanian islands? According to Greek news, the Public Revenue Service of Zakynthos has filed a nine million euro 9M contract and 400,000 euros as a deposit for the transfer tax, however, the tax service claims that the property is worth double its current value. Part of the purchase includes one of the island's largest tourist attractions, Shipwreck, or Navajio Beach. The purchase is tied up in the courts currently, as the seller, Denis Grivas, claims his family has had title to the land for over 150 years, while the Greek Church disputes this.
It could be that the garbage crisis has something to do with devaluing the land that has been so cherished and well-kept by farmers and their families, who regularly return to the villages on holidays and summers to continue to cultivate the ancient olive groves, wineries and fruit orchards the way their ancestors did for centuries.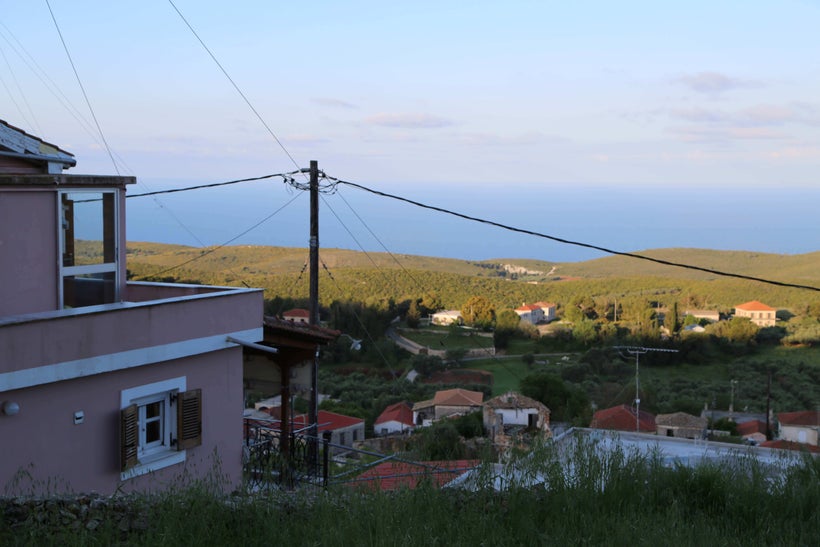 The stench of political corruption on an island that was ironically dubbed "levant flower," or flower of the East, by the Venetians who also controlled the island for three centuries. Home to Greece's esteemed national poet, Dionysios Solomos it was also once conquered by Ulysses. Upon Ulysses return to Ithaca and with Neoptolemos' mediation, a treaty was signed granting autonomy and establishing the very first democracy in Greece, which lasted more than 650 years. Perhaps a return to that treaty and its ancient promises is needed.
For now, the tourists are starting to arrive, lining up for boat tours to remote swimming coves, and for dive expeditions to swim beside their beloved sea turtles, most of them oblivious to the crisis.
One protesting villager remarks, "Are our children not as important as marine life?"
Calling all HuffPost superfans!
Sign up for membership to become a founding member and help shape HuffPost's next chapter
This post was published on the now-closed HuffPost Contributor platform. Contributors control their own work and posted freely to our site. If you need to flag this entry as abusive,
send us an email
.