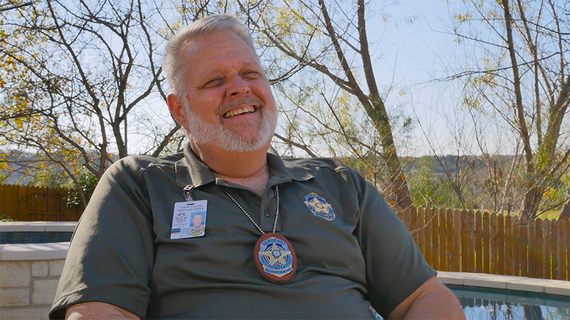 I'm From Driftwood is a 501(c)(3) nonprofit archive for lesbian, gay, bisexual, transgender, and queer stories. New stories are posted on the site every Wednesday.
Dennis Rudder is from a small town in Texas, gay, and wanted to be a cop. Not exactly a common combination, which led him to years of depression and struggle. Dennis recalls:
When I joined with the academy, something in my mind--I don't know how to explain it--but something told me that cops can't be gay. And so I went back into the closet, way in the very back of the closet, probably for close to 15 years until just about two years ago. I was working on a big project and I was going through a lot of stress with my lifestyle, with my family, things at work, and I got depressed and eventually saw a therapist.
After meeting the right friends and finally coming to terms with his sexuality, Dennis decided he couldn't hide who he is anymore. After an epic Facebook post, Dennis came out to everyone at the same time, which resulted in full support from colleagues and a new life of happiness. It turns out guys from small towns in Texas can be gay, cops, and best of all, happy:
I can't wait around waiting for people to accept me, that's not what I want. Accept me like I am or go do your own thing. So when I finally got through that and decided to come out, I tell you, it's really changed the world. My only regret is that I waited way too late in life to come out.
REAL LIFE. REAL NEWS. REAL VOICES.
Help us tell more of the stories that matter from voices that too often remain unheard.