If I had to choose the one featured performer in a play or musical, on or off-Broadway, who I thought was giving the best performance this season, it would be Ruthie Ann Miles in Lincoln Center Theater's revival of The King and I. I'm sure, based on our interview, if I were on the phone with her, telling her I was starting the post this way, she would say: "Thank you, that's so nice, I appreciate it, but you really don't have to say that. It's too much." But it's true so I'm going to say it.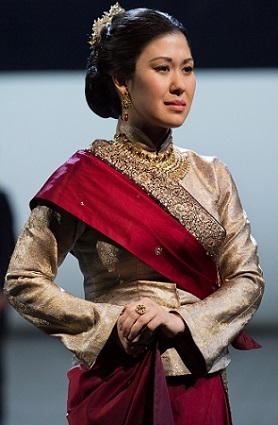 I've seen many The King and I productions throughout the years, but I've never seen a Lady Thiang quite like Miles's Lady Thiang. She has a real strength about her, but also a real sensitivity and warmth. She clearly loves her King. She is not someone who is just there, she realizes everything going on around her. Her "Something Wonderful" is amazing vocally--I'm sure those who saw her in Here Lies Love are not surprised by that--but what I think is so brilliant about her performance is her ability to pay attention to her surroundings. We've all been there in the theater for this: a supporting character is onstage, but not the focus of the attention, and that actor is obviously in his/her own world. You can tell when you look at the performer, that person assumes you are not looking at her/him, and that person is just waiting for a cue, not focusing on the character. Miles is present in every moment. Her Lady Thiang quietly watches everything that goes on around her. If you sit close enough, you'll see her eyes widen and constrict during certain relevant parts. And I'm not talking about at the first performance or at the second performance, I'm talking about last week, when she was likely already a little fatigued thanks to the award show season. She is still watching the other performers, in character. Her moments of talking and singing are great, but the story for her character is also told in her moments of silence. Because of the intelligence of the performance throughout, Lady Thiang is more empathetic than in other productions I have seen. People leave the theater talking about her, in addition to Kelli O'Hara of course. They leave the theater talking about a character that often is a bland afterthought in mountings of The King and I. Yes, she has one amazing song (and leads another quirky one), but you usually don't think of her beyond that. People who see this King and I will think about Lady Thiang. They will think about what she knows, what she feels, what is motivating her. That is the genius of Ruthie Ann Miles's performance.
I was so happy when she received her Tony nomination and when she won the Outer Critics Circle Award. I realize she's not the favorite for the big award, but, while all the nominees in that category are giving notable performances, she's my choice. So I asked her to take time out of her busy schedule -- in addition to being a Tony nominee, with all the activities that entails, she is the mother of an almost two-and-a-half year old daughter who she says is giving her and her husband "a run for [their] money" -- to speak with me about her Tony Awards experience thus far.
How did you find out you were nominated?
My agent called me right away. I had pretty bad insomnia the night before. Maybe because I knew the nominations were the next day. Maybe. I try not to pay attention to those things. My daughter was sick the night before. She woke up in the middle of the night. And I'm one of those people who has trouble falling back asleep. She woke up 6am, she usually sleeps until 8am. She finally went back to sleep at 7am. I fell back asleep as well, and then my agent [Dustin Flores from THE MINE talent agency] called me. He said: "Ruthie? How are you doing? What are you doing?" I said: "I just woke up. What is wrong?" Then my phone starting buzzing and ringing. I thought something horrible had happened, like 9/11. He said nothing was wrong, I had just been nominated for a Tony.
As he's telling me I got nominated for a Tony, I hear Abigail say from the next room: "Mommy, wake up now. I poo-pooed." So almost immediately it's back to normal life. My daughter is saying she needs my attention more than the phone call. I hung up and took care of business.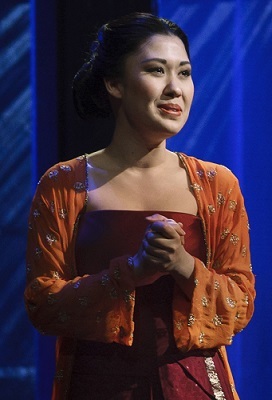 Who was the first person you wanted to call and tell?

I have a few girlfriends that are just the dearest to me. I Facetimed with one, and then while I was doing that, one had texted and the other left a voicemail. They know me so, so well. They didn't say "congratulations." They said things like: "Breath. Calm down. If you need me, I'm here for you." They know me so very well.
They were just reminding me that everything comes and goes. It's going to be crazy now. They said: "Don't go on Facebook." I still haven't really. When I go on, I skip over certain days. It's just so overwhelming. So many people have been so kind. People I haven't spoken to in decades remembering a performance I did or a song I sang in PE to motivate us. It's been so nice, but I need to read those slowly in private.
He had already left for work.
He left me a voicemail. He's a civilian. The message said: "I read about your nomination. This is a big deal, right? I love you." It was three sentences. It put the biggest smile on my face.
If I start to buy into the hype, it's going to be too much. My mother came in, and she treated it like just another thing. She congratulated me, but she treated it like a good review. She was happy for me like after a good review.
This is your Broadway debut and therefore you're a naturally a first-time nominee. There is a ton of stuff that goes along with being nominated; I think people don't often realize. Were you expecting the amount of activities involved in a nomination?

No. In the biggest loudest, longest way I could ever say it: NO! I had no clue.
We're also going to be performing. So we've had multiple rehearsals for a scene we do every night. Last Thursday, 30 to 40 people from the Tony Awards crew, video staff and their assistants came to see the performance. We are going to have 30 minutes after the show to get out of hair and makeup and get to the Tonys in buses. I have never been before. I have been watching it for years. I've never been. It was a dream of mine to attend the ceremony once. Just to attend. But I never dreamed it would be like this. It's amazing to know now what it takes to put on something so huge. Millions of people watch it -- of course it takes this much, I just didn't realize. They do a scratch tape, so they were taping us. We have to be there at 9am for rehearsal on the day of the show. I had no clue. It's so seemless when you watch it on television. I maybe pictured one camera director and four cameras. So I pictured someone saying: "Camera A, Camera D, Camera A, Camera C." That is what I thought. It's not that. It is a massive team of people who are never going to get applause. It's huge.

And there are so many events before...
I think a smarter me would have asked how many events I'd be going to and do a tally of how many dresses I was going to need and then ask someone to dress me. I've worn everything I have, things I wore for Here Lies Love events, things I wore before that. It's been wonderful, I'm not complaining. I had no clue how many people would want to celebrate with me.
I won the Lucille Lortel Award and the Theatre World Award for Here Lies Love. The Lortels do only off-Broadway, but the Theatre World Awards do both on Broadway and off-Broadway and they noticed me, and Conrad [Ricamora], who was also in the show. I remember it so well. Tom Hanks was there. Me and Tom Hanks. This year, they both asked me to present. I was very, very, very honored. Those had such an impact on me.
It's been many events, but it's been wonderful. I would go to them all -- if so many of them didn't conflict.

What are you doing for your dress?
Ms. [Anna] Wintour is nicely handling all of that; I'm consulting with one of her stylists.
Wow. When did you find out?
A couple of weekends ago. Last week one of the stylists came to theater to talk to me about what I like, what colors. I said: "I tell stories for a living, you are a professional. I will do whatever you want me to do."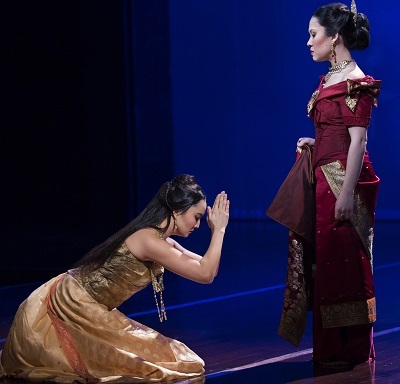 When do you find out what you're going to wear?

I'm going next week to try on some things.

And it's perfect because you are out of your own dresses.
Yes. It's a lot less stress not having any say! It is wonderful.
I am assuming your husband is going to be your date to the ceremony?
Yes, and my agent is going to be sitting with me, which is great. I've been with my agency for many years -- he means a lot to me. So I was really honored that he is spending the high ticket price to be by my side. It's really a very high ticket price.
Other than in your category -- who are you rooting for most?

I cannot imagine Kelli not winning. I watch her every night and I learn something about Ruthie and Lady Thiang. I learn so much from her every night. Lady Thiang doesn't talk that much, but sometimes I wonder: "Lady Thiang, why do you talk so much? You should just want Kelli playing Anna." Her performance is subtle and powerful at the same time. It's not a flashy performance, it's very subtle. But if you watch her, she will change your life. Anna Leonowens went in there to teach these children to give them a better future, Kelli is a teacher, watching Kelli makes me better. I can't entertain the idea that she won't win.
All photos are from The King and I and by Paul Kolnik. In addition to Ruthie Ann Miles, the bottom photo features Ashley Park, who plays Tuptim in the revival.
Calling all HuffPost superfans!
Sign up for membership to become a founding member and help shape HuffPost's next chapter