I've heard that bad sh*t happens, but what about when bad shots happen?
If you're reading this, you probably know that my Jane was a premature baby. And if you've read my piece on this titled The Ghosts That Haunt This Preemie Mom, then you also know that, because of the health problems associated with her birth, I get a touch of trauma anytime Jane gets sick.
Well, when she got off of the school bus on Friday afternoon, the thermometer was already over 101. I knew it would be a long night.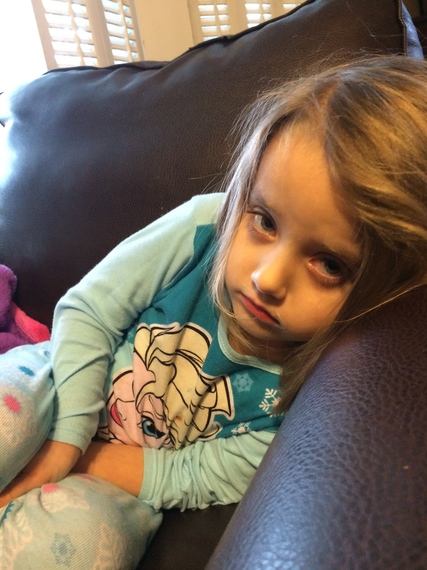 Taking care of a sick kid is always a mystery to me. I blame this entirely on Web MD. So, to avoid gross waiting rooms and $75 doctors' bills, my general rule of thumb is to give the fever 48 hours and monitor how Jane's acting before going to the doctor. But by Saturday afternoon, her temp was 103 and refused to go down, even with fever reducer. She was more ill than I'd ever seen her. So I decided to bite the bullet and head to Urgent Care.
Besides issues related to her prematurity, the only real health issues that Jane has had are colds. So it was disturbing to see her so sick (and for lack of better terms, so damn mean). I swear, in her own 4-year-old way, she was cussing out everybody in that doctor's office, including me!
The real trauma came in when the doctor said that her strep test came back positive and that she needed to have two shots (a penicillin shot and a steroid shot). I felt terrible because the only way I was able to get her to agree to go to the doctor was by telling her there would be no shots.
Upon hearing the doctor's orders, Jane completely came undone. It was ugly. The nurses decided that had to physically restrain her in order to do the shots safely. One nurse held her legs, I pinned down her torso and head, and another nurse gave the shots. The poor girl writhed under me, screaming so loudly and so innocently, "Please, no shots! Ouchie! Ouchie! Ouchie!"
I couldn't handle it. I yelled at the nurse, "Please just hurry the hell up!"
Then, when it was over (it felt like forever!), the nurses left as they saw me melt into an absolute pile of tears. Jane cried and cried about how much it hurt, how much she hated the shots. Her face was so hot and filled with steamy, salty tears, and we both collapsed in wracking sobs, holding each other through the pain of the moment.
In my head I thought, I shouldn't be crying. This will traumatize her. I'm supposed to be the strong one. The one in control so that she knows it's all right.
But it wasn't all right. She'd just gotten two terribly painful shots. Regardless of the wonders of medicine, it is a traumatic thing to be so little, to be feeling so awful, and then to have two piercing shots on top of all of the other bad things happening to you, all the while being forced down on a table by your own mother.
I, for lack of better terms, "ugly-cried" and told her, "I'm so sorry, baby. I'm so sorry that these shots hurt. I hate these shots, and I hate anytime that you are hurting. It hurts me so much."
Instead of her being totally weirded out by my crying, she looked relieved. She took my face into her little hot hands and reassured me, "It's okay, Mommy. Today is just the worst day I've ever had. But it's going to be okay." I think she felt validated.
I realized something. Maybe being "in control" all of the time isn't what our kids need to see in us. Maybe they need to see that we acknowledge their pain and their hurt. That we feel it too because we hate to ever see them suffer, even in the most minor ways (like penicillin shots).
Once we both calmed down (her with a popsicle, me with a glass of wine), we discussed why shots are so important. She started feeling better so quickly, and I assured her that the shot is what helped her the most (though she was sure that it was the popsicle that did it).
I also realized that those ghosts that I wrote about in that preemie essay will never go away. And that feeling the trauma when it rears its ugly head is so so important to healing. I realize how lucky I am to have a child who survived her early circumstances, who has lived four years before having her first major illness, who is healthy, whose little body responds appropriately to antibiotics. I realize that so many other parents aren't so lucky. But I also realize that when my child hurts, I hurt so badly too. And I have to feel that hurt instead of pushing it way down in an effort to appear like an adult who's in control.
I have to realize it's okay to lose control. Especially when bad shots happen.