Any fashion follower realizes that trends are very often cyclical, meaning that no matter how heinous or dated something appears it could very well be at the forefront of fashion again in a few short seasons. Countless daughters have found some of their most fab finds in mom's or grandma's secret stash of key items from decades past. That said some looks have seemed so tragically unhip that it was impossible to imagine them resurfacing the see the light of day, let alone becoming key pieces for style setters from fashion bloggers to models to celebs. Mom jeans. Teva sandals. Overalls. Unlike bell bottoms or power suits these items were questionable the first time around yet they've returned with a vengeance.
Some of the most famed faux pas of the past are also turning up on fashionable faces in the beauty realm, from matte finishes to matching lipstick to blue eyeliner. Of course there were some very good reasons these looks were shunned in recent memory and it's important to keep a few things in mind if you want to incorporate them into your beauty rotation.
Former Faux Pas: Matte Makeup
Matte makeup seems to have hopped on the 90s bandwagon along with Tevas, overalls and crop tops. However the matte finishes of 2014 are a far cry from the harsh, dry looks seen 20 years ago. The new matte is rich and luxurious but with a finish that's more cashmere than cakey. There's an underlying radiance to the skin that keeps the look fresh and flattering. For lips we've replaced the brown and nude shades of the heroin chic era with vibrant shades that look bold and sophisticated in a matte finish. A carbon black matte liner is the perfect complement, drawn in a fine line for a subtle hint of glamour or layered for a bold graphic statement. This is a women who knows what she wants and isn't afraid to make her mark.
Former Faux Pas: Matchy Matchy Makeup
There was a time when matching your lipstick to your nails, dress, purse and shoes was considered an impressive feat. That time has become known as the 80s and it's a period that most women are not looking to revisit. However spring has seen a resurgence of matching your lipstick to your outfit or your nails. To keep the look cohesive and not cloying, stick to one match per ensemble. A red-orange lip and nail pair beautifully with a neutral ensemble while a fuchsia lip complements a dress in the same hue. The real key is to keep the rest of the look minimal. Subtle contouring and a few lashings of mascara add just enough polish for a modern take on matching. If you're still wary of perfectly matched hues try using a sheer lip balm or gloss that echoes the shade of your polish.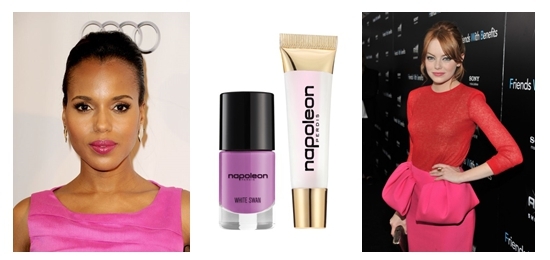 Kerry Washington and Emma Stone sport the matching lipstick look; the White Swan duo from my Love Birds Collection
Former Faux Pas: Blue Eyeliner
This is a look that carried swiftly from the Spring 2014 runway shows into reality. While blue liner ranks almost as high as blue shadow on intimidation factor, this may be the easiest of all to pull off. As with any trend I recommend trying it at 20 percent, which in this case translates to a fine line smudged into the upper lash line for a subtle flash of color. A rich turquoise pops on any skin tone while a royal blue is gorgeous against olive and deeper skin tones. If you're accustomed to wearing black or brown liner apply a slightly thicker line of blue and add a fine black line along the lashes for more definition. Again, keep the rest of your makeup minimal and neutral for an overall effect that's fashion-forward and not flashback.