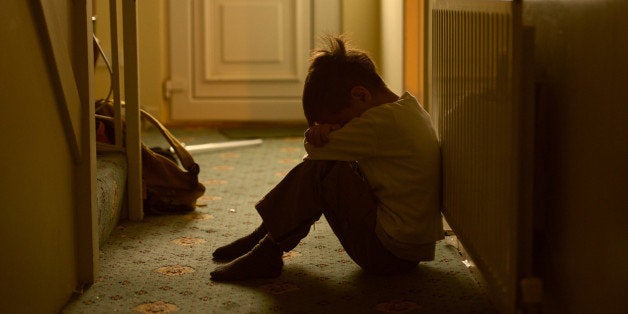 Let's fix it! One of my superpowers is my savvy knack for solving problems. As an entrepreneur, this superpower is the bomb. And as a Mom, it comes in really handy most of the time... except when it doesn't. Last night I had one of those parenting moments when I desperately wanted to use my superpower but instead I kept it in my pocket and I sat in the dark with the sadness. I didn't try to fix anything.
I read Brené Brown's book, The Gifts of Imperfect Parenting, a couple of years ago and learned about the power of sitting in the dark with my child when he is feeling bad. I used to put on my cape and trouble shoot, or get all therapist-y and soothe, rationalize, and fix the sad feelings to make it all better. That is all I want... I want my kids to be happy.
The reality is that life is full of yuck too and learning to feel all our feelings, honor them and accept them is living a real and full life. As Brené says, it's living a wholehearted life. What if we actually allowed the yucky feelings to be okay too?
Yesterday my little one was upset about something... I could tell. I watched him sneak away to his room and after a minute, I followed him and peeked in. The lights were off; he was on his bed crying. I went in and lay on the bed next to him. I rubbed his back and told him I loved him. Somehow, I remembered the message in the book and I bit my tongue. I had this moment to sit in the dark, literally, with him and whatever was troubling him.
I asked him what was wrong and after a bit he was able to tell me. It was a heartbreak thing and of course I so badly wanted to make it all better. It took everything in me to not say, "It's okay. You'll be okay." I actually had some sage advice to offer in hopes of making him feel better. But that wasn't what I was there for.
This was his time to experience heartbreak.
I was there to be with him and his tears.
I was there to love him and share the sad time with him.
I told him I had experienced heartbreak too. I had been there and yes, it sucks. I'm sorry.
And then I lay on the bed next to him in silence.
Sure enough... within minutes, he picked himself up and was ready to go back out in the world. On his own. And I was there to witness it.
I didn't pull him back out in the world before he was ready. I didn't tell him his sadness, his heartache was silly. Or that the girl was the one that was losing out.

I didn't try and fix him because he wasn't broken.
He was just having a moment. I allowed him to feel all the feelings in that moment and he was able to experience those feelings flow right through him. He didn't stuff them, diminish them or shame them. He let them out and moved on.
What a huge blessing to have learned this, for both of us.
I cried a lot when I was young. I am a sensitive spirit. On a regular basis, I was told to stop crying and to stop being so sensitive. My feelings were wrong, they were bad.
Toughen up. That is what our culture teaches kids and especially boys.
I argue that it takes strength and courage to be vulnerable and to feel our feelings.
Feelings create the connection between heart and head. If we pretend our feelings don't matter, or are bad and we shame ourselves for feeling what we feel, then we become disconnected.
Tune in and feel all the feelings. It's okay.
Sensitivity is an amazing gift. Our world needs more tender hearts.
It was a beautiful experience to be able to show up in a different way for my little guy, without my cape on. It was challenging, indeed, and yet I'm certain he felt seen, heard, loved and supported. And isn't that what I'm here for anyway?