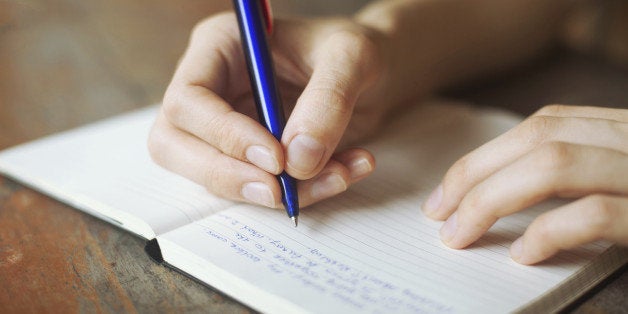 When I was a young girl, I would sit on my grandfather's lap and rub my fingers across his bristly hair. He would tell me stories, watch me perform songs and dances and give me big hugs and kisses. Then one day when I was about nine, I came home from school and learned that my grandfather had moved from Cleveland to California. I was left with all kinds of unanswered questions. Why did he leave me? Would I ever see him again? Did he miss me as much as I missed him?
As the days went by, I feared that my grandfather would die before I could say goodbye. In the '50s, we almost never picked up a phone to call someone long distance. So I wrote him a letter and every day would ask my mother if she thought he had received it. I can still remember the tremendous relief I felt when my mother let me know my letter had arrived.
From that experience at an early age, I learned the anguish of not having the chance to say goodbye. This invaluable life lesson has helped me to live differently than I might have otherwise. I better understand the importance of closure. I make a conscious effort to stay current in my relationships and let people know how I feel about them. I don't want to live with "If only I had..." I never want to have regrets about the things I didn't say, and so I say them whenever I can.
Two months ago, I shared this lesson when I had the privilege of participating in Camp Kangaroo, a Seasons Hospice camp for children ages four through 18 who have lost loved ones. The object of the camp was to provide tools for these children to cope with their loss and also to help them understand that they are not alone -- that there are other children who are experiencing similar pain and heartbreak. Many never had the chance to say goodbye to their loved ones. In some cases, the deaths were unexpected and sudden: a father who had a stroke, a two-year-old sibling who suffered a seizure while playing. In other situations, the parents were sick for a long time, but no one helped the child say his or her goodbyes.
Some of these children had little preparation for their loved ones' deaths. While we all do our best, often we don't consider just how aware and how much young children know. They watch. They listen. They understand. But still, we adults often try to protect them from the reality.
As part of the camp experience, I introduced journal writing to each of the five different age groups. We provided the youngest children with journals which had space for drawing as well as writing. I spoke to the children about unfinished business, which in many instances might have been as simple as their not having had the opportunity to say goodbye or say I love you. I encouraged them to write a letter to their cherished loved one to express thoughts and feelings they wished they had said while the person was still alive. Another suggestion I gave them was to describe what they learned from their loved one that they will remember and will keep close to their hearts. The most rewarding part of this journal experience was watching those children, who had had difficulty verbalizing prior to this session, write non-stop and express anger, grief, sadness, frustration, and guilt.
Little did I know that in just a matter of days after camp, I would be facing a similar situation in my own life. My dear friend Jane had undergone medical testing. When she received the results, she called me and asked, "Do you really want to know?"
Her emphasis on the word really sent a chill through my body.
"I have pancreatic cancer," she said, shaking me to my core.
Courageously, she went on. "They think it has spread to my liver. My doctor wants me to have chemo, but if I feel awful from it, I'm telling you right now, I am checking myself into hospice."
And so, within less than a minute, my entire world changed. My college roommate was living with a terminal disease. During the next few weeks, Jane experienced severe pain and grew continually weaker. And less than a month after her diagnosis, she died.
Shock and disbelief set in among her family and friends. For me, a myriad of memories came flooding back along with the sad reality that I would never see Jane again, would never share our lives together as we have over the past 52 years. My life as I knew it with Jane had abruptly ended without the one last conversation I wished I could have had.
On the day after Jane died, I awoke at 4:30 a.m. after a fitful sleep. Often my best way of coping with sadness is to write in my journal or even sometimes write a letter to someone. I knew in that moment that while Jane would never read the letter, I needed to write one to her and so I began.
Dear Jane,

Just six weeks ago when we were together, everything about you radiated happiness. You felt wonderful. You looked perfectly healthy. You were reveling in your success. You were at the top of your game.

Just weeks later, you learned that you were dying. Because you were in such discomfort, it became almost impossible for you to talk longer than a few minutes.

In my legacy classes, I try to help people prepare so they don't have to live with unfinished business. And yet, Jane, here I am with words left unspoken. I'm not ready for you to be gone. I'm not ready to live my life without you in it -- without ever hearing your laughter or seeing your smiling face again or my telling you how much I love you.

No matter how often people say you will always live on in my heart and while I know that's true, what I also understand is that it will never be the same. Your absence has created a tremendous void. The heartbreak of losing you feels overwhelming.

I never had the one last opportunity to tell you how I cherish all the special times we had together, how your friendship feeds my soul, and how you matter to me. And regardless of how many journal pages I fill, it is never going to be enough. I will never have the chance to say goodbye.

With love always,
Merle
______________
Merle R. Saferstein, author of 'Room 732,' teaches a course entitled Living and Leaving Your LegacySM to people of all ages. As the former director of educational outreach at the Holocaust Documentation and Education Center in South Florida, she helped Holocaust survivors pass on their legacy to students and teachers for twenty-six years. Since 1974 she has completed over 350 volumes of personal journals and is currently working to compile them.
Calling all HuffPost superfans!
Sign up for membership to become a founding member and help shape HuffPost's next chapter