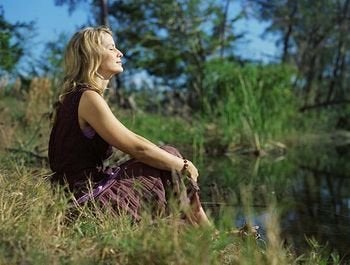 The following is an excerpt from All Things At Once by Mika Brzezinski (published by Weinstein Books, January 5, 2010).
I'd been fired by CBS News in a semipublic way, and as the months went by, there was a perception that I was damaged goods. Mostly, what I didn't have going for me was the success I'd already achieved. Because I'd been working at a fairly high, fairly visible level, people in television invariably thought I would only consider a position at that same level. But I was realistic -- I knew I could not start where I'd left off, but I had trouble communicating this to the people who mattered.
All I wanted, really, was a job. I missed working, providing for my family, connecting with other journalists, and making television. I met with ABC and NBC. Nothing. CNN ... nothing. All over town, network and local ... nothing. As time went by, I started to lose confidence.
Financial fears set in. I felt all these pressures, internal and external, real and imagined. All the while, I was trying to convince executives and recruiters that there was nothing wrong with me. But it got to the point where I certainly wouldn't have hired me, the way I came across in these meetings.
This went on for months and months. I was depressed -- again, not clinically, perhaps, but feeling really, really low. Like I was losing sight of myself. I actually talked my way into a great PR job, at a top New York firm, but the closer I got to it, the more I realized it wasn't for me. It came with a very large salary, and every time they described what I'd be doing to earn all that money I kept thinking, 'Well, I guess I can do that.' It won't be "me" -- but yes, I can handle it. In the end, I handed that job off to a close friend, a CBS News producer who'd been a part of the Memogate fallout as well. The position really fit her perfectly, whereas with me, it would have needed alterations.
It was the first time in this mad, frustrating scramble to find a new job that I stopped pushing the fast-forward button to grab at any and every opportunity. The first time I considered the reality of my situation and made a decision that might have been counterproductive in the short term, but absolutely necessary for my long-term health and well-being.I realized that television news was my true calling and that it was up to me to do whatever it takes to answer it. Even if it meant starting all over again. I asked my agent to send me out on another round of interviews -- this time with talent recruiters and lower-level types. I thought maybe we'd missed something on the first couple passes, by aiming so high. Now, my objective was to aim low, and simply get back in.
This new push finally did the trick. An ABC News talent recruiter weighed in with a job. It wasn't a particularly good job: anchoring the network's dot.com webcast. I had contacts at ABC, high level producers who urged me just to take it, and then they would recruit me to do extra work for their show, to help me get back in the game. I could do that, I thought. In fact, I knew it. But I also knew the job would turn out to be another one of those bad boyfriends. Working ten hours a day on the Web and then weekends at ABC News and maybe mornings on GMA, just to prove myself all over again. Another friend at ABC, a vice president, said he could definitely see me getting on World News Tonight if I just got myself in the door at the network. The strategy, he said, was to volunteer to work weekends -- for no extra pay, of course. Starting all over again didn't scare me, but I was put off by this relationship with ABC from the start. It seemed unhealthy, like I'd be setting myself and my family up for another terrible fall.
I talked myself into taking that job a million times. Then I talked myself out of it a million times more. I walked around the ABC newsroom, hoping to get a feel for the place and what a brand-new start there might look like. I knew there'd be opportunities at ABC News, and I knew I could get to every single one.
The dot.com people seemed genuinely surprised and wanted me to start right away. My producer pals were also excited and called me at home to express this. I pretended to be excited, too. They overnighted some contracts and other paperwork for me to sign on a Thursday, and I was due to start the following Monday. It all happened right away. And there I was, sitting at my desk at home that Friday, going over the contract, and unable to sign it. I just physically couldn't do it. I had the pen in my hand, but all I could do was stare at the paperwork. The whole time, there was a voice in my head, trying to talk me into signing: "This is what you have to do, Mika. There's no decision here. No other options. Just take a step back and sign the contract."
But then, just as I was about to sign, I realized it wouldn't do to take such a fundamental step back unless it was the right step back. And this job just didn't feel right. I put the contract down and called my agent. I wanted to talk it through one more time.
"Just do one thing for me," I said, just this side of desperate."Call MSNBC. One more time. Please. Ask them what they have. Not what they think I would want, but what they have. Press them hard. If you get back nothing, then I'll sign the ABC deal. But I want to know what they have." I needed a job, and if I was going to take such a huge step back I would need more control over the situation. The ABC job felt like I would be selling my soul.
Sometimes, the whiff of desperation is what it takes to get things done, because on this last-ditch call my agent's associate managed to get a nibble. A part-time, freelance job, doing cut-ins. At a day rate, on an on-call basis. The MSNBC executive on the other end of the phone was almost afraid to mention it at all, because she felt it was such a step backward. I thought it through for about a second. "I'll take it," I said. "Call them back and set it up." I had my reasons. I knew the culture at MSNBC. I knew how things worked and how they didn't. I knew I could find a way to make myself useful, and that they'd put me to more productive use. And the day-rate aspect of it gave me some power over my own schedule, which I was certain would fill up with requests once my new colleagues saw what I couldn't explain or demonstrate in interviews -- that I wasn't damaged goods.
Walking in the back door and surprising people would work better for me than trying to impress a network executive in a job interview. The public relations job would have offered a healthy paycheck right away, and the chance to work at a fairly high level with predictable hours, but I would have failed at it. That, I couldn't do. The ABC job would have paid more than this part-time cable position, but it was full-time plus from the start. That, I couldn't do either. But this cut-in gig at MSNBC ... this I could do. In my sleep. And it offered a lot more upside than any of the other prospects. It was a step back, but it was not a bad boyfriend.
As soon as I accepted the job, I felt myself coming back to life, as if I'd received a transfusion. It was amazing, really, considering the position I'd held at CBS, up against the one I was about to take at MSNBC. But during that full year and more that I was out of work, I discovered who I was and what I was meant to do, regardless of my assignment or my annual salary. I discovered what my terms would be this time around. And as I recharged, I knew I was making the right decision.