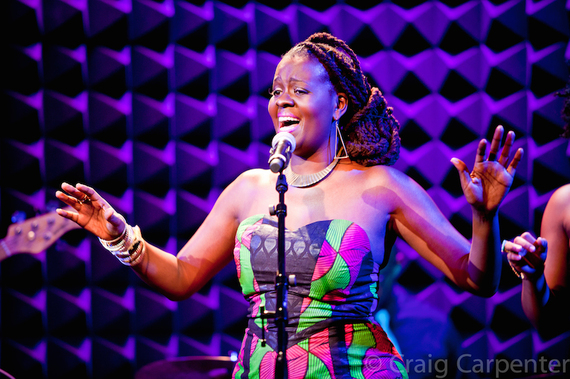 Cynical music fans like to talk about the things that aren't happening today; things that aren't happening in jazz, that aren't happening in R&B. A few months ago, I was invited to witness what was happening at New York's Joe's Pub, in the person of recording artist, Somi. There are times when luck is on my side; an unanswered email, or an interview shoot gone long, and we'd instead be reading of an opportunity missed. We're not. The chanteuse gracing the stage, newly signed to Sony Music's reincarnated Okeh label, was opening a three date residency at Joe's Pub, the music venue of the venerated Public Theater. The late night event, a rather intimate setting, with less than fifty people in attendance, was crackling with an expectant buzz. The supper club, it's lights emanating, rather than shining alternatively purple, blue and red, coolly welcomed the tall singer to the stage -- the colors of her regal African patterned dress accepting the room's compliments. There was some advanced word on the streets, with the artist having previously released an album domestically, and debuting at number two on Billboard's World Music Chart. Her name and sound were, nonetheless, unknown to these ears. That was then. This is now.
Born in the United States to Ugandan and Rwandan parents, Somi's connection to Africa has always been constant. Though raised here, she spent time as a child in Kenya and Zambia, and most recently, returned from an eighteen month sojourn in Lagos -- Africa's most populous city, where she soaked in the rhythm, blues, pain and beauty of the continent and reflected it back to these shores -- the cultural Diaspora having come full circle. Her new songs are informed by topics such as the Nigerian government's removal of the oil subsidy, with it's impact on the country's already impacted citizens, and the epidemics of child prostitution, and criminal fraud. But they are also colored with the multi-layered rich and glowing textures that seem to make up the woman she is. For this we'll be anxiously awaiting more from her -- and that's well before we've heard but a few songs.
Somi's stunning new album, The Lagos Music Salon, much like her performance at Joe's Pub, feels like meeting a third cousin for the first time -- a family member, distant, yet familiar in ways that are obvious upon closer inspection. It's easy to describe her stylings as "African inspired," this, or "jazz leaning," that. It's harder, however, to define what one hears as "Somi-like," because that would be jumping the gun. Those days are yet to come. It might just be a coincidence, but when she sang her first notes, I thought to myself, "this is the new Nina Simone." I'm wary of comparisons, but later in her set, as she began one of her offerings with "my skin is black......," I realized that maybe I was on to something. "Four Women," one of Ms. Simone's signature songs of protest, color-ism and classism, was transformed into a most sultry jazz vamp, but with an African narrative. Nina Simone was a beautiful woman, and an otherworldly pianist -- but she didn't sing like this.
More than once, she stood back, about five feet from the microphone, and continued to sing and to scat. The effortless clarity and delivery cut through the room, still with awe. The overall precision of the band and performance, coupled with the acoustics of the room, sounded as if we were hearing a studio session taking place. And perhaps we were. She's well ready for prime time, and this show could be released next Tuesday. Every note from this incredibly tight band -- crisp, clear and resonant -- proved we were in the company of professional craftsman, plying their trade with the grace of masters. Not once did she show a strain or effort, and not once did the lights reflect sweat off of her smooth brown shoulders. This was a controlled and measured excellency. They glided through splendid numbers, such as the seductive and tender "Ginger Me Slowly" (which means to make someone feel spicy and sweet), or her updated and reinterpreted version of Fela Kuti's "Lady." As if in testament to her gravitas, the album version of the legendary firebrand's song pairs her with the stalwart singer-songwriter-activist, Angelique Kidjo, who provides percussive counterpoint to Somi's confident delivery. The surprising and unexpected spoken word song, "Shine Your Eye," in which she recounts moments during her days in African cities, the spare drums segue into a juju guitar line, then into funk bass. All the world was in this music. This was the kind of performance, so mesmerizing and transfixing -- one would be certain she was singing just to them, as if alone in the room, just she and them. When she invited the audience to sing along, that mirage dispersed, it was made clear just how perfect her voice is, juxtaposed against mere humans. Fittingly, her show closed with the airy ballad, "Last Song," which only served to remind the audience that this experience would indeed and unfortunately end. Those wise enough to purchase her new album would do well to locate the repeat button in advance.
Popular in the Community