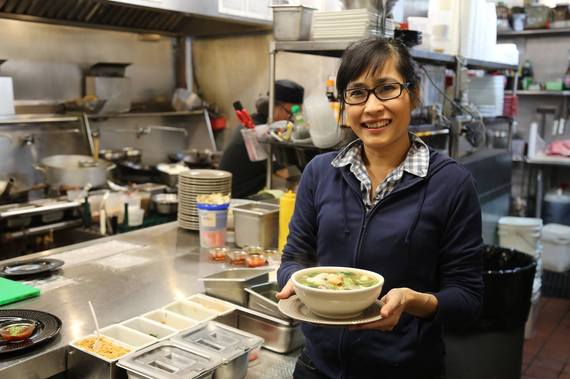 Supanee Kitmahawong stands in the kitchen at her Michelin starred restaurant Somtum Der with a spicy bowl of Gaeng Om Kai (chicken soup with Isan herbs).

Supanee Kitmahawong greeted me at the door with a smile and an outstretched hand. She has much to be excited about. Her restaurant, Somtum Der on Avenue A in New York City just received a Michelin star for the first time.
The space is young and hip. No one seated is over thirty. And the flavors and spices of the dishes make each spoonful of food uncompromisingly hot, like nothing I've ever tasted before.
Supanee convinces me that the heat is an indicator of authenticity, a trademark of the regional Isan cuisine found in Thailand and also heralded at her Bangkok outpost by the same name.
"More than twenty years ago, when a restaurant opened and served authentic, very spicy food in New York City, a lot of customers returned it," she told me. "The owners would finally say, 'Okay, I'm not going to make food that spicy anymore.' And because of that, it's become the trend of how Thai food tastes."
On one hand, the spot filters out the less adventurous eater who may be left breathless on first bite. But on the other, among the plethora of Thai restaurants popping up all over the city, Somtum Der serves as a surreal meeting place, with uniquely rustic som tum papaya salads and homeland favorites.
A section of the menu entitled Central Thai includes familiar Pad Thai dishes, which can steer the uninitiated off the beaten path. After all, the point of eating at Somtum Der is to order the restaurant's specialties.
I can spy the kitchen huddled around our first dish, the Gaeng Om Kai, a large bowl of spicy chicken soup with herbs, from my seat across the dining room. A server gives me a better look when she presses through the kitchen doors to get the plate and deliver it to our table. She places two ramekin-sized serving bowls for me and a friend to share, and we ladle an aromatic spoonful for each other. I happen to like the kick, and beyond the spiciness are hints of dill, lemongrass, and kaffir lime leaves, tenderly cooked. The chicken is easily stripped from the bone with a fork and added to the steaming mixture.
In no time, the waitress returned with a series of small plates: Moo Ping Kati Sod, a sweet coconut-marinated pork skewer that comes with three small nests of thin rice noodles; Larb Ped, a spicy salad of minced duck, green vegetables, and red chilies; and Tum Thai, a signature papaya salad with green beans, shrimp, and crunchy peanuts. Each is a stand-alone, but what I return to is the side of grilled sticky rice on bamboo skewers to ease my palate. They are sweet enough for me to eat endlessly as dessert if I tried.
Sa Poak Kai Tod Der, a der-style deep-fried chicken thigh, is juicy and tender at its core, and encased in a layer of perfectly crisp skin. It comes with a side of the restaurant's house chili sauce, but the meat is delicious enough on its own to pick at and eat without condiments. By far, it is one of the city's best fried chicken dishes.
I dare to try the Thai delicacy "mum," added to the menu and highly displayed to celebrate the restaurant's second-year anniversary, after finding out that the dish can only be found in two locations in Thailand, in Ban Pai and Muang Phol districts in Khon Kaen and in the Sriboonruang district in Nong Bua Lamphu. These sausage lookalikes are stuffed with minced pork or beef, liver, garlic, and animal entrails, and hung by street vendors for sale along the famed Friendship Highway. Provided cabbage, parsley, and garlic, I crumble up a few pieces together and delicately assemble my first bite. It is garlicky, but has darker undertones of aged meat, and I suspect it is an acquired taste.
When dessert comes don't be intimidated by the pink snow ice with syrup, which at the table may reach eye level. It floats like a cloud on white bread, easily defeated with friends. A scoop of my spoon glides through it like hot butter, and it tastes vaguely of bubblegum. I try not to cause an avalanche.
Also try the Thai tea panna cotta with condensed milk. The table beside us purred after inhaling the tiny dessert.
Before I leave, Supanee tells me she will be opening a third Somtum Der in Ho Chi Minh City. Hoping that her admission is also an invitation to visit, I'll be dreaming of a pilgrimage to their latest expansion in Vietnam.