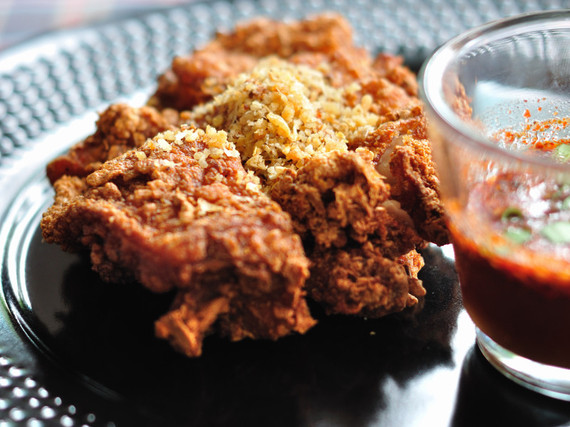 Sa Poak Gai Tod Der/Der Styled Deep Fried Chicken Thigh
• Chicken thigh 2 pieces, approx. 7oz each
• Salt 1/2 teaspoon
• Chicken broth powder 1/2 Tbs
• White pepper (grounded) 1/4 teaspoon
• Red curry paste 1/2 Tbs
• Tempura powder 1/4 cup
• Water 1/4 cup
• Ice (crushed) 1/4 cup
• Garlic 2-3 cloves
• Coriander root 2-3 pieces
• Lemongrass 1 piece (julienned)
• Vegetable oil 4 cups (for frying only)
Put garlic, coriander root, and julienned lemongrass, in a mortar and crush ingredients with a pestle. Transfer to a bowl. Add the rest of the ingredients into the bowl including water and ice. Mix well.
Take the bone out from the chicken thigh. Put the thigh into the bowl and massage the ingredients into the chicken thigh. Do not squeeze the chicken or it could break. Close the bowl with a lid and transfer to refrigerator to marinate for 1 hour.
Deep fry the chicken thigh:
Boil 4 cups of vegetable oil in a fry pan and heat on high temperature until boiling. Then turn the temperature down to medium. Put the skin side of the chicken thigh down into the heated oil until golden brown. Flip the thigh and continue to fry until the chicken thigh is floating. Continue for 5 minutes and turn the temperature to high before removing the chicken.
Cut the thigh into pieces and serve with dipping sauce.
• Fish sauce 2 Tsp
• Palm sugar 1 Tsp
• Ground dried chili 1 Tsp
• Tamarind juice 2 Tsp
• Lime juice 1 Tsp
• Roasted rice grain 1/2 Tsp
Mix all ingredients together well and serve.
Optional: Add a bit of sliced Kaffir lime leave or sliced cilantro to enhance flavor and aromatic.
Related