The end of one mystery has opened the door to another for a New York family that found human skeletal remains in a home once belonging to a loved one who vanished nearly 60 years ago.
The remains are believed to belong to George Carroll, a Korean War veteran who was in his mid-20s when he went missing from his Lake Grove home in 1961. At the time, there were no clues as to his sudden disappearance. His family didn't find a note and he didn't take any personal belongings.
For reasons that are unclear, police were never notified.
"We have confirmed that a missing person's report was never filed on him," a Suffolk County Police Department spokeswoman said.
As the police described it, the circumstances surrounding the case are so bizarre that it could easily be mistaken for hackneyed fiction.
"Oh, my God, I can't even imagine," the police spokeswoman told HuffPost on Monday when recounting the discovery. "It was [reported] on Halloween and we were like, 'This is going to be a Lifetime movie.'" 
For 57 years, Michael Carroll and his family have been haunted by the circumstances surrounding his father's disappearance. Any knowledge his mother, Dorothy, might have about George Carroll's disappearance was gone when she died in 1998.
In an interview with Newsday, Michael Carroll said his mother told them their dad walked out one day and never returned. Rumors circulated, and speculation varied as to whether he met with foul play or chose to become a deadbeat dad.
The one possible lead the family had to go on was that the house was under construction at the time of George Carroll's disappearance. There was, at one point according to the family, speculation that he might have died during the construction project and was buried somewhere in the basement.
Having purchased the home from his mother in the 1980s, Michael Carroll, a respiratory therapist who was just 8 months old when his father vanished, decided to finally seek out the answers earlier this year.
After calling in some paranormal investigators in June — a group who claimed they felt "energy" in the basement — Michael Carroll began to dig and kept digging until he began to fear he might cause damage to the home.
Back to square one, Michael Carroll sought out the help of someone with ground-penetrating radar equipment. Upon examining the basement, the operator reportedly said the machine picked up signals of disturbed earth in an area roughly 6 feet below the soil.
Michael Carroll started to dig and when he grew tired, his adult sons, Michael Jr. and Christopher, helped out. The trio continued to dig until late on Oct. 30, when they finally found what they were looking for — human remains in an area near an old well. Authorities were notified the following morning.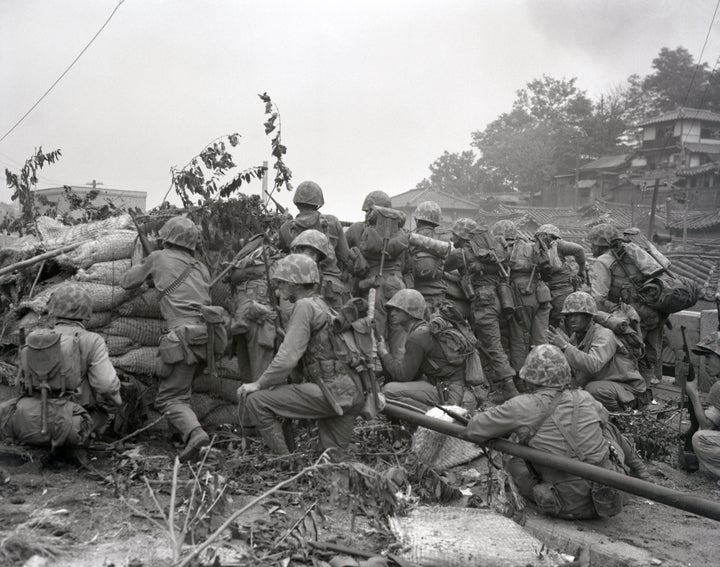 The Suffolk County Medical Examiner's Office took possession of the remains. They don't expect to have the results of DNA testing until late this year or early next.
It's also too soon to determine how the victim, whom authorities believe to be George Carroll, wound up dead.
"The news had said the skull was fractured by blunt force trauma, but we cannot confirm that," the police spokeswoman said. "The [medical examiner] said that can happen afterward."
Lt. Kevin Beyrer, the detective in charge of the Suffolk Police homicide squad, was unavailable for comment Monday. Speaking with Newsday, he said it might be impossible to determine how George Carroll wound up buried in his own basement.
"Time is our enemy," Beyrer said. "We want people with firsthand knowledge, but because so much time has passed, we have not been able to find anyone with firsthand knowledge."
Beyrer told Newsday detectives suspect Carroll was buried either by someone working on the house or someone who had access to it.
According to the detective, Dorothy Carroll's second husband, Richard Darress, moved into the home shortly after George Carroll's disappearance. Darress died a few months ago.
"He would have been someone we would have wanted to speak with," Beyrer said.
Despite not yet having a positive identification of the remains, Michael Carroll and his brother Steven, who was 5 when their father vanished, believe the mystery to where their father has been is finally solved.
"Some of us believed that we were abandoned at some point and this could mean something else, that he was here all along," Steven Carroll told reporters gathered outside the home earlier this month. "It is kind of comforting to think that."
"In my mind, I always felt like I was going to find that ... I'm glad that I don't have to break up my house anymore," he said. "I feel great that my dad is free from that crappy hole."
Calling all HuffPost superfans!
Sign up for membership to become a founding member and help shape HuffPost's next chapter
BEFORE YOU GO