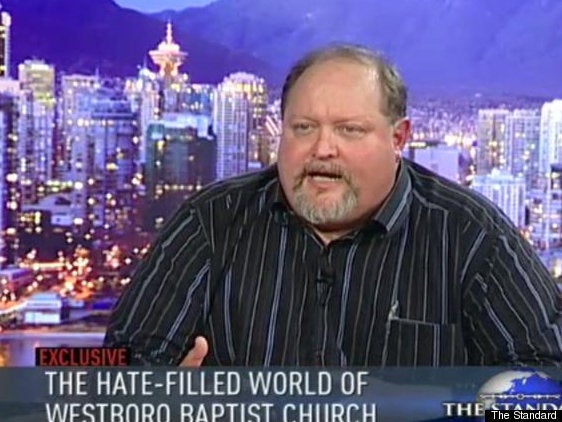 By Leanne Larmondin
Religion News Service
(RNS) When Nate Phelps' son was about five years old and had been caught misbehaving, he taught his dad a lesson about ending the cycle of family abuse.
"I'd clung to the idea that corporal punishment was a requirement by God, because that's what we were taught," said Phelps, who says he was raised amid harrowing abuse.
His son Hunter shook as he sat on his father's lap. "I asked him why he was shaking and he went on about how scared he was when I was going to spank him."
Phelps decided not to use corporal punishment anymore. "No matter how hard I tried, it still left that child with an unreasonable fear," he said.
The incident more than 15 years ago was a turning point for Phelps.
In a family whose business is demonstrating about God's wrath against homosexuality (and other perceived sins), Nate Phelps could not be more of a black sheep. His estranged father, Fred, leads a church known for picketing U.S. military funerals with graphic signs that read, "Thank God For Dead Soldiers."
Phelps' relatives--described in a 2007 BBC documentary as "The Most Hated Family in America"--are members of the Westboro Church, in Topeka, Kan. But Phelps abandoned his upbringing decades ago and, in recent years, has embraced atheism.
Now 51 and a taxi driver in Cranbrook, British Columbia, Phelps has also publicly denounced his family's teachings to various groups, including gays and lesbians.
Called a cult by some observers, the congregation of Westboro Church lives on a compound in Topeka and is comprised almost entirely of Phelps family members.
Since the early 1990s, the church, whose websites include GodHatesFags.com and GodHatesAmerica.com, claims to have held 43,000 demonstrations. They have picketed churches, synagogues, government buildings and funerals of soldiers and gay men.
The sixth of 13 children of Fred and Margie Phelps, Nate said his father was a civil rights attorney-turned-preacher who espoused a frightening version of Calvinism to his family.
"They believe that they alone in this time in history have been selected by God to carry his torch, his word, to the world and everyone else has fallen into error," said Phelps.
Violence was ever-present in his home, said Phelps. Fred Phelps beat his wife and his children with his fists, a leather barber strap, or the wooden handle of a mattock, a tool like an ax. The children also beat each other, he said.
Early on, Nate Phelps chafed at his rigid upbringing, refusing to sell candy for the church, hiding and reading comic books.
"Anybody who didn't conform stuck out like a sore thumb," he said. "But I was also observing my father, this man of God, how he treated people. He's supposed to be Christ-like, but watching him abusing my mother and siblings ... by the time I was 15, I was lost."
On the eve of his 18th birthday, he packed his car with his belongings and waited until midnight before leaving.
He briefly returned to the family fold in his early 20s, but did not remain for long.
His sister, Shirley Phelps Roper, a lawyer who acts as the church spokesperson, denies that her father was abusive, saying only spankings were used. Nate "distinguished himself as a rebel," she said, and was thus disciplined more often than the other children.
"My parents spanked their children, my children's parents spank them. That's what the Scripture says to do," said Roper, suggesting that her brother embellishes his upbringing because he is writing a book about his life. "Where's the drama if you say, 'My parents spanked me'?"
While she hasn't spoken to her brother in years, Roper said the church is appreciative of the publicity it garners when Nate Phelps speaks out against it.
After leaving Topeka, Phelps got married and worked at a California printing business with his brother, Mark, who is also estranged from the family. For years, the father of three adult children (and two stepchildren) practiced mainstream Christianity, but still he harbored doubts about his faith.
"As I was growing into my teens and was becoming more aware of the doctrines and ideas that my father was espousing, I would challenge them in my mind," said Phelps.
Phelps eventually divorced and moved to Canada in 2005 to live with his fiancee, Angela. They are planning to move to Calgary together soon.
Phelps has been treated for depression and post-traumatic stress disorder. He has learned to deal with emotional and psychological wounds.
He plans to continue to tell his story; in April, he returned to Topeka to address an audience of 700 people. The event was sponsored by well-known atheist Richard Dawkins' foundation, which is producing a documentary about Phelps, and Metropolitan Community Churches, a predominantly gay and lesbian denomination.
Surprisingly, his family decided not to picket the event.
The Rev. Nancy Wilson, worldwide moderator of the MCC, said Phelps' story was riveting. "You could have heard a pin drop for an hour while he spoke."
Wilson said the event had people of faith and atheists agreeing that religion can be a force for tolerance and good or a vehicle for destruction and pain.
"It was very clear that there were people very, very moved there who, if not in the same kind of bizarre, extreme circumstances, but perhaps were raised in fundamentalist homes," said Wilson. "If someone from the Phelps family can recover, so can you."
Related
Popular in the Community