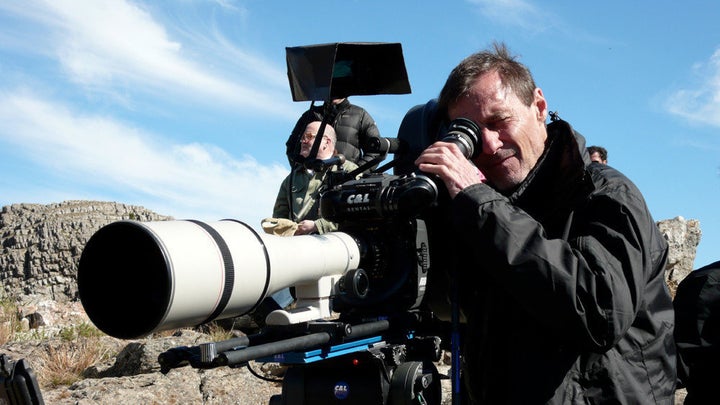 It would be reasonable to expect Scottish actor Dougray Scott to be a gloomy fellow. The 45 year old played a downright dour prince in Ever After and his almost homicidal sultan in the miniseries Arabian Knights was anything but a merry monarch. He played an emotionally fragile code breaker in Enigma and a mean rogue agent in Mission: Impossible II.
Thankfully, that wasn't the man who I conversed with of a spotty telephone line last week. Perhaps being married to fellow thespian Claire Forlani (Basquiat, Meet Joe Black) keeps him even tempered. Despite the fact that establishing a connection was tricky and that we had trouble hearing each other, he patiently and politely fielded questions when he eventually heard them. If a question seemed to have an obvious answer, he'd have a handy quip instead of a hint of annoyance.
He was promoting his most recent film There Be Dragons, which was directed by Roland Joffé (The Killing Fields, The Mission). Scott plays a Spanish-born journalist named Robert Torres who's writing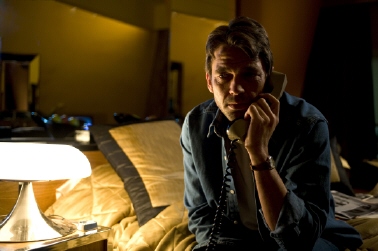 a book about the real life priest Saint Josemaría Escrivá (Charlie Cox), the founder of the Catholic lay and clerical organization Opus Dei (Latin for "God's Work"). The theologically conservative group attempts to implement Christian ideals in both their lives and in the world as a whole.
Through his research, Robert discovers that his estranged father Manolo (Wes Bentley) had once attended seminary with Escrivá and that both the future saint and Robert's now ailing parent were caught up in the confusion of the Spanish Civil War.
As I played back the recording of the conversation, it struck me that despite seeing him in several roles, I had never actually heard his native accent before. It was tricky to make out some of his words at first, but the lilt of a Scottish brogue can make describing even the most mundane of filmmaking tasks interesting. It's too bad I can't replicate it in text form.
In most of your roles, you've had to use some kind of accent. You're rarely asked to play a Welsh-educated Scotsman.
Sometimes. It depends on where the character comes from, whether it's American or British. I can do most British accents. I can do some American accents as well. If you've got an ear for it, utilize it. I also enjoy doing characters in my own voice as well. It depends on what the character requires.

I noticed you used a Spanish accent for Robert Torres. What sort of considerations did you use to make his voice?
That was a Rolland decision. He wanted some sort of hint of Spanish in it. It wasn't too heavy. He wanted the flavor of the country that you'd expect but to use our own voices. In 1900, the movie that Bertolucci did, you had Donald Sutherland, who's American (actually, Sutherland, a fellow Huffpost Blogger, is Canadian) and Gérard Depardieu, who was French, and they'd speak normally in different languages. And you had Burt Lancaster, as well, who was American.
You had movies in the past where people just used their own voices, and then you have something like Valkyrie, where the (mostly British) actors play Germans, but they were using their own voices, and that works as well. It's the choice of the director.
Did you know much about the Spanish Civil War or the founding of Opus Dei before you took the role?
I knew a little about the Spanish Civil War. It was one of the most mixed up and confusing wars in Europe I've studied. The Second World War was much more understandable, but the Spanish Civil War was such a confusing war. You had brother against brother, father against son. From that point of view, I understood a little bit about the Spanish Civil War.
Now with Opus Dei, I knew very little about it, except for, I can't remember the name of the movie now, the big blockbuster.
Yeah. After the research, I learned there was more than that. So it was interesting to find out about Opus Dei from priests who are members of Opus Dei. There were a lot of people around who were advisors. It was interesting to discover a little bit of the reality of Opus Dei.
Because you're dealing with religion, which is such a delicate subject for a lot of people, what sort of approach did you and Mr. Joffé take?
Well, it's the story about Josemaría (Escrivá), who was the founder of Opus Dei, so that in itself was a religious consideration without any other aspects of the story. For me, it's not really a film about religion. It's really a film about forgiveness. You have all these different themes going throughout. You have betrayal, forgiveness, redemption. The story of Robert is really what I'm discovering that what he thought to be the truth turns out to be something completely different and how does he reacts to that and how do you get forgiveness for actions that were done years before and were extreme. And yet, he finds it within himself to forgive because he knows that if he does that, then rest of his life could be completely different from what it has been up until then.

For some people, (religion is) a major part of the film, but thematically, I think it's much more than that.
It seems like you had to go through several emotional shifts in what looks like a short amount of screen time.
You can only do what's written on the page. When (Robert) starts out, he has a sort of interesting relationship with his father. He hasn't seen him for many years. He's been given this opportunity to write a book about Opus Dei, which he knew practically nothing about. He starts with nothing, and through the course of the film he has a sort of feisty if not distant relationship with his father, and I think he's intrigued to reestablish contact with him in so much as that he discovers that his father was in seminary with Josemaría.
From that the starting emotions are curiosity and "Why didn't you talk to me about this more when I was growing up with you?" And then there's the indignation that he has about how his father going off on him about his foreign girlfriend (played by Golshifteh Farahani), which he perceives to be the remembrance of why he separated from his father in the first place.
And then there's this huge kind of revelation to Robert at the end of the movie, facing the death of his father and the possibility of his father dying at the same time of the lesson he's trying to give (Robert) information about who he really is. (Manolo) is trying to explain himself and perhaps ask forgiveness from his son, and he ultimately gives him that. There's a lot of different emotional shifts in the character. You play the scene as it was written, and you try to play it as true to the character as closely as you can.
It must have been a little odd to play scenes where the actor playing your father is younger than you. Did you ever get a sense of that?
No, with the makeup his character had gone from being a young man to an old man. That's how that happened. But with the makeup, there's also the leap of the imagination that you take as well.
A lot of the characters you play tend to be tormented, particularly the prince in Ever After and the sultan in Arabian Nights. Have you noticed that?
(laughs) Yeah. M:I 2 wasn't tormented, but he was a little bit. I guess that's what I tried to do. I have some other characters who are different from that, but I think you use the ammunition that you've got. If you're assigned to inhabit the lives of tormented people, I guess that's what you do. I do like to do other things as well, and I have done that in the past. But they're not as well known as the tormented characters that I've done.
I don't really know. Someone else said that to me as well, and I hadn't really thought about it. I guess it's something I always come back to from time to time.

Certainly that and with Enigma, where you're playing a character who's fighting mental illness while trying to crack the Nazi codes.
Yes, he had many things going on and with people like that you find that they have the ability to emotionally connect and deal with mathematical problems. But when it comes to personal relationships, he gets to the point where he doesn't have the ammunition, nor does he have the capability of dealing with the breakup or even with the longevity of the relationship. They reach a kind of block, and there's a kind of meltdown that happens, much as it happens with my character in Enigma.
Robert's relationship with his father is the polar opposite of your relationship with your own father. Would that be correct?
Yeah. The relationship I had with my father was a typical working class relationship. I could see by his actions there was love. I had a really good time with him. I'd played golf with him. We'd go to football matches. He was very gentle man, and I have many, many fond memories of him. He kind of taught me acting because of his job as a salesman.
You're also getting ready to play playwright Arthur Miller (Death of a Salesman) in My Week with Marilyn, a movie about Marilyn Monroe and Sir Lawrence Olivier working on The Prince and the Showgirl.
He's a fascinating character, not untormented, either. I just finished shooting that before Christmas. He's somebody I kind of had a connection with already because my father was a salesman. And I remember reading Death of a Salesman when I was 14 and making the connection between my father's life and the life of (title character) Willy Loman. And he really inspired me to get into drama and theater and plays. It was interesting to do the man who made me fall in love with theater in the first place.
I used to follow my father around when I was a kid and watching him do his work as a salesman. A salesman's job is very much like an actor's. It's presenting yourself and performing a character. Two people are putting on a show every day when you get into your car. I kind of was in love with my father's profession. I loved watching him do it.
Because you come from a working class background, did you have to do anything special to play a prince?
I had to convince the studio that I could play the part (laughs).
So often, a lot of times as an actor when you don't have a lot of personal experience with the characters you're playing, you use other things. I remember watching posters and paintings of Renaissance people up on the walls of my house in France when I was playing the character. They really reminded me of the life I was involved in with that character.
The preparation you do as an actor is as important as what you do on the set: with what you do with the voice and physicality and the knowledge and the history that character has. I had to watch videotapes of that kind of world and DVDs. You try to load up your mind and body with as much information as you have available to you. And you utilize that in order to play a character.
Actors are always expected to change from role to role, but in Mission: Impossible II, you're a physically active, intimidating villain and then in Enigma, which followed immediately after, you were an introverted code breaker.
That's the great thing about being an actor. You get to do a lot of diverse roles. One of the things I remember about going from Mission: Impossible II to Enigma was that I was ripped, and for Enigma, I remember losing a bunch of weight. I lost two or three stone (28 to 42 pounds or 12.7 to 19 kilograms) to play that character. He was not a really fit guy. I went on a special diet. I spent a lot of time at Bletchley Park with people who did code breaking and people who knew the language of code breaking, so I could immerse myself in that world.
All these things helped. That's what I like to do. I got to spend time with people who were involved in the world that you are jumping into. I've found it was really beneficial.
Photo of Dougray Scott, Courtesy of Mount Santa Fe, used by permission.
Calling all HuffPost superfans!
Sign up for membership to become a founding member and help shape HuffPost's next chapter