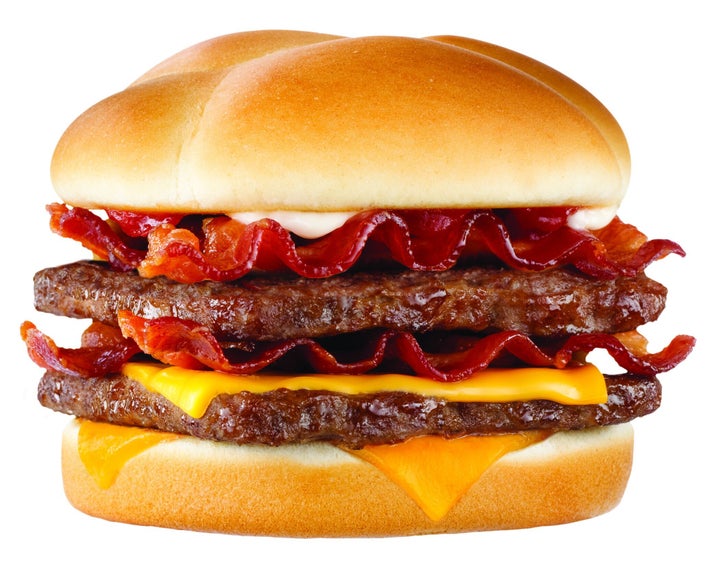 Wendy's Baconator is a well-known item, but here's a refresher. It consists of applewood-smoked bacon, American cheese, mayonnaise and ketchup piled atop of two layers of quarter-pound beef patties. It has its own Facebook page and Twitter account. The account is actually pretty great, with tweets like this:
But in case the Baconator is just too much man for some, Wendy's has now launched the Son Of Baconator. It's pretty much the same ingredients but instead of two quarter-pounders, the Son Of Baconator offers two 2.25-ounce patties on one bun. Basically, if you're having a craving for meat and bacon, but don't want a the big daddy, the Son Of Baconator is here for you in your time of need.
"With both Baconator and Son of Baconator, consumers can now decide how big they want to go," says Craig Bahner, Wendy's Chief Marketing Officer, in a press release.
Actually, in addition to the Baconator and his son, there's also the Baconator Single (or what we like to call Weird Cousin Of Baconator) which has been around for awhile. Rather than two quarter patties, the Single has just one, which basically offers the same amount of meat as the Son Of Baconator (4 ounces versus 4.5 ounces). There's also been discussion of the Baconator Triple (Grandpa Of Baconator?) so Bahner definitely has a point -- you can pretty much get any member of the Baconator family to fulfill minor or major bacon plus beef cravings.
Related