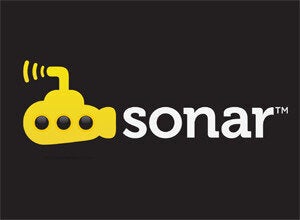 This post is part of a new series from HuffPostTech, Socialized, that will profile a different social startup--from apps to services to websites--every day. Want to be featured on the site? Email us about your startup, which should have a social media component and be less than two years old, at socialized@huffingtonpost.com.
Like Color, ImUp4, and a slew of other startups, Sonar aims to use your smartphone to help you make new friends offline.
But Sonar has one key difference: while most of the services face a critical mass conundrum—they only work when a large number of people have downloaded the app and registered—Sonar appears to have tackled this challenge by tapping into your existing social networks to deliver information about the people around you.
What it is: Sonar is an app that uses your location, as well as data from your Facebook, Foursquare and Twitter accounts, to show you people who are near you and how these individuals may share your interests and your circle of friends.
In essence, Sonar provides augmented reality for human conversations, superimposing an additional layer of information on interactions in the real world. The app uses data from social networks to help users see that the person they've sat next to at a coffee shop or cocktail party isn't a stranger, but someone with one or two degrees of separation (Facebook data integrated into Sonar will tell you they're actually friends with your college roommate, let's say) and (according to Twitter and Facebook) a kindred spirit who also follows tech news and loves to cook, for example.
"Sonar is a tool that helps you navigate social information that surrounds you," said Sonar CEO and co-founder Brett Martin. "We spent the last 25 years uploading everything we know…and now we're downloading it all to the physical world."
How it works: Sonar users must first set up the app by linking their Foursquare accounts, then, optionally, syncing their Facebook and Twitter accounts.
Sonar pulls in location data from Foursquare to show who is around you, which it supplements with Facebook and Twitter to provide context on the people who are nearby. It also provides an in-app messaging tool to let people communicate when they want to break the ice.
According to Martin, this integration with other social media services ensures Sonar can be relevant to a user, even if no one else has downloaded the app.
"There are dead startups all over this place that try to build in this space, but build apps that would work great if everyone else was using," said Martin. "That doesn't work. Sonar works even if one person is using the app."
Over time, Martin said that Sonar may connect with other social networking sites such as Instagram and Foodspotting to offer even more information about the people who surface to users.
Why you'd use it: Sonar is ultimately a tool that seeks to use online information to spark face-to-face conversations and friendships--an automatic, digital matchmaker for colleagues, alumni, friends-of-friends, and other people who may never have met, but have a reason to do so.
"Sonar is taking the thousands of connections you miss every day and putting them in your pocket," explained Martin.
"It enables you to leverage information that was previously out of context," he said. "In the same way that it's easier to talk to someone at a bar than it is on the street and easier to talk to someone at a house party than at a bar, what Sonar helps you realize is that the person on the street is actually the person at the house party with you last night. It uses technology to draw connections."
Though Martin says that the app only uses information that was public to begin with, many users are bound to have privacy concerns. Do people want to have their digital selves so closely connected to their physical presence? Even as it facilitates friendships, might it also break down barriers people actually more comfortable having in place? Let us know what you think below.
How to get it: Sonar is available for download via Apple's app store. It's available for the iPhone, but not yet for Android devices.
Take a look: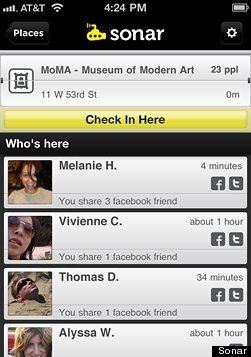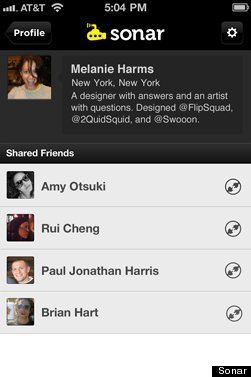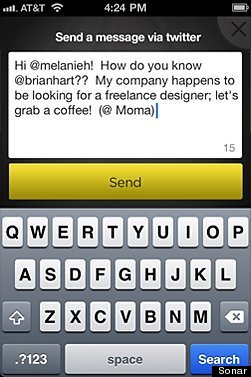 Calling all HuffPost superfans!
Sign up for membership to become a founding member and help shape HuffPost's next chapter