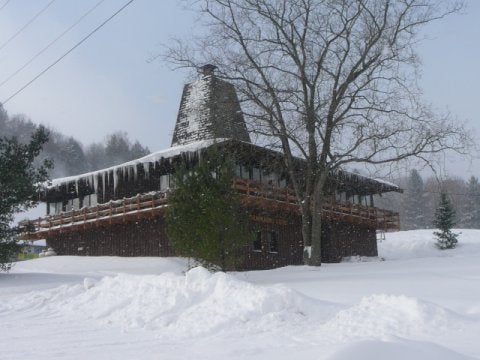 Song Mountain Resort in New York is a popular destination for skiers and snowboarders. As part of a series on ski resorts, Huffington Post Travel offers our guide to Song Mountain Resort, featuring all the key information snow lovers need to know before they hit the slopes.
The Basics
Located in upstate New York along Route 81,
is in Tully, which is about 20 minutes away from Syracuse, New York. This family-oriented resort is geared primarily toward skiers, as opposed to snowboarders. The relatively small mountain doesn't have many pipes or tubes to attract the extreme-sports crowd. With a number of easy trails, however, Song Mountain is an excellent spot for young skiers to learn the basics.
The Mountain
Song Mountain is 1,940 feet high and features a 700-foot vertical drop. The regular season, from mid-December to April, usually lasts 100 days, and the
averages about 125 inches of snow annually. The snow is normally powdery, and the longest run is 5,000 feet. It also has the ability to make enough snow to cover 80 percent of the skiable terrain.
Trails And Lifts
Skiers will find a total of 24 trails on the mountain. About 58 percent of the
are for beginners, 29 percent for intermediate skiers and 13 percent for experts only. The signature trail, known as the Bali-hai, appeals to speed demons because it's pretty much a straight shot down the mountain. Song Mountain has a total of five lifts including a triple chair, double chair and surface lifts. Night skiing is also available almost every evening, weather permitting.
In The News
Song Mountain Resort has its own racing team and provides training for junior racing and for children ages 3 to 9 years old. The ski resort started the
at Song Mountain to develop and train Alpine ski racers. Song Mountain also offers a private ski club known as
. Prospective members must apply to join the club and pay a fee, which starts at $723.
Cost
A basic
begins at $43 for a four-hour ticket and $25 for a night lift ticket. Eight-hour lift tickets for children ages 6 to 12 are $38. Regular skiers can purchase season passes starting at $407 for adults.
start at $21, which includes skis, boots and poles. Ski lessons begin at $81 during the week and increase in price for the weekend. One-hour lessons begin at $45.
Apres-Ski
Although Song Mountain is a smaller resort without many post-skiing activities to offer, they do have two lodges on-site. Also, nearby towns of Tully, Cortland and Skaneateles provide additional lodging and restaurant options. During the regular season, the ski resort throws themed parties such as college night and the
nighttime skiing event.
WATCH: Song Mountain Resort
A skier wearing a helmet cam provides a first-person view of Song Mountain.