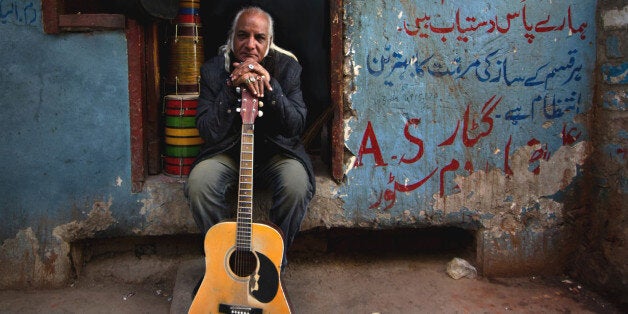 WASHINGTON -- The value of one's soul is hard to measure, but Baqir Abbas, a musician in the Pakistani city of Lahore, has it worked out for himself. Abbas' soul is slightly less precious to him than the delicately designed bamboo flutes he carves. "All the stories of the world will play from it, God willing," he says, before kissing his latest instrument and touching it twice to its forehead. Abbas explains his philosophy in "Song of Lahore," a new documentary about an intergenerational community of musicians skilled in their own mix of traditional Pakistani music and the Western orchestral scores demanded by Lahore's once-booming film industry. He and his fellow musicians "find God in music," Abbas says.
Their critics do not, and the very act of practicing their craft now makes them targets in a more conservative Pakistan. Followers of the increasingly influential, hardline Deobandi school of thought in Sunni Islam consider music to be sinful and musicians to be apostates who have no place in an avowedly Muslim nation.
"Song of Lahore" is powerful because it shows these musicians do have a place in Pakistan.
Last week, the 82-minute documentary won multiple standing ovations and a joint second place in the Documentary Audience Award category at New York's Tribeca Film Festival. But the feature's greatest triumph is that it proves the Deobandis wrong: These musicians are quintessentially Pakistani and essential to the nation's cultural identity, Islam and all.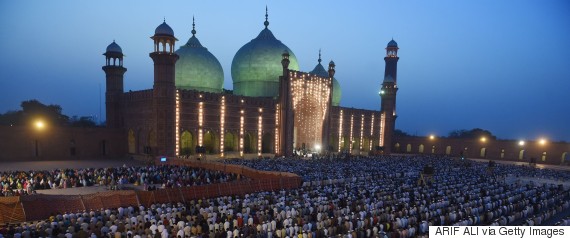 Progressive Pakistanis who value their country's musical heritage have been making that case for decades.
My grandmother Zaib-un-Nissa Hamidullah, a pioneering political journalist, saw the trouble coming just a decade after the nation was created. Hamidullah addressed Pakistanis skeptical of music in the introduction to her 1958 short-story collection, The Young Wife and Other Stories. She warned that "No Music Before Mosques," one of the tales, "might not find favour with the orthodox and yet it is for them it is written." "No Music Before Mosques" tells of a village flutist who plays melodies dedicated to God at each of the five daily prayer times prescribed in Islam. The flutist is driven to express his devotion this way, even though it infuriates his traditionalist father. The conflict between his music and his father becomes too much. He kills himself. The tragedy is that there didn't have to be a conflict at all: As his niece says to the family, playing the flute was "his way of telling Allah how much he loves Him." "It is my earnest hope that some day our over-orthodox observers of the letter of religion will come to realize that there are many ways of praying," Hamidullah wrote. "The artist, the writer or the musician who puts his heart and soul into that which he composes and dedicates it to the Great Creator is offering prayers up to his Maker just as sincerely as any [cleric] who kneels five times a day." Her hope remains unfulfilled in the Pakistan of 2015.
Instead, the country has seen regressive Islamic thought blossom, especially since the 1980s. In that decade, Sunni extremists grew with financial and military support from dictator Gen. Muhammad Zia-ul-Haq and the CIA, which fostered them as anti-Soviet proxies, and from donors in the Gulf countries seeking to promote conservative Sunni thought to counter the 1979 Shiite Revolution in Iran. More recently, the U.S.-led war on terror has brought those groups greater prominence and more recruits, many from Gulf-funded religious schools called madrassahs. Many of them now target their jihad internally on the Pakistani population, particularly threatening people they deem overtly offensive to Islam -- like musicians.
All the while, the space for culture in Pakistan has continued to shrink because of deliberate misinterpretations of Pakistani history and Islamic thought that Gen. Zia institutionalized in schools and the law.
"Song of Lahore" focuses on the fate of classical musicians in the country's cultural hub, Lahore, post-Zia and post-9/11. Co-directors Sharmeen Obaid-Chinoy, who in 2012 became the first Pakistani to win an Oscar, and Andy Schocken, a producer-director from Brooklyn, spent two years following Abbas and other musicians associated with Lahore's Sachal Studios.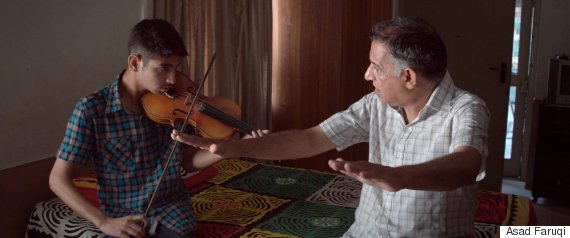 Established by a millionaire financier in 2004, Sachal Studios seeks to save the tradition of Lahori classical musicians -- specifically, the cultural descendents of men who rose to prominence in Lahore's once-thriving film industry and performed for visiting dignitaries like Queen Elizabeth II. That means giving them the space and support to practice and winning them audiences at home and abroad.
Sachal's founder, Izzat Majeed, is a jazz enthusiast with a plan: to let these musicians loose on internationally loved jazz classics whose melodies aren't that different from their own traditional tunes. The Sachal renditions of jazz standards were already winning attention outside Pakistan at the point when "Song of Lahore" introduces us to the Sachal Jazz Ensemble, musicians in their 20s through 50s who are preparing for their biggest challenge yet -- a major November 2013 concert with the Jazz at Lincoln Center Orchestra in New York. Each man has his own emotional tale of alienation in a changing Pakistan. As the film tracks Sachal's journey, it tracks the individual musicians' struggles, too. The international exposure matters because demand has dried up for the classical musicians' work. The stars who now dominate the Pakistani music scene are young pop singers who appear on television, win sponsorships from multinational corporations and rarely require violins, flutes, tabla drums, harmoniums or other tools of the old-school trade. In an interview with The Huffington Post, Obaid-Chinoy said the classical musicians lack nearly everything, other than skill and talent, that it takes to be successful in that way.
"If you look at the pop musicians in Pakistan, they come from certain income brackets, from middle- or upper-class families that could send them to school and college," the director said. "Most of our classical musicians have literally only studied music. They have not gone to college; they do not speak in English."
But Obaid-Chinoy added, "They have a lot of what we would call tehzeeb," using an Urdu word that roughly translates to inherited refinement. "You can't buy tehzeeb."
Many of these musicians -- in fact, all of those featured in "Song of Lahore" -- are even more marginalized because of their faith: They follow Shiite Islam, the minority branch in Pakistan and the world. Though around 20 percent of Pakistan's Muslims are Shiites, members of the community are increasingly attacked at their places of worship and as they go about their daily business. Prominent Shiite doctors have been murdered on their way home from their jobs in Pakistan's biggest city, my hometown of Karachi.
Many Pakistanis have become unwillingly accustomed to the idea that Shiites should keep quiet about their identities. When I watched some of the musicians on-screen chant a traditional Shiite call at a funeral, my first thought was that they should be more careful. I regretted that reaction as soon I'd had it -- but it was still my initial instinct.
The musicians' story needs to be shared because Pakistan is "at risk of losing our culture and our heritage," Obaid-Chinoy told HuffPost. "It's important for us to educate the audience, to say the music died and how it died -- that it was silenced systematically."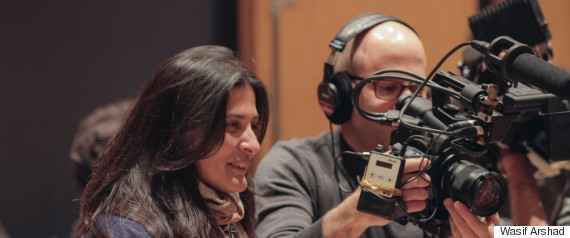 Similar thinking pushed the U.S. State Department to sponsor the Sachal musicians for their latest New York trip to attend the "Song of Lahore" premiere earlier this month and to meet American musicians, according to two State officials speaking on background.
During the heyday of Lahore's movie industry in the 1950s and 1960s, a State Department program called Jazz Diplomacy sent big-name musicians like Duke Ellington to Pakistan and other Cold War allies. The musicians featured in "Song of Lahore" speak wistfully of those days.
The State Department saw the Sachal trip as honoring that decades-old association. "It's the same messaging of teaching through art and culture," one official said. "But for us [given the situation in Pakistan], it's now more important than ever."
Schocken, the other director, said it was emotional for him to see the musicians again. In Pakistan, he and Obaid-Chinoy had witnessed so many intimate moments: family deaths, professional failures, anxiety before their big concert in New York.
Describing himself as a "music nerd," Schocken said their shared focus had helped overcome the language barrier between him and the Pakistani musicians.
"We don't have a traditional score for the film as most feature-length films do have," he said. "With a few exceptions, the music is performed by the characters in the film, and the music itself is a character in the film. ... It's critical to the journey that the audience takes while they're watching. It's as central as the interviews or the visual images."
"Song of Lahore" ends on a few high notes: The Sachal team overcomes its initial nervousness with the American orchestra to wow the Lincoln Center audience and, even more important, then gives a packed concert back home in Lahore. "It is the audiences at home that have to love and appreciate your music," Obaid-Chinoy said. "Lincoln Center is a great platform. But Alhamra Hall is their home."
Obaid-Chinoy said she is optimistic about the future of classical Pakistani music because of Sachal's international footprint and forums like last month's Lahore Music Meet, organized by a group of ambitious 20-somethings who brought together representatives from the pop world and Sachal. Her documentary should help as well. She said "Song of Lahore" will likely be shown at a few more international film festivals before a full theatrical release near the end of 2015.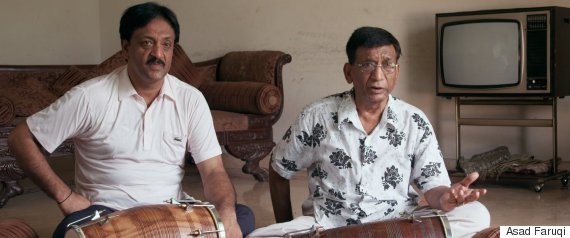 The musicians are hopeful, too. Rafiq Ahmed, who plays a classical drum called the naal, sat with his 30-something son a couple of years ago and explained to the "Song of Lahore" camera what Sachal's growth meant to him.
"It felt," he said, "like the music was alive again."
CORRECTION: A previous version of this story misidentified Saleem Khan and his grandson in a photo.
Related
Before You Go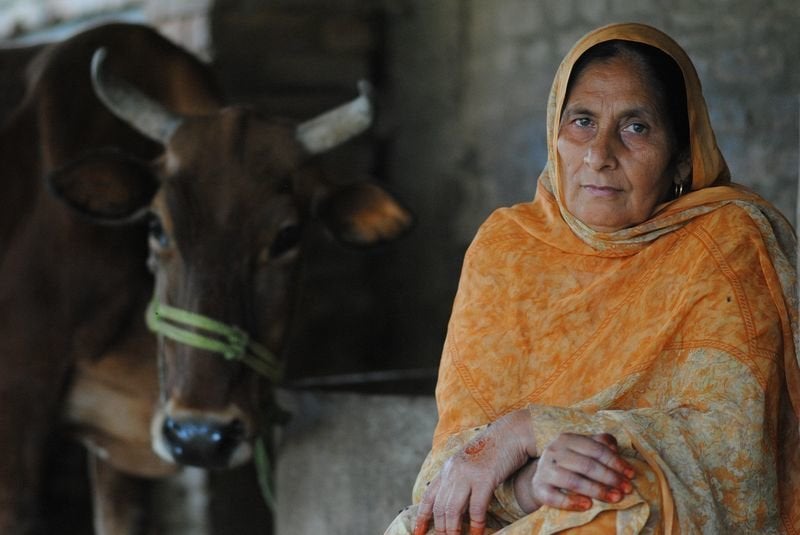 Pakistan Through Our Eyes
Popular in the Community