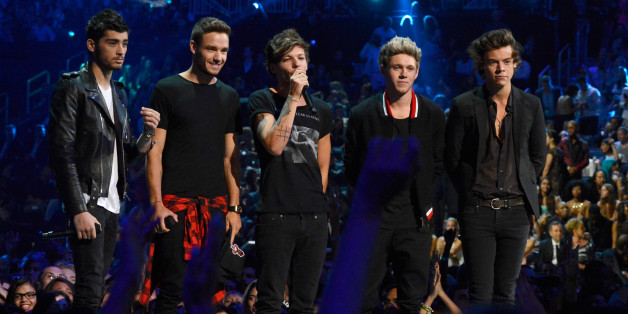 One Direction's "Best Song Ever" also turned out to be the best song of the summer, as fans came out in droves to award the boy band the inaugural honors at the MTV Video Music Awards on Sunday. The new, entirely fan vote-based category saw the fivesome steal the accolade with nearly 9 million votes.
The only nominee to offer any genuine competition for 1D was Miley Cyrus' "We Can't Stop," which racked up a distant 4.1 million votes. Following Cyrus was Selena Gomez's "Come and Get It" (2.2 million votes), Calvin Harris and Ellie Goulding's "I Need Your Love" (58,000 votes), Daft Punk's "Get Lucky" (42,000 votes) and Robin Thicke's "Blurred Lines" (41,000 votes). The votes were submitted exclusively through Twitter, Instagram and Vine.
Despite 1D's overwhelming win, one attendee noted a striking dissension among the crowd at Brooklyn's Barclays Center.
We can't even hear One Direction over the boos! #VMA

— Chris Weingarten (@1000TimesYes) August 26, 2013
"Best Song Ever" debuted July 22, making it the newest release among the nominees. The accompanying video broke Vevo's record for the most-watched clip in a single day, garnering 12.3 million views in its first 24 hours. The song has since peaked at No. 2 on the Billboard Hot 100.
One Direction also hosted the VMAs on Sunday, much to the pleasure of the endless fangirls whose votes led to the band's win. Best Song of the Summer marks 1D's fourth VMA. They took home Best Pop Video and Most Share-Worthy Video for "What Makes You Beautiful," as well as Best New Artist. Song of the Summer was their only nomination this year.
Live updates from the show are available below.
PHOTO GALLERY
Video Music Awards 2013
08/25/2013 11:26 PM EDT
That's It For The VMAs
The 2013 MTV VMAs were something else. Thanks for joining!
08/25/2013 11:26 PM EDT
No, Boo!
YOU'RE GONNA HEAR ME SNORE!!! AM I RIGHT????

— bobby finger (@bobbyfinger) 4 years ago
08/25/2013 11:20 PM EDT
Here's Her Roar
Katy Perry performed "Roar" for the first time, and it was glorious.
08/25/2013 11:18 PM EDT
The Video Of The Year Winner Is ...
08/25/2013 11:15 PM EDT
Joseph Gordon-Levitt Announces The MTV VMA For Video Of The Year
With a silly voice.
08/25/2013 11:12 PM EDT
In Case You Blinked During The VMAs
Ladies and gentlemen, the reunited NSYNC. http://t.co/vsH4DT5Yb2

— Hunter Schwarz (@hunterschwarz) 4 years ago
08/25/2013 11:08 PM EDT
So True
The perfect time for a Bruno Mars performance is totally TWO HOURS into the #VMAs.

— Jesse Fox (@JesseDavidFox) 4 years ago
08/25/2013 11:07 PM EDT
lolz
it would be amazing if nsync reappeared right now by lowering down from the ceiling on marionette strings

— kalkutta (@djkalkutta) 4 years ago
08/25/2013 11:07 PM EDT
Because This Bruno Mars Performance Is Boring
Let's remember this:
Me during Justin Timberlake's performance http://t.co/0IKZ3MXGMy

— things in life (@ItsThingsInLife) 3 years ago
08/25/2013 11:00 PM EDT
Lena Dunham Checks In
VMAs: Stop all this "what's up Brooklyn!!!" What's up is I'm 10 blocks away in my nightgown trying to keep my dog from drinking his own piss

— Lena Dunham (@lenadunham) 4 years ago
Calling all HuffPost superfans!
Sign up for membership to become a founding member and help shape HuffPost's next chapter