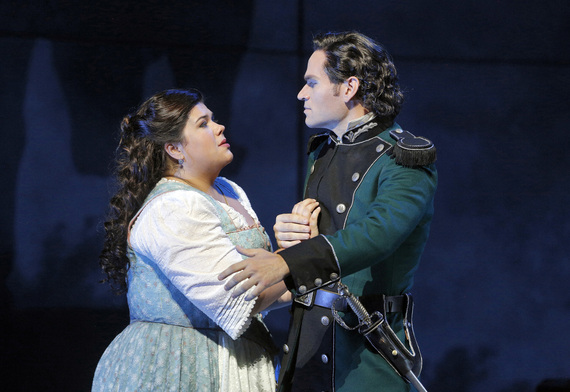 Watching her first performance of Guiseppe Verdi's Luisa Miller, a person could easily have two concurrent thoughts: 1) "This is such a beautiful opera" and 2) "This is such a lame opera." The seeming discrepancy would have to do with 1) the music and 2) the libretto. Opera is always about the music first--and the music Verdi composed for this opera is absolutely beautiful. The San Francisco Opera production that just ended made that clear.
The vocal writing calls for everything a singer can do, and soprano Leah Crocetto, as Luisa, an innocent young village girl, and tenor Michael Fabiano, as Rodolfo, the son of the ruling count, with whom she falls in love when she thinks he is simply "Carlo," are completely up to the task. At the start of what will surely be a long career, Crocetto has a strong, agile, magnificent voice, full of the emotion she can't yet convey dramatically. And Fabiano, whom we first saw in San Francisco four years ago, opposite Renée Fleming in Donizetti's Lucrezia Borgia, is going to be an opera superstar. He can act--the perfect ardent lover, as we saw in last season's La Bohème, when he was given more to work with--and his voice is so powerful and true that even at the end, when he is lying in a corner, dying, you'd think he was standing center stage. (He will return to San Francisco in June, yay, to star in Verdi's Don Carlo.)
The discovery for local audiences was probably baritone Vitaliy Bilyy as Miller, Luisa's father, who promised her in marriage, but only if she agreed, to the aptly named Wurm. Wurm now works for the count, who wants his son to marry a wealthy noblewoman (mezzo-soprano Ekaterina Semenchuk) for the usual reasons. By having her father arrested and threatening to kill him, the menacing Wurm (bass baritone Andrea Silvestrelli) makes sure Luisa breaks off the relationship--by writing a letter saying she has never loved anyone but Wurm. Rodolfo is so young, he doesn't question Luisa's letter, and he poisons them both.
At the climax, all the principals save the noblewoman wind up onstage. It is satisfying when Rodolfo picks up a conveniently placed pistol and kills Wurm, and when he says to his father (another bass baritone, Daniel Sumegi), "My death will be your punishment." But any tears are inspired by the music and some of the acting, such as Bilyy's, as he cradles his daughter. The story itself is so vague and thin. We don't even know how Luisa and Rodolfo met--the opera starts with their love as a given--and Wurm is strangely single-minded about a girl who cannot help him rise. There's even an odd moment when Rodolfo's father relents and tells his son that it's okay, he can marry his true love after all. It is so unexpected, and so unbelievable, the audience at the opera's final performance snickered.
Luisa Miller is the first of several operas in which Verdi deals with the relationship of a father and daughter. The characters and situation are far more complex, of course, in Rigoletto, which, just two years later (1851), started his great run of operas: Il Trovatore, La Traviata, Don Carlo, Aida, and Otello, plus the beloved Requiem. With Un Ballo in Maschera, which came earlier, these are the operas for which Verdi is best known. And yet, with the far less renowned and praised Luisa Miller, he gave the world some incomparable music.
San Francisco Opera's next production also offers a woman undone by someone else's plans for her. In Lucia di Lammermoor (which runs Oct. 8, 11, 13, 16, 21, 24, and 28), Lucia's brother arranges a political marriage for her, ignoring her love for another, to everyone's eventual sorrow. The composer is Verdi's great countryman Gaetano Donizetti. The librettist is Salvadore Cammarano, who also wrote the libretto for Luisa Miller.
War Memorial Opera House, 301 Van Ness Ave., S.F., 415.864.3330, sfopera.com.
Photograph c Cory Weaver/San Francisco Opera
Calling all HuffPost superfans!
Sign up for membership to become a founding member and help shape HuffPost's next chapter