A mere month after releasing Warm Covers EP, J.D. McPherson is back with more: a fresh new track from his forthcoming album, Let The Good Times Roll.
"Bossy" cuts a different groove from most of 2012's Signs and Signifiers, eschewing the Little Richard sax-and-rattle for more riff-based blues roots. This time with a twist.
Where previously McPherson's music could sound more like imitation than inspiration--appropriating a sound but not adding much new--on "Bossy" he shows new growth, blending breakneck blues with modern indie cues to hang a tonal tightrope that's a pleasure to watch him walk.
"Believe it or not, it's a love song," says McPherson. "The use of the word "Bossy" is not in the colloquial sense. It's a song about regret, and admiration."
Give it a listen for your excluisve sneak peek at Let the Good Times Roll, and keep reading for J.D.'s thoughts on the upcoming album, this song, and what you should be drinking while you listen to it.
Let The Good Times Roll is out February 10 on Rounder Records
PB: Other than Warm Covers EP, what have you been up to since Signs and Signifiers? Any significant life events?
JDM: For the fourth time, I started but did not finish The Grapes of Wrath. I've completed several other major Steinbeck novels and several short stories. I'm from Oklahoma, and every Oklahoman is supposed to read the seminal Dust Bowl story, right? I can't finish it. I get distracted. Muley shares his rabbit with Tom...what is he really offering? What's happening on the Reddit "controversial" section right now? I get distracted, man!
Playing the Forum on Halloween with Queens of the Stone Age was a highlight of the year, or maybe even a couple of years. It was a fantastic time. Josh Homme invited us to do this show, and it has been a shot in the arm. He bought me a bowl of chili. Josh is the most charismatic person I've ever met. He has an 18 Charisma, to use D&D terminology. He's 8 feet tall, he's incredibly funny and charming, talented, and he's a hugger! He would probably argue, but I really believe he's got things figured out. I really, really like his lyrics. I have a lot of respect for that guy as an artist, and to find out that he dug my songs was just a huge blessing.
Other than that, I'm either on the road playing gigs, or at home doing Dad things. I'm a PTA volunteer.
What would you like readers to know about this song?
I had been listening to a bunch of Mississippi Fred McDowell, and he has this manic rhythm signature...if you listen to that stuff in the car, you look down and suddenly realize you're traveling at over 90mph. It's the best rhythm for driving. I had an acoustic demo with this bizarro guitar loop and I couldn't figure out where it was going. I started strumming out a rhythm pattern underneath it, no notes, just dead strings...and it reminded me of Mississippi Fred, so I followed the idea to it's logical conclusion. It all came together very quickly after that; melody, arrangement, lyrics, etc. Sometimes things just click. I love mixing two ideas together that shouldn't work, but do.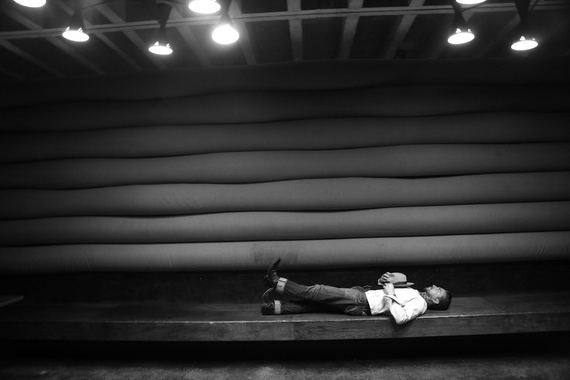 How does it match up with the rest of Let the Good Times Roll?
This album is a slightly more extreme example of the first record...wanting to take Rhythm & Blues to art school. A lot of people thought the first record was some sort of reactionary statement against modernity. I just really love rock and roll, and find it emotionally and intellectually stimulating. There are so many examples of bands and singers these days dipping into 60s garage, girl group stuff, 60s soul...but the mid-50s rhythm & blues and rock n' roll stuff is SO appealing to me. So visceral and primal, yet swinging and sexy. It didn't last very long in its original form, so there is much more that can be done with those sounds and rhythms. So many more ideas to explore.
Let the Good Times Roll has a bit of a dark side, I guess. It's no Joy Division record, but it was definitely created under a measure of disquiet. Like Elton John said: "I guess that's why they call it the blues".
What's a good drink pairing for the tune?
Black coffee, spiked with military-grade hallucinogens.
Popular in the Community