Confidence is sexy. Watching singer/songwriter Jonatha Brooke command the stage at a recent show at The Tupelo Music Hall in Londonderry New Hampshire, I'm reminded why some clichés are true. But it's more than confidence that Brooke exudes, it's a kind of joyful swagger that comes from a person who knows where she belongs, who knows what she wants out of the music she makes and the moments she stitches together on stage to create a show that is equal parts playful and powerful.
Brooke's roots run deep in the Boston indie-folk scene before "indie" was hip. In 1989 she and fellow singer/songwriter Jennifer Kimball joined forces to create The Story, a collaboration built on ethereal vocal arrangements and the kind of layered songwriting brought into the mainstream by groups like the Indigo Girls. Following the Story's split in 1994, Brooke embarked on a solo career that has served her well with eight albums and one off-Broadway show, My Mother Has 4 Noses--a performance written out of Brooke's poignant journey of caring for her mother with Alzheimers.
Everyone understands that artists must evolve, must try new projects and explore new sonic and creative terrains in order to bring us (the listeners) new discoveries, new ways to see and think about the world. And we can partake in endless music snobbery debates alla High Fidelity about whether or not these different directions pay off. But when it comes to a live show, we are all united in wanting one thing: we want that musician to be at the top of their game to brang it. Jonatha Brooke delivers.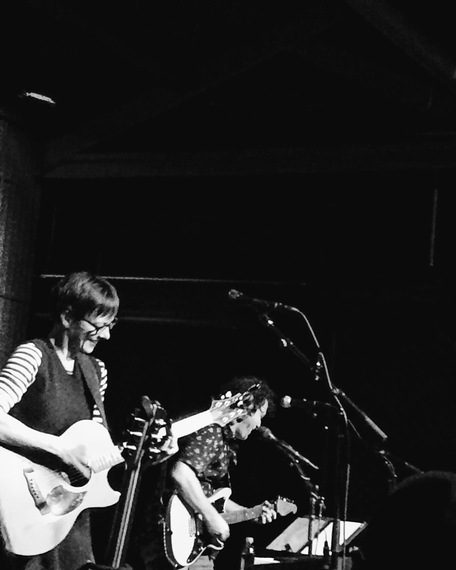 Flanked by Sean Driscoll on lead guitar and Nate Wood playing drums and bass (at the same time. It's a neat hat trick for sure), Brooke played two long sets that roamed territory from The Story days, "So Much Mine," "The Angel in the House," to favorite cuts like "Blood From A Stone" and "Linger" from her later albums. She also performed songs from her musical, which showed how versatile and elegant her songwriting has become that it could so easily translate from a narrative context to a purely performative one. The tune "Time" is a haunting rumination of Brooke's surrender to the disease that will claim her mother. The lyrics "Please don't come today/tomorrow's not good either/ 'cause I know, it'll mean forever" left the audience with a collective lump in its throat and a genuine feeling of raw empathy that, in a lesser artist's hands, might turn overly sentimental.
The crowd paid homage to Brooke by beginning to sing on "Crumbs" before she had stepped to the mic to add in her voice. The surprise, delight, and hint of humility on her face was endearing in its authenticity. As seasoned and accomplished as Brooke is, and only getting stronger vocally and artistically with each new album, Brooke is a musician who can still discover herself in moments like that one. And that is something even more unique and potent than either confidence or swagger.
Popular in the Community