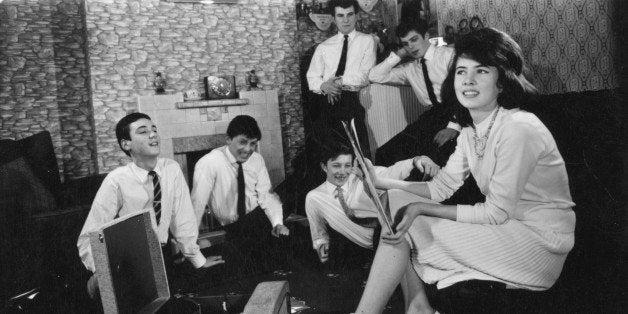 Whether it was a catchy jingle advertising your soft drink of choice (Feeling 7-Up anyone?) or the theme song to your favorite TV show, there are some tunes that we have had stuck in our heads for decades.
We asked our Facebook readers which melodies are still stuck in their heads all these years later and they came up with quite a few good ones. Scroll through below and listen to the songs that will take you back to your childhood.
1. "The Waltons" theme song
"I must have watched every season about a million times and I wanted to live there and be one of the kids," said reader Jeanne Uelk Champion. We can totally relate.
2. "It's A Small World"
Anyone who visited Disney World as a child knows this song, played in Disney theme parks everywhere.
3. "Puff The Magic Dragon"
Despite many rumors that "Puff" is a reference to marijuana, Leonard Lipton, who wrote the poem that folk trio Peter Paul and Mary based their song off of, has insisted it's nothing more than an innocent children's ballad.
4. "Hey, Hey We're The Monkees"
"We're the young generation and we've got something to say." 'Nuff said.
5. "Bonanza" theme song
Our senior writer, Ann Brenoff, says this is the one childhood song that has stuck with her all these years. "We loved Ben Cartwright and the boys (especially Hoss)... the music matched the mood of the era."
6. "The Facts Of Life" theme song
"The show started in 1979, when I was a teenager," says our senior editor, Shelley Emling. "I just liked the show. I was intrigued by girls going to a boarding school. but, also, the theme song is just so catchy and the lyrics have always stuck with me: ya take the good, ya take the bad..."
7. "Batman" theme song
Though we love Clooney, Bale and Kilmer, "Batman" with Adam West and Burt Ward will always have a special place in our hearts, just like the show's theme song.
8. "Pure Imagination" from "Willy Wonka and the Chocolate Factory"
What kid didn't dream of visiting the chocolate factory and eating sweets until they were sick? Singer Josh Groban just released his own cover, making all those memories rush back again.
Calling all HuffPost superfans!
Sign up for membership to become a founding member and help shape HuffPost's next chapter
BEFORE YOU GO
PHOTO GALLERY
Rock 'N' Roll Novelty Songs