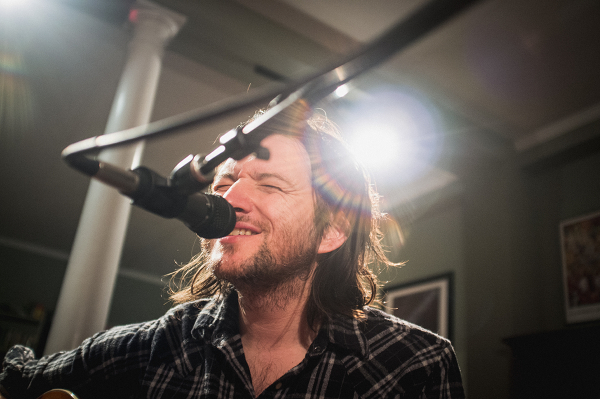 When I first moved to Nashville, there were a few local artists I was told to be sure to see as soon as possible. One name I heard from a few different people was Matthew Perryman Jones. He was usually recommended to me with words to the effect of, "It doesn't get much better than just Matthew Perryman Jones and a guitar." They were right.
When trying to think of a way to describe Jones' voice, I keep thinking of the German word gemütlich. It's a state of warmth and comfortableness -- think an amaretto, a fire, and a lazy dog when there's a whiteout outside and ice on the windows. Jones also evokes pensiveness, reflection, and melancholy. His music is sincere, and though not overtly religious, washed with a sort of longing spirituality. He's also hyper-literate -- his latest album was inspired by the letters Vincent Van Gogh wrote to his brother Theo, and by the poet-philosophers Rumi and Federico García Lorca.
Jones was born and raised in Georgia. He started singing publicly around Decatur in 1997, then moved to Nashville in 1999 to start his music career. In 2006 he released Throwing Punches in the Dark, a collaboration with producer Nielson Hubbard. Two years later, the two teamed up again with Swallow the Sea. That album featured the single "Save You," the first of several Jones songs to be featured in a prime time television series. ("Save You" itself popped up in a few.)
Jones' most recent album is Land of the Living, a soaring, grandiose collection of songs that, somewhat contradictorily, he recorded in an Amish barn on the Texas prairie. Jones' growing fan base funded the project with a Kickstarter campaign that raised $25,000.
Jones was kind enough to play some songs from my couch earlier this month. He started with "Just Can't Get it Right," a new song he wrote with Lily Costner. He followed with "O, Theo" off his latest album, then "Echoes of Eden," from Throwing Punches. The final song is a beautifully brooding cover of the overlooked Paul Simon song, "American Tune." Singing backup is Kate Tucker -- another very talented Nashville artist. Sound recording and mixing by M. Allen Parker. Video recording and editing by David Johnson. I provided the couch. The unofficial whiskey of Songs From My Couch is Prichard's Double Chocolate Bourbon.
Tell me about the Kickstarter campaign for Land of the Living. How was it different from the way you funded and recorded your earlier albums?
I decided to do the campaign in 2011, when Kickstarter was just starting to become popular. I had heard a lot of criticism of the idea from other artists. But I didn't really find the criticisms valid. When I first moved to Nashville 14 years ago, I was sending snail mail to fans to take pre-orders for my first album. This is just a savvier way of doing that. But you can then add tier offers for fans who want to can give more funding, and get some added perks. I loved the interaction. I offered handmade lyric books, custom paintings, things like that. It puts you more in touch with your fans. I wanted to feel like I was earning their support by putting good work into it.
How do your fans feel about it? I've talked to people who back musicians on Kickstarter who say they love that the money goes directly to the artist. There are no record companies in between to take their cut.
That's the funny thing. While a lot of the artists I've talked to are kind of down on Kickstarter, the fans -- the people giving the money -- seem to love it. They've really been enthusiastic, across the board. Fans I've talked to like to boast about the various musicians they're backing. "Oh, if you like them, you should check out this guy -- I'm backing him on Kickstarter.". I think the fans do appreciate the aspect that they're helping the artist directly in an interactive way.
People really get into it. And this is the way it should be done. You have no choice but to engage your fan base. And if you do it right, they feel like they're a part of the process. It's great.
How has the music industry in Nashville changed since you moved here?
I came here 14 years ago. I came with the mentality that I was going to be an independent artist. I took a little bit of pride in that -- I wasn't going to go looking for a quick deal with a label. Some of the artists I knew who were starting out at about the same time did get those big deals, but then got locked down. If you don't come up with a single that the label wants to get behind, then you can't put out an album, you can't tour. I know people who just sat in writing rooms for three years. Meanwhile, those of us who didn't look for -- or didn't get -- one of those deals spent all that time recording, touring, and building a fan base.
I'd say that around 2006, maybe 2007, you started to feel a shifting of the landscape. The barriers to recording, publishing, and distributing were coming down. People started to realize that they didn't need the labels anymore. You saw artists become motivated to take more control over their careers.. Formats like Tunecore, Kickstarter and Noisetrade have all been hugely instrumental in allowing me to maintain an independent career and keep getting my music to people. On the touring front you saw a surge in these great collaborative efforts, like Ten Out of Tenn and Hotel Cafe. Artists were taking it on themselves to create new ways to get their music on the road and in front of people in the power of community.
I wanted to ask you about that next. Could you explain what Ten Out of Tenn is, and how it started?
It started when Trent and Kristen Dabbs were driving back to Nashville from a vacation to the beach. They realized that for the entire trip, they had been listening to music recorded by their friends in Nashville. So they came up with this idea of a collaborative artist group. I think Trent came up with the clever title, Ten out of Tenn. It's a catchy title, but then they had to actually get 10 artists to pull it off! But the idea was to bring all of this creative energy together. So everyone has their own career, but the group would tour together, collaborate, and we'd be one another's backing band. Eventually it produced a CD and a documentary.
Nashville has always been known mostly for country music. But there is so much great talent here outside of that. I think Ten out of Tenn took the spirit of the other music here and really held it out for the rest of the country to see. The funny thing is that when we toured, the lazy writers for local magazines still didn't quite understand the concept. We'd be in town and read something like, "Here's the hot new country-western band out of Nashville, Ten out of Tenn."
The great thing is, when you look at the artists who've been a part of TOT, so many have gone on to have great success on their own. It was a great thing to be a part of.
I think someone with the ballet saw a piece on me in Southern Living at about the same time they were looking into collaborating with a contemporary artist. So I was put on the list of people they were considering. Choreographer Gina Patterson ended up really liking some of the songs on Land of the Living and wanted to write her piece to my music.
It was a really amazing experience. I was just blown away by it all. I really knew nothing about dance. But I came away with such respect for the art form -- for the training, for what dancers are able to do with their bodies and how beautifully it physicalizes music. Also, working directly with Gina was so gratifying creatively. I have great respect for her and how much soul she puts into her work. It was a great honor to have been a part of it all.
There's an underlying spirituality in much of your music. Are you a religious person?
I grew up in a religious household. I've gone between bucking and embracing it most of my life. I just have a hard time with the mechanics and dogma of religious practice. However, I can't seem to shake a hunger for something beyond the tangible, call it spirituality or God. And so I think there has always been a spiritual element to my life and naturally that comes out in what I write. I've heard spirituality defined as what we do with our existential restlessness. Sometimes writing songs is what I do with mine. I guess I'm on my own sort of journey with all that. To quote an Emmylou Harris line, "If there's no heaven, what is this hunger for?"
The song "O, Theo" traverses those themes in the life of Vincent van Gogh. Is that why you became interested in van Gogh?
Perhaps. I started reading the Irving Stone collection of his letters to his brother Theo. Van Gogh was such a fascinating figure. Deeply spiritual, but religion was a constant source of conflict for him. You know he was a minister in this coal mining town. He insisted on living in squalor -- he slept on bales of hay. His congregation would give him money, and he would give it away to the people in need. He ended up getting ousted from the ministry because people thought his choice to live in poverty was undignified. It disillusioned him. Ultimately, painting became his religion. To me, he seemed like a true artist. He was truly alive and aware of all that was around him. He soaked it all up, the joy and the pain. Those letters to his brother are so conflicted, so personal. As an artist exploring some of those same conflicts, I just found them really moving.
The first song of yours I heard -- and I think still my favorite -- is "Echoes of Eden." It seems like there are some similar themes there.
Yes, that song is about driving to Atlanta to see my father when he was sick. So I was on the road, thinking about the conversations I'd had with him, the advice he'd given me over the years, and dealing with the reality of death.
I think I actually first heard it on a drive to my own home town in Indiana. It's such a great convergence of lyrics and music. Pensive, reflective words, with that shuffling, hypnotic rhythm. It's cathartic.
That's nice to hear. I was trying to replicate what that drive evoked in me.
Land of the Living seems like some new territory for you. It's such a big sound.
It's funny, it didn't start out that way. But as I was writing, I just found that the songs lent themselves to something a little more grand. I've always loved records with a touch of grandeur -- when an artist just decides to go for it, to bring everything out. And with these songs, it just felt natural.
We recorded the album in Round Top, Texas. In the middle of nowhere. The environment was wide open. It was super windy. We recorded all the band tracks live in about 5 days, working sixteen hours each day. I told the band, "Just go where your instinct takes you." There was no time to over think it. So I think what you hear is a product of the environment we were in, the work demands, maybe some of the desperation that comes with that sort of intensity and time limitation.
I like to ask the artists who do these sessions for their best "Only in Nashville" story. Do you have one?
There's a pretty good story that happened shortly after I moved here. I was just starting to try to make a living as a musician. I hadn't been here very long. I turned to my roommate and said, "You know what? We're broke. Let's go busking." So we set up on Broadway and 2nd and started playing on the sidewalk. I had my guitar case open for tips, playing Dylan tunes. We had played for about 20 minutes and hadn't make a dime. Then when we saw some people with video cameras eagerly approaching.
There was this Swedish documentary team in town. They were making a movie on the American dream. And of course as cocky and cynical young musicians, we were all, "Fuck the American dream, man, it's just a bunch of bullshit." We ended up hitting it off with them, and invited them to stay at our place while they were in town. So they showed up with a 24-case of Budweiser and skateboards. We stayed up until 4 am with them, drunk, telling stories and riding skateboards in the parking lot. They got some good footage, I think.
If you had to recommend a few Nashville artists to people who from out of town, whom would you suggest?
If you could see any show right now, who would you want to see?
Wow, I'll need to think about that.
I'm not familiar with them.
Really? You should check them out. It's like if Peter Gabriel was singing, and Radiohead was his backing band.
Are there any artists with whom you'd like to collaborate?
My dream would be to collaborate with Emmylou Harris. Or better yet, Emmylou and Daniel Lanois together. Wrecking Ball is one of my favorite albums. When those two work together, they make something incredible.
From what I've read in other interviews, you drew on some pretty esoteric sources of inspiration for the new album. Since we're at a bar, here's my final question: Name four people with whom you'd like to get drunk. Living or dead.
Hmm. I was going to say Bukowski, but . . .
It might be safer to just watch from a distance as he got drunk.
Yeah, I think that's wise.
I've always found Cornell West to be a fascinating person. Not sure if he's a drinker, but I'd still love to sit across the table from him. And van Gogh...though who knows what would come of that. Either way, there would be a story to tell. I think G.K. Chesterton would be interesting, too.
I'll say Christopher Hitchens. I always enjoyed his debates and appreciated his take on things, whether I agreed with him or not. I could never really pin down his politics. He was unpredictable, but there still seemed to be some core values with him that I admired. I think he and Chesterton could have a good philosophical row while buying each other drinks and becoming the best of friends. And of course we all know Hitch could throw a few back.