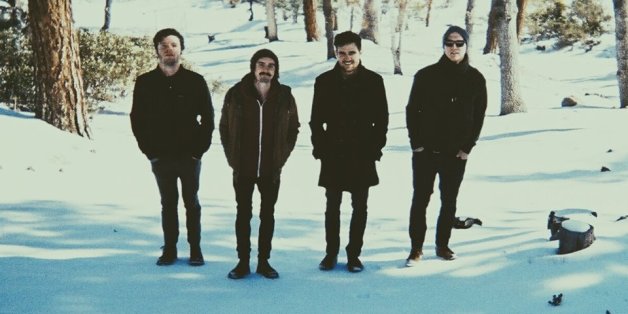 Each week, the HuffPost Entertainment team will compile and share some of our favorite tracks discovered across the web, whether they are brand new tunes, new music videos or newly discovered artists.
Brolly - "Ghost Town"
If you are a fan of the ambient indie/alternative rock branded by bands like Coldplay, Brolly is officially your new favorite group. "Ghost Town" is a beautiful piano-driven track, and we highly suggest you head over to their Soundcloud page and listen to all of their songs for the rest of the day.
Logic - "Driving Ms. Daisy" ft. Childish Gambino
Logic is one of the most underrated players in hip-hop, but his years of hard work are about to pay off. Recruiting his pal Childish Gambino on "Driving Ms. Daisy," Logic not only provides a glimpse into what will be a most excellent label debut, but also redefines the perfect cruising jam.
Raury - "Superfly" ft. Vancouver Sleep Clinic
Having recently signed to Columbia Records, Raury released his "Indigo Child" project for free, because he's just great like that. "Superfly" is one of our favorite cuts, but you don't want to miss out on a single track.

G-Unit - "Changes"
G-Unit quietly dropped their six-song "The Beauty of Independence" EP to occupy fans while they wait for the collective's album to arrive later this year. "Changes" is one of the standout tracks, providing a look into moments of turn for each member.
Cruisr - "All Over"
Vagrant Records has been on a roll recently, hitting it big with The 1975 and Bad Suns. The label's most recent signee is Cruisr. If the band's EP is full of equally fun and catchy tunes as "All Over," Vagrant just might have rolled a turkey.
Run The Jewels - "Blockbuster Night Part 1"
Run The Jewels is easily one of the most exciting duos in hip-hop right now, and "Blockbuster Night Part 1" proves their sophomore album is going to kick even more ass.
The Color and Sound - "Cigarettes"
The Color and Sound's "Cigarettes" sounds like the song that everyone has been waiting to hear at the pub, and when it does, they all jump up on the tables, stomp about, clink glasses and belt out the words as loud as they can.
Moose Blood - "Swim Down"
The outro to Moose Blood's "Swim Down" is extremely reminiscent of old-school Taking Back Sunday. If that doesn't get you excited about a pop-punk group, nothing will.
Kendrick Lamar vs Tycho - "Vibe Walk (Break Science Remix"
Combining Kendrick Lamar's "Bitch, Don't Kill My Vibe" and Tycho's "A Walk" is as brilliant as it gets. A soothing track to zone out to, Break Science just produced the best mashup remix of the year.
Dorothy - "Wild Fire"
Dorothy is back with another track of merciless rock onslaught. Far more sober than "After Midnight," "Wild Fire" picks up the pace for even more perfect jamming out with your friends.
QuESt - "Hunger"
We're convinced QuESt and producer 6ix were created to make music together, as every track so far has proven, and "Hunger" is the most hard-hitting collaboration yet.
The Griswolds - "If You Wanna Stay"
The Griswolds, not to be confused with everyones favorite vacationing family, are self-described as "tequila-inspired party pop" and "If You Wanna Stay" basically proves this to be true.
NGHBRS - "Golden Age"
NGHBRS are in the next class of Long Island rock legends, their single "Golden Age" bringing the garage sound that can be desribed as nothing short of righteous.
Calling all HuffPost superfans!
Sign up for membership to become a founding member and help shape HuffPost's next chapter
BEFORE YOU GO
PHOTO GALLERY
Artists To Know In 2014