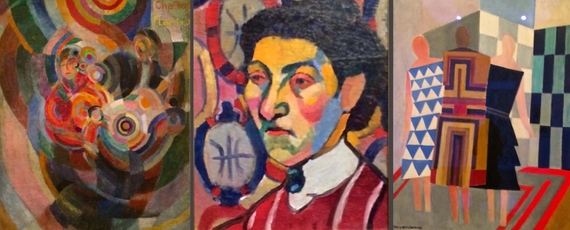 Sonia Delaunay is a beautiful name. Poetically dreamy it is a contemporary cousin to Isadora Duncan and conjures up floating scarves of swirling patterns, though not necessarily of the strangling kind.
Delaunay's retrospective at the Tate Modern is a walk in time, through the buzz of the turn of the 20th century, when to be part of an art movement was an earnest search for a new language, a feverish adaptation of anything boldly new and a bevy of relationships that intertwined literary and artistic individuals, from each others beds to usurping others' relationships - like a load of intellectual cuckoos.
Delaunay, both a painter and, foremost, a designer "de rigueur" of any element that could hold what became her ubiquitous geometric imprint, was full of modern day ambition. A film of her, displaying fabrics of her own collection, reveals the determination and pride which which she pulls out every swatch, like a Paulette Goddard whose large eyes and gestures engage with the camera. Delaunay was aware of her huge commercial success as a designer, and beckons the viewer with flirty-ness; the corners of her upturned mouth enticing you further to revel in her gorgeous swathes. Her lids flutter with guile and her lips utter, "Buy!".
The show is a mix of her work, from her early Fauvist paintings, to her numerous sketches for theatre, books and pamphlets, as well as examples of furnishing fabrics and clothing. It's not clear whether it is the patina of an age-old earnestness that makes her paintings attractive or their legitimacy as chef d'oeuvres that held their own at the time. Her paintings, appealing from afar, are sloppy closer up, in conflict with the exactitude of Cubist and Kandinsky-type shapes. The joy of a Mondrian or Léger is how exquisitely painted they are up close, the paint laid with confidence and conviction. Yet Delaunay's early Fauvist paintings in the first room, are superb, striking in their boldness of colour, brave in their experimentation; solid proponents that hold their own among those revolutionising art. They are Fauvist in their Fauvism; unapologetic and in your face, and an indication of the inner resolve which propelled her to fame as a designer.
Yet her design sketches resemble those of a child; spontaneous, instinctive, with the self-consciousness of trying to put down a shape in her mind that does not correlate with life's equivalent. These are not childlike abstractions of an artist playing at naiveté, they really do look like children's drawings.
Some displays revert to a large collection of designs lined up together, (when a single piece is mediocre but a grouping looks impressive) and they don't quite sing out à la Matisse and his cut-outs, though both contain design-like elements. Matisse, above and beyond anything he explored, lived inside the mind and talent of a painter, Delaunay visualised all she saw and refined it into design.
Ultimately the demands of her design business overwhelmed her potential as a fine art artist. And her success became commercial over critical. Delaunay became the Laura Ashley of her times. Instead of flowers, she used striking geometric juxtapositions of colour and shape and brought a mass-produced originality of design that these days is a given. Her strength was her continued absorption of all art around her. Her fetching bathing suit in wool is (just about) wearable Dada, mad and a little ridiculous, yet elegant.
She remains the Boho equivalent of Coco Chanel; earthy with a serious intellectual connection to art, more Liberty's, less Karl Lagerfeld. The retrospective is enjoyable, not mind-blowing but then not all shows need be in our hyper-inflated lives. It is an interesting delve into a time and place, always fascinating, and, admittedly, a little depressing when some British art schools today often push to pigeon-hole, fail to teach, and have lost faith in the commitment to a lifelong journey of "proper-like" experimentation.
Calling all HuffPost superfans!
Sign up for membership to become a founding member and help shape HuffPost's next chapter