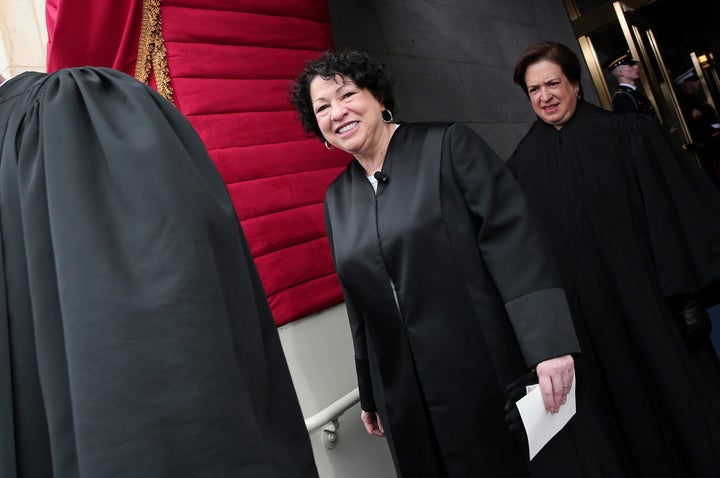 As some in the country continue to come to grips with last week's presidential election, Justice Sonia Sotomayor offered sobering words Tuesday for those who may be wondering how to move forward under a future President Donald Trump.
"I think that this is the time where every good person has an obligation both to continue being heard and to continue doing the right thing," she said Tuesday during a conversation with talk radio host Bill Press, who introduced the topic of the election as the "800-pound gorilla in the room."
The president-elect didn't come up by name during the hour-long exchange, held in front of an intimate audience at the Old Naval Hospital's Hill Center in Washington.
But Trump was certainly on everyone's mind, including Sotomayor, who declined to delve into presidential or transition politics but nonetheless engaged the subject gracefully, as if speaking to the whole nation.
"We can't afford for a president to fail," Sotomayor cautioned. "And it is true, for those who tell us that we have to support that which he does which is right, and help guide him to those right decisions in whichever way we can find to do that."
In an apparent nod to the anti-Trump protests that have broken out across the United States in the last week, the 62-year-old justice then seemed to turn to those who may be feeling hopeless for what the next four years may bring.
"We can't afford to despair," she said. "And we can't afford to give up on pursuing the values that we and others have fought so hard to achieve. And so for me, this is a challenge ― Sonia, continue doing what I think is the right thing. And it's a challenge we all have to face and maintain."
These reflections drew applause from the audience and a reaction from Press: "You answered it the right way."
We can't afford for a president to fail.

Justice Sonia Sotomayor
The first Latina justice to ever sit on the Supreme Court, Sotomayor was President Barack Obama's first high court appointee, in 2009, following the retirement of Justice David Souter.
Sotomayor's remarks on Tuesday were not her first dealing with the election or the vacancy.
"The reason that we can continue to interact and actually like each other is because we respect each other," she told a Minnesota crowd. "We respect one fundamental truth: We know that each other has an equal amount of passion and love for the Constitution, for our system of government and doing what's right under the law."
Calling all HuffPost superfans!
Sign up for membership to become a founding member and help shape HuffPost's next chapter