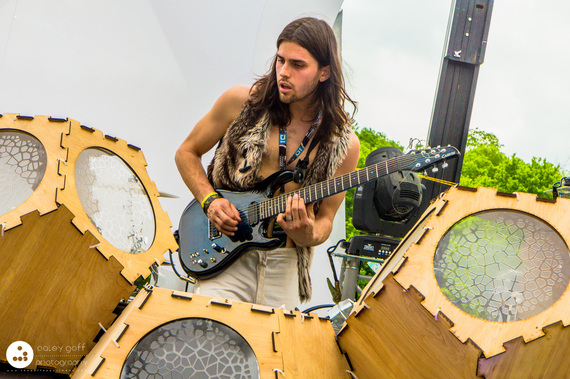 Sound and shape have always shared a close bond. In trigonometry, sin and cosine graphs mirror the crests and troughs of soundwaves, dancing through the x and y axis. Music is mathematical in theory but it is the emotion it evokes that makes music truly otherworldly. Sonic Geometry was founded in 2010 with a band that would later split to become the rock outfit, Technicolor Tone Factory. Guitarist and producer, Andy Beyer, kept the moniker Sonic Geometry and moved forward to new sound ventures as a solo act.
Electronic music is one of the fastest shape-shifters in the music world. So quickly are artists evolving and improving their sounds that the genre always feels new. Releasing his official debut EP, Islands of the Blessed, with Street Ritual, Sonic Geometry has discovered a sound that suits his vibe: melodic, psychedelic and serene. His past work touched on genres such as rock, glitch and electro-funk and some of these elements can still be heard on Islands of the Blessed. Sonic Geometry offers a vivid palette of crisp drips, drops, and clicks. Islands of the Blessed washes through your ears in waves of melody that leave you feeling content.
With roots in guitar, Sonic Geometry believes that technology should be used as a launchpad instead of a crutch. The infinite possibilities offered with electronic production creates a blank canvas upon which he paints lovely portraits of sound. He utilizes an elaborate array of keyboards, controllers and traditional instruments which takes his listeners through multiple layers of varying soundscapes. Sonic Geometry incorporates these layers into his live performances where he combines digital sounds and tools with live sampling, instruments and improvisation. This unique style translates well from album to stage, keeping the rich textures and layers alive for the audience to witness firsthand.
Islands of the Blessed is just the beginning of Sonic Geometry's career in music. Being a part of the Street Ritual family is an indication of his unique sound, as they have always had an ear for the best in underground electronic music. Having already performed at festivals such as Sonic Bloom, Euphoria and Arise, there is no doubt that he will be appearing on more and more lineup flyers to come.
Calling all HuffPost superfans!
Sign up for membership to become a founding member and help shape HuffPost's next chapter