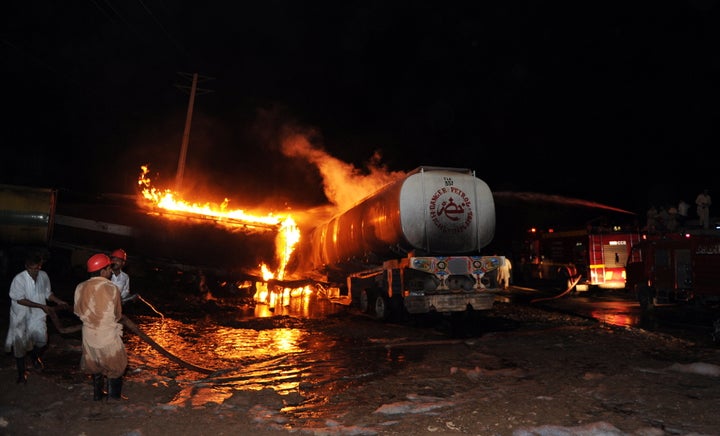 In a fascinating, must-read for anyone interested -- or more importantly, engaged -- in Western policy-making in the Middle East, Bilkent University Professor Sean McMeekin's new book, The Berlin-Baghdad Express: The Ottoman Empire and Germany's Bid for World Power, takes us on a tour of one of modernity's grand follies: the attempt by Imperial Germany to establish an "anti-Orientalist" empire in the Middle East through an alliance with the Ottoman Empire. The goal was to create a strategic, economic and military force that could challenge if not destroy the British Empire, then its main rival for global dominance.
German Kaiser Wilhelm's desire to stride across Eurasia from Berlin to Bengal helped fuel World War I, precipitating the end of four of the six major European empires of the era -- the German, Austro-Hungarian, Ottoman and Russian.
The parallels between Imperial Germany and Imperial America -- both in overextending wars to enhance their position versus powerful rivals -- are as informative as they are troubling. Americans would do well to consider how Germany came out of its first world war: bitter, battered and primed for fascism.
Yet the centerpiece of Germany's efforts to strengthen its position with its weaker Ottoman ally was the construction of the "Baghdad Railway" that would ultimately stretch from Berlin, in the heart of Europe, all the way to the Persian Gulf through Istanbul. It was an idea far ahead of its time, born of a desire not merely to "civilize" a seemingly moribund Muslim world, but to unite East and West, the Baghdad Railway could have fostered not just greater economic integration for European benefit, but an inter-cultural renaissance across Eurasia as well evoking heyday of the great Muslim Empires -- Ottoman, Safavid and Mughal -- that last united these lands into one broad cultural ecumene.
As it happened, the railroad was hijacked for military purposes, becoming a "weapon" to help Germany defeat their nemesis, Great Britain. History did not look kindly on this plan; the end of the war came the dissolution of the Ottoman Empire, the introduction of direct British and French control of the Middle East, and the rise of localized nationalism across the territories of the former Empire.
In the late 19th century, it was German industrialists and bankers who were at the forefront of developing the Baghdad Railway. Their contemporary American counterparts, major arms, security and heavy construction companies, have little incentive even to contemplate building something of value in countries like Iraq, Afghanistan or Pakistan. There is far more profit in death and corruption today than in actual reconstruction and development.
But despite being divided by national borders, the Railway continued its development. From Republican Turkey to the Indian Subcontinent, expanding railway service was considered a key route to modernity. Today, one can still ride east from the famed Haydarpaa station on Istanbul's Asian shore to Syria, Iran, Pakistan and even Iraq. Indeed, in response to disastrous floods in Pakistan this August, Turkey sent a "Mercy Train" to Pakistan loaded with relief supplies, where Prime Minister Recep Erdogan's wife, Ermine, and pop singer Muazzez Ersoy, were visiting flood-ravaged areas and handing out even more aid.
If only the politicians, generals and sundry warriors battling it out across Western and Central Asia could ride the train together from Istanbul to Baghdad, and then on to Tehran and Islamabad, perhaps they would come to see the folly of the borders, ideologies and profits they so cherish. But that's not going to happen any time soon.
The Sound of Peace In the meantime, all the way in Lahore, an equally diverse group of musicians hailing from Los Angeles have taken it upon themselves to reestablish the cultural interchange that Baghdad Railway once promised. Calling themselves the Sonic Peacemakers, and rather than just sitting on their hands and watching the world sink further into violence and disrepair, they have decided to come together and put their music and even their bodies on the line to remind people around the world, from the US to Pakistan, of their common histories, dreams, and future.
The Sonic Peacemakers has brought together some of the most talented and well-known artists in their respective countries, including members of the original Guns N Roses, South Asian pop icon Atif Aslam, Turkish rock legends Mogollar, and Iranian guitar virtuoso Farzad Golpayegani. The project began in Los Angeles when Aslam met up with Guns N Roses alumni Matt Sorum Gilbey Clarke and producer Lanny Cordola to record a song "For Pakistan" that would help build bridges between the United States and Pakistan, "reminding everyone that they're not so different in the end," as Aslam explained it to me.
But going into a plus Los Angeles studio was only the beginning of the journey. Less than a month later, Cordola found himself in the middle of Swat Valley with Aslam and guitarist and disaster relief organizer Todd Shea, whose organization SHINE Humanity is providing desperately needed relief to Pakistanis in upwards of a dozen flood-ravaged locations across the country. There they staged the first live performance of music in the once Taliban-dominated valley in over five years.
"They didn't tell me what could have happened until after we finished performing," Cordola joked to me while resting briefly in Lahore before heading back up north to help with relief efforts. "But really, it was just an amazing, eye opening experience. I came to Pakistan because I knew that there was a very different side to the country than the largely violent and backwards image of it that dominates the media in the US. But I didn't expect to be so moved, to see so many people working together to create a new Pakistan. The children were so happy to see us and hear the music. The people were so warm and inviting amid such devastation it was an inspiration that I'll never forget."
Shea chimed in, "What Americans don't understand is that we're talking about a river comparable to the Mississippi, from Minneapolis to New Orleans, becoming an inland sea that covered one fifth of the country. Crop lands scrubbed down bo bedrock in the north, people swept away in the plains, and a flood from Vancouver to L.A. in the south. And yet people have by and large retained their dignity and humanity. Could we do that?"
"It's more though," he continued. "Pakistanis know America much better than we know their culture. But there's still so much education to be done. So when that Florida pastor threatened to burn a Quran, we declared that for every Qur'an he burned we would hand out ten to children here. That kind of statement can really make a difference." In the end, they handed out Qur'ans and 'Eid packages for kids in the disaster areas in which they visited.
Music Marks the Way Back For Aslam, the exuberant reception in Swat points to a sea-change in Pakistani cultural attitudes towards music and musicians. "There has been such an opening in the last decade towards musicians. There's not even a category on a Pakistani ID card for a musician. For a beggar, yes, but not a musician. And so when your son became a musician you'd mention it as if it were a disgrace."
One of Atif's musical collaborators, Sameer Shami, jumped in, "The stigma against music is a cultural thing that has become religious. In rural villages, you have the ruler on the top of the hill and way at the bottom of the food chain is the musician. We're 'marasis,' a most derogatory term, and so when I introduce myself as a musician people think 'marasi' and say 'Poor you, you should move up and be a street cleaner'."
"But today," Aslam continued, "our parents say were musicians proudly."
The increasing acceptance of music, even in areas that have fallen prey to the Taliban, is not strange to Pakistani culture, which indeed has one of the richest musical traditions of any country on earth. The Taliban attacked music as part of a broader attack on anything not purely "Islamic," but as most Pakistani musicians will tell you, there's nothing in Qur'an against music and most every hadith, or tradition of the Prophet supposedly prohibiting it, is weak."
But why bother with music, especially a collaboration with a bunch of Western rockers, when 20,000,000 people are in such desperate straits? "We are musicians," Shami explained, "The one power we have is that we can reach and communicate at many different levels instantly.
Perhaps one of the main messages that musicians can bring is that, contrary to all the reports about how Pakistanis have failed to address the situation or to support each other, incredible and inspiring things are happening on the ground. Well known artist Ali Noor of the band Noori believes it's a signal moment in Pakistan's history: "There's no denying the corruption and all the wrong things that will happen in this time. But i will tell you that how this disaster has brought the people of Pakistan together is amazing, creating an urge to come together I haven't witnessed in my entire life. Artists, everyone is doing their share."
Grass Roots Activism the Key
Shea, who came here in the wake of the 2005 earthquake and fell in love with the country, believes that the it's impossible to underestimate the value of small, person-to-person interactions on the ground in Pakistan, even against the forces of historic floods and ongoing war. "More Americans need to come here, not less. One of the goals of the Sonic Peacemakers is that the global band of artists involved in the project can educate people within and between the many cultures, and help them to change misperceptions about each other. "Only then might they open their hearts. When that happens, compassion and respect will follow."
Back in Istanbul, guitarist Farzad Golpayegani laughs about taking the train back home to Tehran from Istanbul. "It's a great way to see the country, but bring your own food." Traveling back and forth across the old train line that was once supposed to link Istanbul to the East is still an experience that brings out the commonalities in people. But for him, the musical links between Anatolian, Persian and South Asian cultural traditions are even deeper.
Golpayegani and I first played together at a huge "Rock for Peace" festival, Barisha Rock, in 2007, in a band that featured Iranian, Azeri, American and British musicians at one of the highest points of tension between Iran and the West in a long time. When percussionist Arash Jaffari urged the crowd, 'Muslims, Christians and Jews, together for peace!" 35,000 people screamed in support as one.
The festival was organized by the bass player for Mogollar, Taner Öngür, who's been doing grassroots activism in Turkey for environmental and other causes for decades. One of the founders of "Anatolian Rock," perhaps the first "global" rock genre, Öngür teased Golpayegani and myself for imagining that ours was the first generation to bring musicians and styles from such different traditions together. As the three of us sat around his small studio not far from the Bosphorous Straits trying to figure out how to do an Anatolian-Persian take on Pakistani Sufi rock, the idea of once again using music to start a much needed conversation remained as appealing as it was when Mogollar started, 40 years ago.
"What I dream of now is all the Middle East's peoples living together with a new way of thinking. We don't need bridges, or trains or whatever. Music is a universal language," he explained, which is why it is so powerful.
As he prepared to leave for Kenya for a show, Atif Aslam heartily agreed. "I play all over the world and people don't understand the [Urdu] lyrics to my songs. But we connect and create the right energy."
And with that energy, he and Cordola concluded, anything is possible, even a sustainable and peaceful future for Pakistan.
Popular in the Community