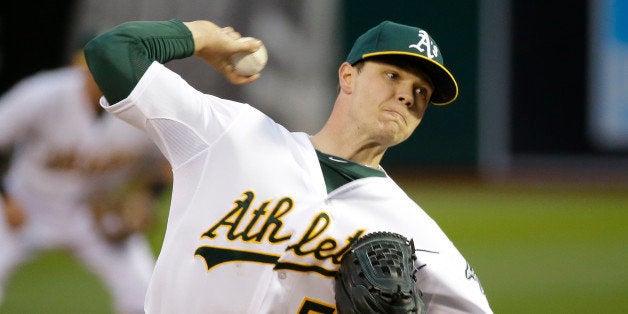 Lost in all the hype of the spectacular college hoops matchup between Duke and Wisconsin on Monday night was the incredible outing by Oakland Athletics ace Sonny Gray, who very subtly took a no-hitter into the 8th inning against the Texas Rangers. As Duke cut down the nets, Gray was mowing down Rangers left and right, accomplishing a feat that has not been done in 62 years, according to ESPN Stats & Info.
His final line for the game: 8.0 innings pitched, 1 hit, 0 earned runs, 3 strikeouts, 1 walk, 0.25 WHIP.
This stellar outing had more significance than you may originally think, however. First, it snapped a 10-game Opening Day losing streak by the A's, which was impressively bad. Secondly, it was the longest no-hit bid of his career to date, and showed an immediate sharpness out of the gates -- which is a positive, since there were only a handful of starters who didn't show much rust in their first start of the year.
To delve deeper into his numbers, it's important to realize exactly how efficient he was. According to ESPN Stats & Info, Gray threw 66 of 98 pitches for strikes, including 15 of 18 curveballs. It was noted that Gray only threw that many curveballs for strikes twice in 2014.
The importance for locating pitches is paramount in the majors. The best hitters in the world (like Adrian Beltre and Prince Fielder, who were stifled by Gray on Monday) eat pitchers alive when they leave balls over the fat part of the plate or when they fall behind in counts. Oakland's ace made sure he hit the corners, stayed ahead in the count (as indicated by his 67.3 percent strike rate), and trusted his stuff from the first pitch all the way to his 98th at the end of the 8th inning of work.
Gray looks to improve upon a solid 2014 campaign in which he went 14-10 with a 3.08 ERA, 1.19 WHIP, and 183 Ks in 219.0 innings pitched. If you're a fantasy owner or play daily fantasy sports, make sure to pencil Gray in against the Rangers. Dating back to last season, he hasn't allowed a single run against Texas in 18 consecutive innings.
The 25-year old is slated to take the mound on Saturday at home against a revitalized Mariners squad that features Robinson Cano and Nelson Cruz in the middle of the order. Let's see if he can continue on his historic Opening Day outing!
Where do you rank Gray among American League pitchers? Below are my current rankings (keep in mind, I included Chris Sale, who is currently on the DL):
1. Felix Hernandez (Mariners)
2. David Price (Tigers)
3. Chris Sale (White Sox)
4. Sonny Gray (Athletics)
5. Corey Kluber (Indians)
Calling all HuffPost superfans!
Sign up for membership to become a founding member and help shape HuffPost's next chapter