March 17, St. Patrick's Day in New York is a special event, a day when many New Yorkers claim to be Irish. The day is also heart-warming to Sonny Grosso, a retired NYPD officer who became the youngest first grade detective on the force. For example, there's the annual Parade up 5th Ave, featuring NYPD officers in their finest uniforms, as well as stirring music from the Pipes and Drums of the Emerald Society of the NYPD. Sonny suggests that "if you can't be roused by this pipe band, hello, check your pulse!"
It also brings back memories of Sonny's partner for many years on the police force, Det. Eddie Egan -- "God rest his soul" -- who with his bravery, bluster and blarney was the very essence of being Irish-American. Grosso, who grew up in Italian Harlem before his family moved to an Irish neighborhood, says that experience taught him an invaluable lesson about "getting along with others." To this day, Grosso's favorite movie is the Irish-themed John Wayne and Maureen O'Hara flick, The Quiet Man -- his second favorite is the Italian-themed The Godfather, on which he was a technical consultant to director Francis Ford Coppola.
Historically, Irish-Americans have been a major factor in law and enforcement. At the turn of the 20th century, five out of six NYPD officers were Irish born immigrants or of Irish descent. As late as the 50s and 60s, when Grosso joined the force, 40% were Irish Americans. Even today, you can hear Irish brogues being spoken alongside Italian-American officers.
But back to Egan and Grosso who proudly marched together in the St. Patrick's Day Parade. Calling the late Egan the bravest officer he ever met, Grosso describes their unique relationship when they would annually lead the NYPD with the most drug arrests, including the famous French Connection heroin case, the biggest drug bust in U.S.A. history:
It's what the movies would call a bromance today. We were like a husband and wife -- we'd spend hours on end on stakeout, eating stale pizza and drinking cold coffee. Sometimes I wanted to kill the guy, and sometimes I wanted to kiss him. Egan was probably the most fearless officer I ever saw. There was never any standing back with him. He was a character, way out there but a great cop and very effective.
Being Irish, Eddie's larger than life personality always liked to be on show. For example, he loved going undercover in wild disguises. In the first scene from The French Connection, the 5-time Oscar winning movie about Egan and Grosso's real-life exploits, Gene Hackman playing Egan's character (Popeye Doyle) is dressed as a drug-busting Santa. Sonny says Egan mastered disguises such as a deaf mute, hotdog vendor, a priest, and many others. Egan even hilariously got dressed up in drag, sometimes.
One story from Grosso's upcoming memoir, Harlem to Hollywood: My Real to Reel Life, is about them going undercover to bust a happening dance club called the Palladium, where VIPs and celebrities would go to party and do illegal drugs:
Egan could never dance Spanish but that didn't stop him dancing with the girls. All he could do was the Twist and he did it to any kind of music playing. If it was a Conga, he'd still dance the Twist. On this night, he said he'd meet me there and sure enough he came 'dressed' as a sailor! Several customers at the bar near me see him and say, 'There's that prick Egan.' They saw right through his disguise, I mean who the hell wears a sailor's suit at a hot dance club? The disguise lasted about a quarter of a second. But there's the luck that Egan and I had in a lot of things we did. All the people who were selling drugs moved to the other side of the dance hall because they knew where Egan was and they didn't want to be anywhere near him. So we sent all our undercover people to the other side where the dealers were. We effectively centralized them into one spot where they were easier to arrest.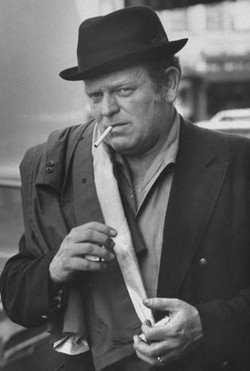 Tough as nails Det. Eddie Egan - bravery, bluster and Irish blarney
Legendary director William Friedkin, who won an Oscar for directing The French Connection, told me once about working with Egan and Grosso, who were technical consultants on his movie set: "Eddie deserves a lot of credit for the film's success, he was a real tough guy. I played Sonny's character as more of a calming influence. Thing is about Sonny, if he's your friend, he'd stop a bullet for you. Eddie had that Irish bluster, but Sonny had that Italian iron fist. You did not mess with Sonny Grosso."
On St. Paddy's Day, Sonny Grosso along with the Irish eyes of the late Det. Egan and his namesake Cardinal Edward Egan, who recently passed, will all be smiling down on New York.
Calling all HuffPost superfans!
Sign up for membership to become a founding member and help shape HuffPost's next chapter