For two hours, members of the Senate's Agriculture, Nutrition and Forestry Committee peppered the former Georgia governor with questions mostly centered on elements of trade, crop insurance and forest policy, but largely avoided more controversial topics.
Perdue faced only one question on SNAP on Thursday. About an hour and a half into the hearing, Sen. Kirsten Gillibrand (D-N.Y.) asked whether he would commit "to focusing on how we can deliver more food to more families throughout this country" by supporting the program.
Perdue stopped short of making that commitment, appearing to suggest changes could be coming to the program, though he offered no detail on what sort of reforms he might support or anticipate.
"I hope we can do that even more efficiently and effectively than we have," Perdue said. "It's certainly important to the children and families of America. I hope we can work together to accomplish that."
"What's left out of the conversation is just as important as what's brought in," Lavender told HuffPost Thursday. "You can read into that in a number of ways, but [Perdue's comments] doesn't increase my confidence that SNAP is going to be able to reach more people and get more healthy food to more people."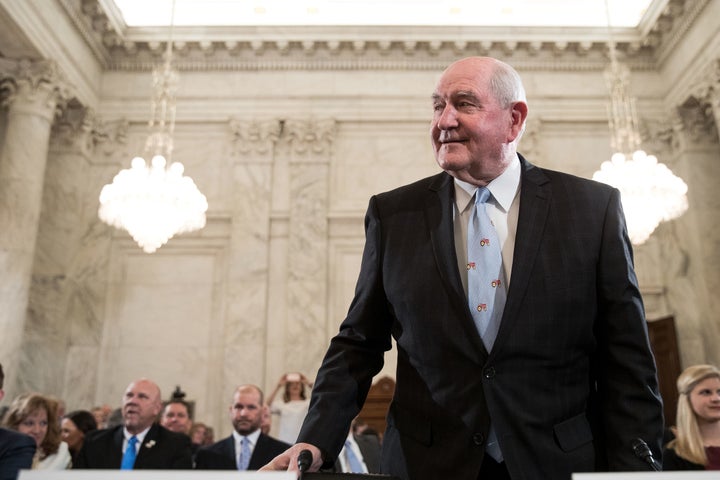 The absence of further questions on SNAP or any questions on the agency's other nutrition programs — such as the National School Lunch Program — belies the fact that these programs eat up about 71 percent of the agency's annual spending.
Other controversial topics were left entirely off the table at the Thursday hearing. Climate change — which Perdue has downplayed, despite the close link between farming and greenhouse gas emissions and the significant impacts it is having on farmers' livelihoods — was not mentioned in any of the questions.
In addition, Perdue's ethics record and potential conflicts of interests, which have been the subject of a series of detailed recent reports from a number of media outlets, were also left unaddressed.
Tiffany Finck-Haynes, a food futures campaigner at Friends of the Earth, an environmental advocacy group, said she was "deeply concerned" that questions on these topics were avoided by committee members.
"With all of Perdue's history on denying climate change and all his conflicts of interest that have come out, to have no mention of all these things is a complete missed opportunity," Finck-Haynes said. "They are not fully fulfilling their duties to make sure he is actually fit for this role and that he is going to prioritize the interests of the American public and the environment over big agribusiness."
Some of the committee members' most pointed questions on Thursday concerned the president's proposed slashing of the USDA's budget, which is slated for a 21 percent reduction — percentage-wise, one of the largest cuts proposed for any federal agency.
Perdue said Thursday he was not consulted by the administration before they published the agency's proposed budget. In response to a number of questions concerning those cuts, the nominee stated his support for some USDA programs that have been slated for funding reductions, such as the rural water program and conservation efforts like those impacting the Chesapeake Bay.
"Agriculture is in my heart," Perdue said in response to a question from Sen. Heidi Heitkamp (D-N.D.). "I look forward to fighting for the producers of America. We know how vital it is and I will absolutely be a tenacious advocate and fighter [for agriculture] where necessary to do that."
Committee members can still submit further questions to Perdue until the end of Friday, ahead of a full Senate vote on his confirmation. Finck-Haynes was hopeful senators will push for more detail from the nominee.
"We have very few answers on what he is actually going to do in terms of protecting farmers, consumers and our environment," Finck-Haynes added. "The American public deserves to know where and what he's going to do."
It doesn't appear likely that Perdue will face much additional grilling or pushback on his nomination, however. He has a wide base of support from farm industry groups who tout his farming background — Perdue grew up on a dairy farm, was trained as a veterinarian and has owned several agriculture related businesses — as evidence that he's the right pick for the post.
Farm groups are antsy for Perdue's confirmation. The National Farmers Union, the farming industry's second-largest organization, reiterated its support for Perdue on Thursday, urging the Senate to move forward with the nominee.
"If confirmed, Sonny Perdue will be stepping into a position of great importance within this administration," NFU president Roger Johnson said in a statement."To this point, agriculture and rural America have not had a seat at the table in this administration."
To date, Perdue is one of only two Trump Cabinet positions yet to be confirmed by the Senate. The other, Department of Labor nominee Alexander Acosta, was nominated in February following the withdrawal of Andrew Puzder. Acosta faced his confirmation hearing Wednesday.
Joseph Erbentraut covers promising innovations and challenges in the areas of food, water, agriculture and our climate. Follow Erbentraut on Twitter at @robojojo. Tips? Email joseph.erbentraut@huffingtonpost.com.
Calling all HuffPost superfans!
Sign up for membership to become a founding member and help shape HuffPost's next chapter
BEFORE YOU GO
PHOTO GALLERY
2017 Scenes From Congress & Capitol Hill