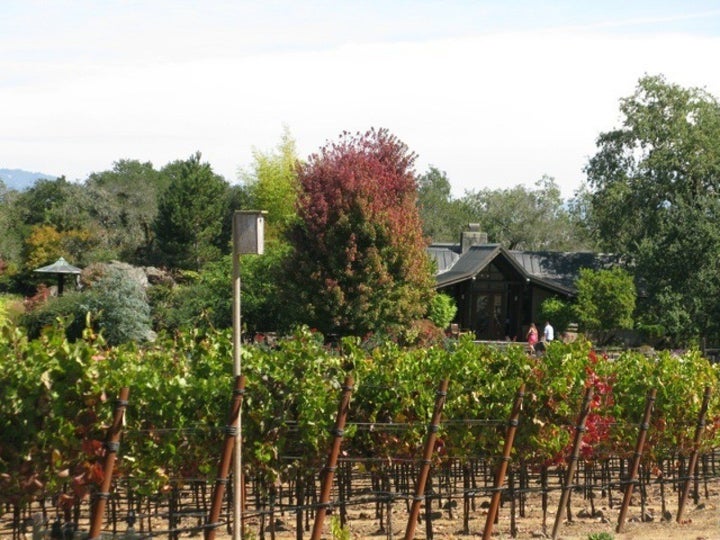 Wine travel is always a voyage of discovery; as much as we like to plan our trips, we sometimes like to ditch the agenda and find out the secrets that a region has to offer. A recent trip to California's Sonoma County gave us everything we have come to expect from wine country: Beautiful vistas of rolling hills covered with grapevines, hand-crafted meals cooked with precision, and glass upon glass of exquisitely made wines. We found that the laid-back vibe and hands on touch of winemakers, farmers, and chefs has created an ideal environment for pursuing the pleasures of the vine, whether for just a few days or an extended stay. Among others, Sonoma includes the AVA's (American Viticultural Area) Sonoma Valley, Russian River Valley, Alexander Valley, and Dry Creek Valley, and there are over 180 wineries within its borders.
If you're flying in, you will start your trip in San Francisco. Why not spend a night in this surprising city and check out the hip culinary scene before heading north to wine country? While you're dining at Gary Danko, RN74, or State Bird Provisions, make sure to order a bottle made by one of our favorite "off the radar" winemakers. NASDAQ trader-turned-winemaker Jamie Kutch traded in his desk and NYC stress for a life of late-night grape-picking, foot-stomping individual tanks of grapes, and making small-batch Pinot Noir. His wines are only available at select restaurants or by mail order to club members. Winemakers like Jamie really exemplify the spirit of Sonoma; when he speaks about his passion for winemaking, he brings home the ideals of the farm to table and grape to glass movements that are so evident throughout this wonderful region.
Driving time from San Francisco to the town of Healdsburg is about 90 minutes, and just north of town you will find yourself at Simi Winery, founded in 1876. It's one of the oldest in the country. Isabelle Simi was only 18 when her father Giuseppe and uncle Pietro died in 1904, leaving her to take charge of the winery and business. She was the first in a succession of female winemakers; current winemaker Susan Leuker joined a tradition that also includes Mary Ann Graf and Zelma Long. Tours are given daily, and the winery's "Pizza and Wine" terrace, featuring a mouthwatering array of gourmet sourdough-crust pizzas fired in a wood burning oven is open on weekends from April to October. Many of Leuker's best bottles are available to winery club members or at the tasting room only, including her Simi Russian River Pinot Gris and Alexander Valley Block No. 4 Winemaker's Select Cabernet Franc.
Arista Winery's tasting room sits within a lavish Japanese garden; you can enjoy your selection from among 14 distinct Pinot Noirs at the rustic wooden bar, or head out to a secluded spot in the garden to contemplate the grape. The Russian River Valley's Westside Road has been likened to Rodeo Drive due to a preponderance of incredible wineries; Arista's neighbors include William Selyem and Rochioli Vineyards. For a true wine country treat, call ahead and book a private Food and Wine Experience with Chef Tim Kaulfers, and you will enjoy a meal in the Arista "dojo" set among the vines. The glass-enclosed dining pavilion is perfect for parties from 2 to 10, and pairing dinners are hosted by one of the charming McWilliams brothers, Mark and Ben. A recent lunch included Duck Leg Confit Ravioli paired with Arista 2010 Russian River Toboni Vineyard Pinot Noir, and Prosciutto Wrapped Pork Tenderloin alongside Arista 2010 Two Birds Estate Pinot Noir.
St. Francis Winery, whose name is a nod to the Franciscan priests who first brought wine grapes to California and to St. Francis, the patron saint of nature, boasts a Mission-style winery and tasting room between the towns of Sonoma and Santa Rosa. The tasting room is open daily, and many of the wines available for tasting are not sold or sampled elsewhere. St. Francis offers a year-round calendar of special events, and offers lunchtime wine and food pairings five days a week. Executive Chef David Bush changes the menu frequently, and all courses are paired with wines created by Katie Madigan, the house Sonoma County Winemaker, and Heather Munden, their Artisan Winemaker, who is responsible for the single-vineyard labels. Whether you are in the mood for a bold Zinfandel or an elegant Chardonnay, Katie and Heather have a wine to suit your palate.
Benziger Family Winery, in nearby Glen Ellen, is one of the most fascinating wineries we have ever visited--and that's saying a lot! All of their wines are certified sustainable, biodynamic, or organic, and the health of their vineyards is evident when you visit on one of their thrice-daily tram tours. Benziger really is a little piece of heaven, and on this beautiful estate they make some of the region's finest Cabernet Sauvignon, Pinot Noir, Sauvignon Blanc, Chardonnay, and Merlot.
If you like to get off the beaten track and visit smaller winemakers, park the car and take a walk around Healdsburg. This quaint town features several restaurants and almost 20 tasting rooms, including Kendall Jackson. We know what you're thinking--but a sampling of some of their tasting-room only bottlings proved that big guys can make good wine too. At the Portalupi tasting room, owners Jane Portalupi and Tim Borges will proudly taste you through their Bianco, Pinot Noir, Barbera, and Zinfandel. We were most fond of the blueberry, black cherry, fig, and spice flavors of their 2009 Mendocino County Barbera. We also enjoyed a visit to Stephen & Walker, where the friendly staff poured us glasses of Pinot Noir, Zinfandel, and Cabernet Sauvignon. One standout was their 2009 Russian River Valley Zinfandel, whose notes of cherry, vanilla, and spice got us thinking about dessert.
Fortunately, friends had told us to be sure and stop by Moustache Baked Goods, where we had trouble deciding which cupcakes to try. "The Outlaw" was far and away one of the best cupcakes we have ever tasted--it is a divine concoction of chocolate cake, chocolate frosting, and caramel filled with sea salt. And while you're there, grab a small box of macarons. The passion fruit and pistachio are outstanding, and they will be perfect in the morning with a cup of coffee before you start a new day of wine tasting.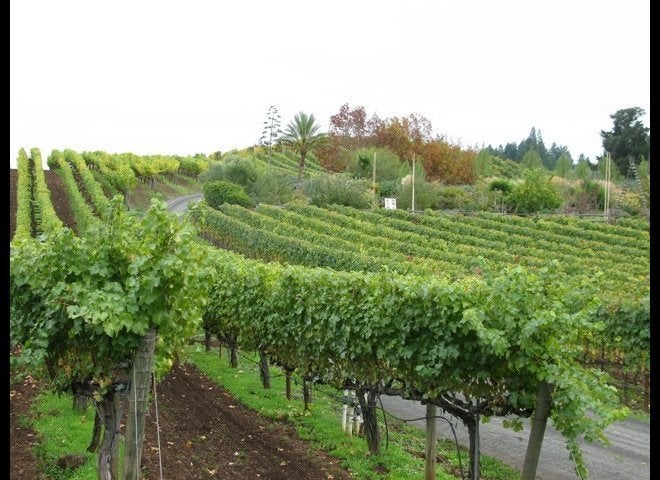 Sonoma, California: Farm to Table and Grape to Glass