Winemaking is serious business. Especially in California's Sonoma County, heart of the Wine Country, where every visitor's a connoisseur (or least pretends to be a connoisseur) and every winery a no-nonsense temple to the art of the grape.
But it doesn't have to be that way. Where is the fun, the laughter, the spirit of Bacchus which used to be the whole point of drinking wine? Must tourists solemnly trek from tasting room to tasting room forever commenting on terroir and bottle-shock and mouthfeel?
Luckily, some Sonoma wineries have begun to put the fun back in fundamentals, realizing that a sense of humor not only makes wine more enjoyable but more importantly is a good way to attract customers. The next time you make a pilgrimage to the Wine Country, swing by some of Sonoma's wackiest tasting rooms, where you don't have to be a master sommelier to have a good time.
DeLoach VIneyards (1791 Olivet Rd., just west of Santa Rosa) is owned by Jean-Charles Boisset, an entrepreneurial French winemaker with a wicked sense of humor and a wild imagination who in recent years acquired several estates in Sonoma County. His showcase at DeLoach doesn't simply have a single tasting room, but instead a series of eccentric and whimsical "experiences" that occasionally border on the bizarre.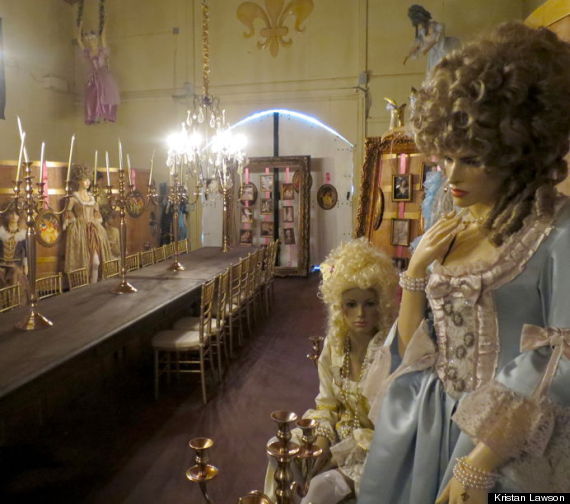 The aristocratic mannequins in Deloach Vineyard's "Les Libertines Cellar" seem to be recovering from a long night of debauchery.
DeLoach's fermentation room has been transformed into "Les Libertines Cellar," thickly populated with drunken mannequins bedecked in meticulous 18th century costumes so outrageous as to make even Madame de Pompadour blush. The Barrel Cellar, which hosts tastings of rare Pinot Noirs, is festooned with innumerable "chandeliers" made of wine barrels repurposed into kaleidoscopic disco balls. After a few glasses you'll begin to wonder if they slipped some LSD into the Pinot.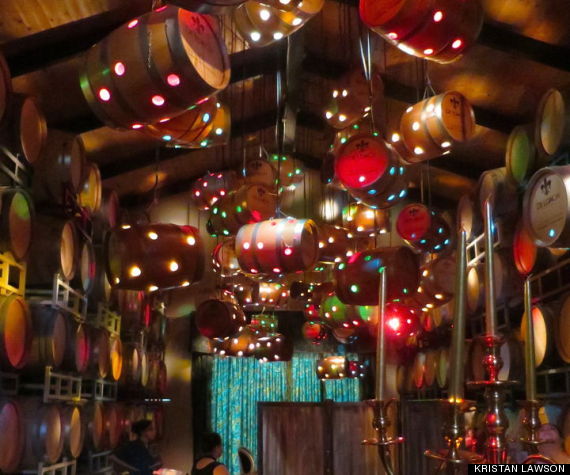 The kaleidoscopic disco barrels of DeLoach's "Barrel Cellar."
The "M.F.S. Blending Experience" has you donning a French beret as you tinker with test tubes and retro flasks while you play the mad chemist designing your own red wine blend. Other areas include a mustard museum, a room of soil samples, and the mystifying JCB Winery secret club room which involves wearing multicolored wigs. Full-fledged tastings in each "experience" area range between $20 and $100, however the standard tasting room visit is only $15, and if you ask they'll often let you snoop around the various rooms at no extra charge. (Note that Les Libertines Cellar is closed for a few weeks during the harvest, so call ahead if you want to see it before mid-October.)
Chateau Diana (6195 Dry Creek Rd, north of Healdsburg) is much smaller yet perhaps is the only winery in all of Sonoma County with a "ribald humor" theme. Their modest but welcoming tasting room features all sorts of absurdist and intentionally outré gag gifts, like a phallic bottle-holder dubbed "Vlad the Impaler," porcelain goblets shaped like plastic Solo cups and t-shirts with sassy slogans. Shop as you sip varietals like "Zombie Zin" and "Pleasure Party Moscato."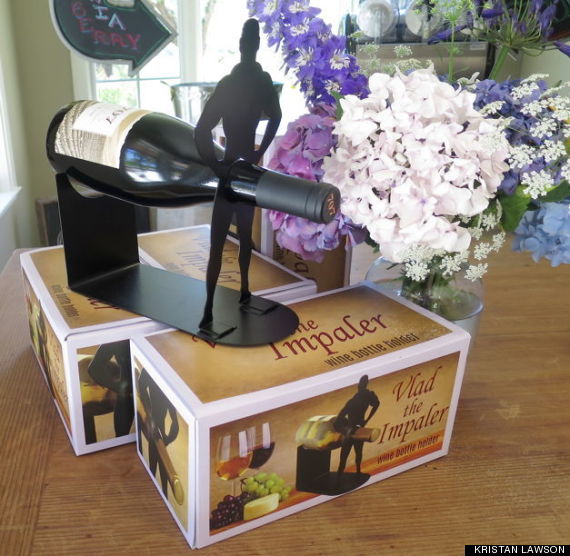 No joke is too risqué for Chateau Diana.
Kaz Winery (233 Adobe Canyon Rd., just north of Kenwood; Open Fri.-Mon. only) is famous for the sarcastic and "often ridiculous" (in his own words) raconteurship of owner Richard Kasmier ("Kaz" to friends -- and strangers), who tends to turn each tasting into a joke-filled improv skit. When he's not on duty, apprentice winemakers continue the comedic conviviality.
For a different kind of wackiness, surrender yourself to the over-the-top excesses of Francis Ford Coppola Winery (300 Via Archimedes, south of Geyserville), which is the closest Sonoma comes to the feel of Disneyland. Swimming pools and private cabanas, world-class gourmet restaurants, an extensive museum devoted to The Godfather and Coppola's other films, blindfolded wine tastings, a massive gift emporium, music concerts and seminars in everything from grape-growing to salsa dancing -- it's enough to make even the most disciplined connoisseur break out laughing at the sheer kitschy opulence of it all.