Sony announced it had pulled "The Interview" in a statement released on Wednesday:
In light of the decision by the majority of our exhibitors not to show the film The Interview, we have decided not to move forward with the planned December 25 theatrical release. We respect and understand our partners' decision and, of course, completely share their paramount interest in the safety of employees and theater-goers.

Sony Pictures has been the victim of an unprecedented criminal assault against our employees, our customers, and our business. Those who attacked us stole our intellectual property, private emails, and sensitive and proprietary material, and sought to destroy our spirit and our morale – all apparently to thwart the release of a movie they did not like. We are deeply saddened at this brazen effort to suppress the distribution of a movie, and in the process do damage to our company, our employees, and the American public. We stand by our filmmakers and their right to free expression and are extremely disappointed by this outcome.
Sony's decision capped a whirlwind day, which saw the nation's five biggest theater chains cancel plans to screen "The Interview." Regal Entertainment, AMC Entertainment, Cinemark, Cineplex Entertainment and Carmike Cinemas pulled the comedy following a terror threat made Tuesday by hackers who had attacked Sony Pictures.
"Due to wavering support of the film 'The Interview' by Sony Pictures, as well as the ambiguous nature of any real or perceived security threats, Regal Entertainment Group has decided to delay the opening of the film in our theaters," a representative for Regal said in a statement to The Huffington Post. Sony had previously placed the decision to cancel showings of "The Interview" at the feet of theaters owners.
"Well, the cyberattack is very serious," Obama said. "We're investigating it. We're taking it seriously. You know, we'll be vigilant. If we see something that we think is serious and credible, then we'll alert the public. But for now, my recommendation would be that people go to the movies."
Co-directed by Seth Rogen and Evan Goldberg, "The Interview" focuses on an entertainment journalist (James Franco) and his producer (Rogen) and their eventually successful attempts to assassinate Kim Jong Un (Randall Park). In June, Kim Myong-choi, an unofficial spokesperson for Kim, slammed "The Interview" in a statement to The Telegraph.
"There is a special irony in this storyline as it shows the desperation of the U.S. government and American society," he said. "A film about the assassination of a foreign leader mirrors what the U.S. has done in Afghanistan, Iraq, Syria and Ukraine. And let us not forget who killed [President John F.] Kennedy -- Americans."
"They made us digitally change some photos and images, because it was decided they weren't [legally] cleared," Rogen told The New York Times in an interview published Tuesday. "We couldn't source the photographer in North Korea who took the photograph of Kim Il Sung [Kim Jong Un's grandfather] 65 years ago. He could sue us. There was a moment where they were like: 'They've threatened war over the movie. You kill him [Kim Jong Un]. Would you consider not killing him?' And we were like, 'Nope.'"
This post has been updated to include a statement from President Barack Obama and further information about Sony's release plans.
Before You Go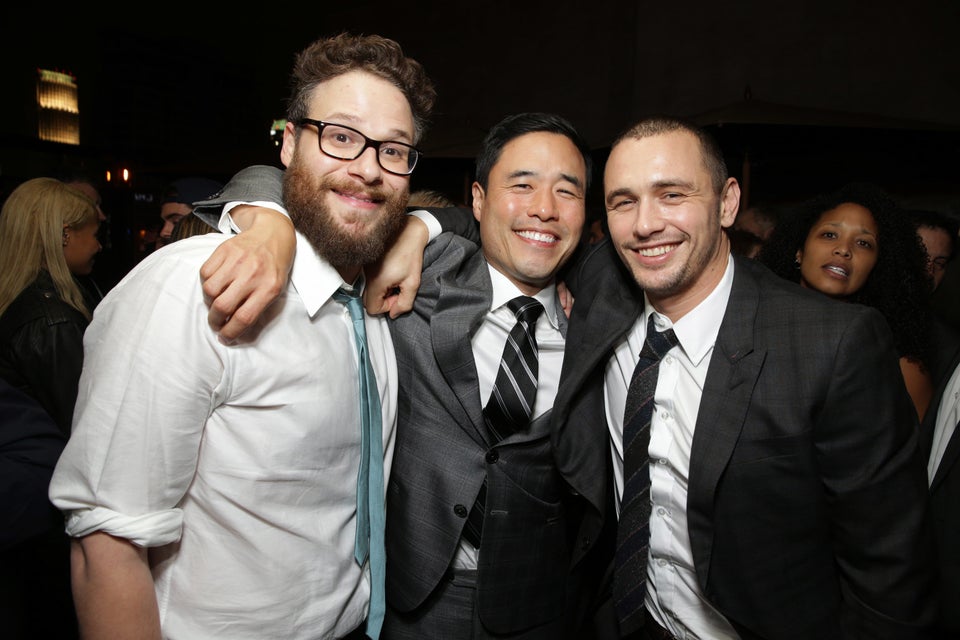 "The Interview" Premiere
Popular in the Community