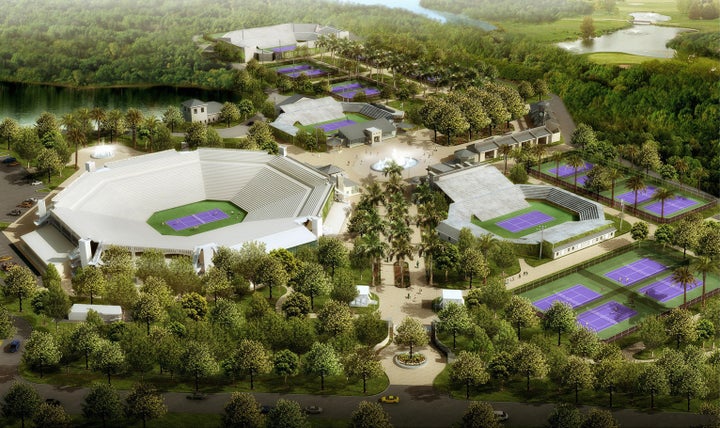 The decision to spend $50 million on a facelift for Crandon Park's tennis facilities -- one that would ensure the Sony Open tournament renews its lease and remains on Key Biscayne -- will go to county voters.
Miami-Dade commissioners unanimously agreed Thursday to put the question to the public on the November 6 ballot. The tournament-requested renovations to the county-owned Tennis Center would not use new tax dollars or reduce revenues pledged to the parks system, but would be paid for by private money and tourney proceeds.
The public vote is necessary because the county's "Save Our Parks" amendment requires two-thirds majority approval from voters for construction in Crandon Park or the modification or extension of any leases county-wide.
Tournament owner IMG say the upgrades are necessary to keep pace with other venues on the tennis circuit. Plans call for renovating and expanding Stadium Court, three new grandstands, covered pavilions, a grass lawn, lake cottage for media interviews, and multi-story addition to house dining and bar facilities, a pro shop, and offices, among other amenities. (See renderings below.)
"We are proposing a series of park improvements that will ensure the Tournament can remain at home in Miami for years to come," said Adam Barrett, tournament director and senior vice president at IMG, in a statement. "Best of all, the public will be able to enjoy a better park while these upgrades will come at no additional cost to taxpayers."
Residents will also be voting to extend the tournament's contract by 30 years and two optional 10-year extensions.
The Sony Open -- née the Lipton and Sony Ericsson -- has been a spring staple at Crandon Park since 1987 after moving south from Delray and Boca Raton. Construction on the tennis facilities was completed in 1994, despite a lawsuit from the Matheson family who originally donated the land in 1940 with the intent it would remain pristine.
The two-week tournament draws more than 300,000 spectators to watch international tennis stars spar on the courts, generating $386 million annually, according to IMG. The 2012 tournament drew nearly 20 percent of its audience from outside the U.S., with attendees booking 15,000 nights in local hotel rooms.
Even if the proposal is passed by the public, it will still need the approval of a four-person committee set up to oversee park plans, formed as a result of the legal fight with the Mathesons.
PHOTO GALLERY
Renderings of the new Crandon Park
BEFORE YOU GO